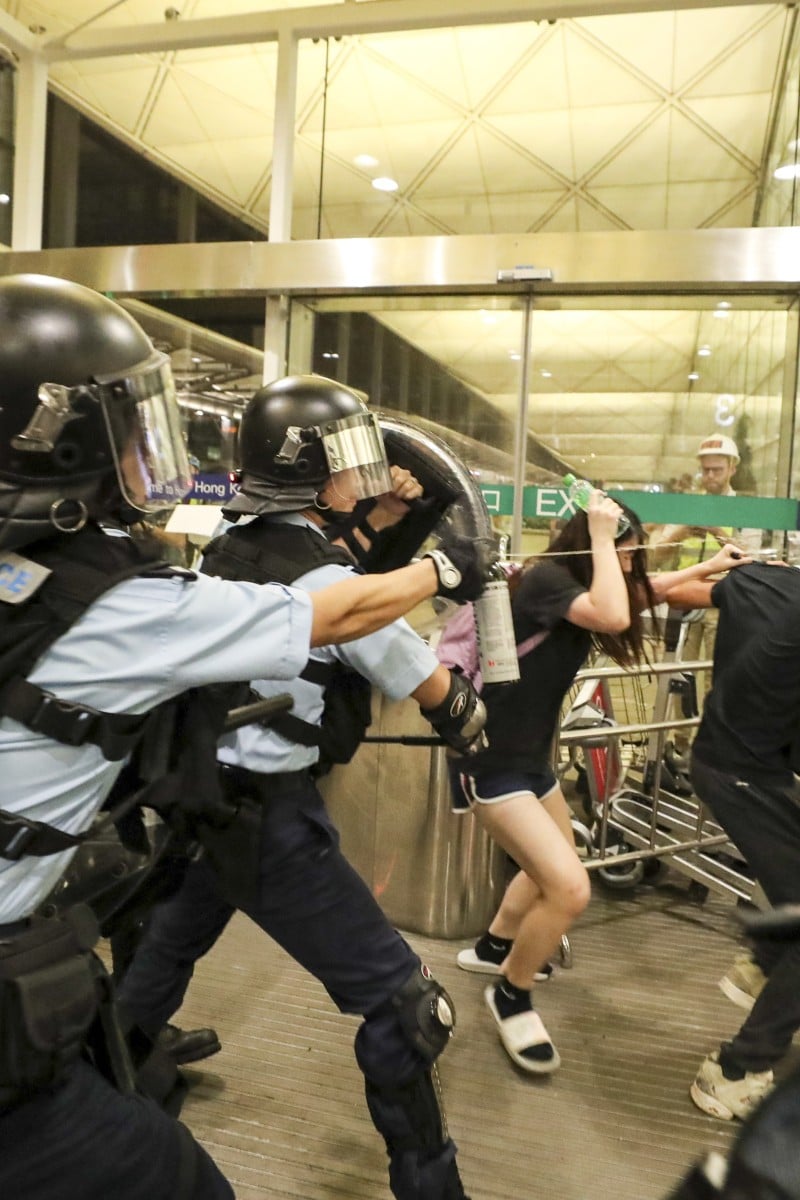 A night of clashes leads to a court order banning people from gathering outside designated areas, as flights struggle to resume to normal
South China Morning Post
|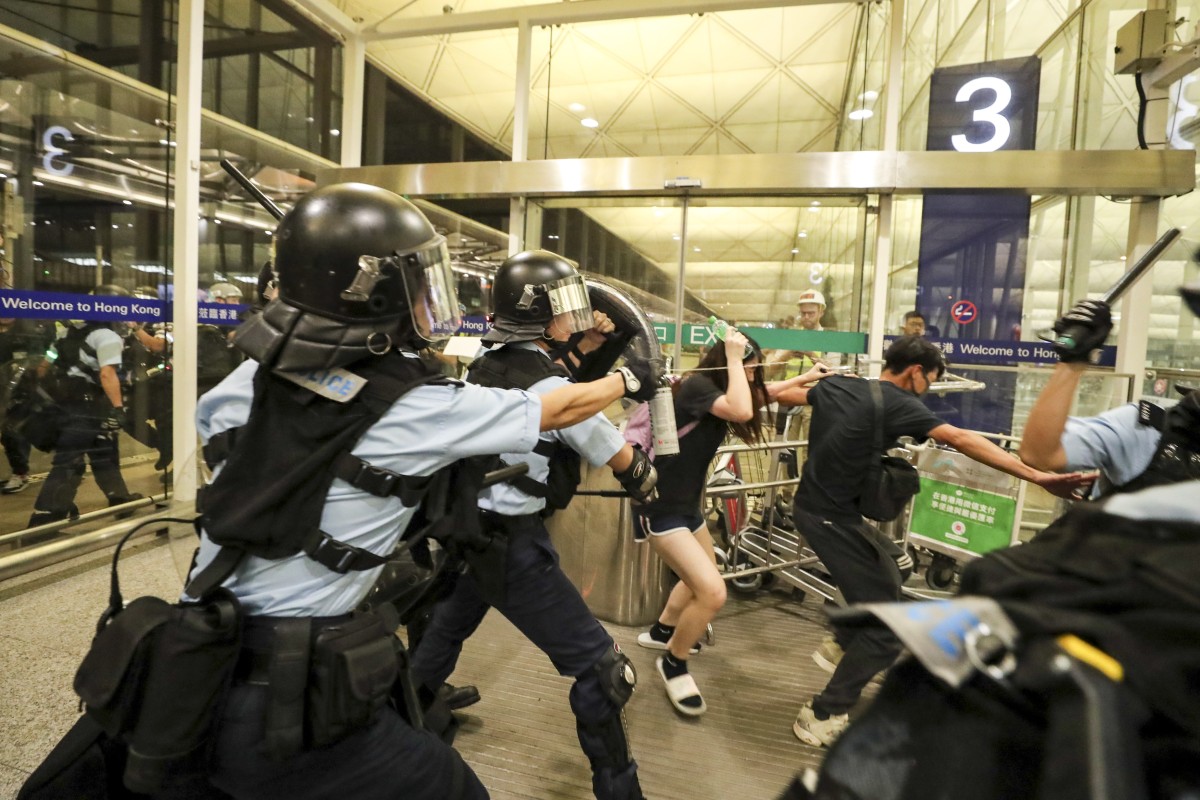 There was chaos at Hong Kong airport on Tuesday.
Tuesday night saw some of the worst violence of the 10 weeks of protests so far at the Hong Kong International Airport as clashes between anti-government protesters and riot police severely disrupted flights.
The late-night chaos came after angry protesters spent hours keeping and assaulting a man they claimed was an undercover agent from mainland China at the check-in area in the departure hall. 
Mass march planned for Sunday starting at Victoria Park; organiser promises it will be peaceful
He was seen later with his hands secured with cable ties and surrounded by protesters, who would not let paramedics take him away at around 10pm after he lost consciousness. The man earlier told media he was from Shenzhen and went to the airport to see off friends. He denied that he was a public security officer.
It was another hour before he was taken away in an ambulance, but there was more trouble outside the terminal as protesters turned on police who were there initially to help the ambulance leave. Police vehicles were attacked and windows smashed.
A small contingent of fully equipped riot police and elite officers from the Special Tactical Squad fought off the protesters, using pepper spray and batons.
Police were seen rushing into the terminal and subduing some protesters, and injuries were reported on both sides. At one point a police officer was seen drawing his gun and pointing it at his attackers.
The young man was taken to Princess Margaret Hospital in Kwai Chung, according to the Hospital Authority.
7 police responses to the events on August 11
About an hour after his ambulance left, hundreds of protesters surrounded another mainlander in the terminal building. They tied his hands to a luggage trolley. They found a T-shirt in his backpack featuring the slogan "I love HK police".
He smiled and said, "I support Hong Kong police" in English and Cantonese, after which a protester poured fluid from a bottle on the man's head. He was also kicked and hit with umbrellas.
Paramedics finally got him away in an ambulance at about 12.30am. 
Hu Xijin, editor-in-chief of Global Times, said the man involved was reporter Fu Guohao, who worked on the mainland newspaper's website.
Shortly after the incident, protesters began leaving the airport.
Students speak out about why they're participating in airport demonstrations
As of Wednesday morning, demonstrations are banned at Hong Kong International Airport apart from in designated areas, under a court order obtained by the Airport Authority, as protest-stricken airlines scrambled to return services to normal.
Confirming last night's report from the SCMP, the Authority said in a statement it had obtained an temporary court order stopping people from unlawfully and wilfully obstructing or interfering with the proper use of the airport.
Dozens of flights managed to depart on Wednesday morning, as the number of cancellations so far today were reduced to 51 departures and 61 arrivals.
The Authority's statement said the order banned demonstrations or other public order events at the airport except in the areas designated by the authority. Previously, the airport had allowed protests in the arrivals hall.
Early on Wednesday, the number of protesters camping out at the airport had dropped to less than 50, from the thousands who occupied the terminal on Tuesday and the hundreds who later moved into departures to bring down operations.
Staff had again placed barriers in front of the check-in counters on Wednesday morning and were checking boarding passes before letting passengers through to the aisles.
The airport scrambled to reschedule flights, as more than 100 flights were cancelled over the previous days.
Travellers were stranded at Hong Kong International Airport for the third day in a row.
Traces of protest were seen at the airport on Wednesday morning, including a pushing cart full of umbrellas, helmets, leaflets and snacks, left near the Airport Express exit.
Sign up for the YP Teachers Newsletter
Get updates for teachers sent directly to your inbox
Sign up for YP Weekly
Get updates sent directly to your inbox