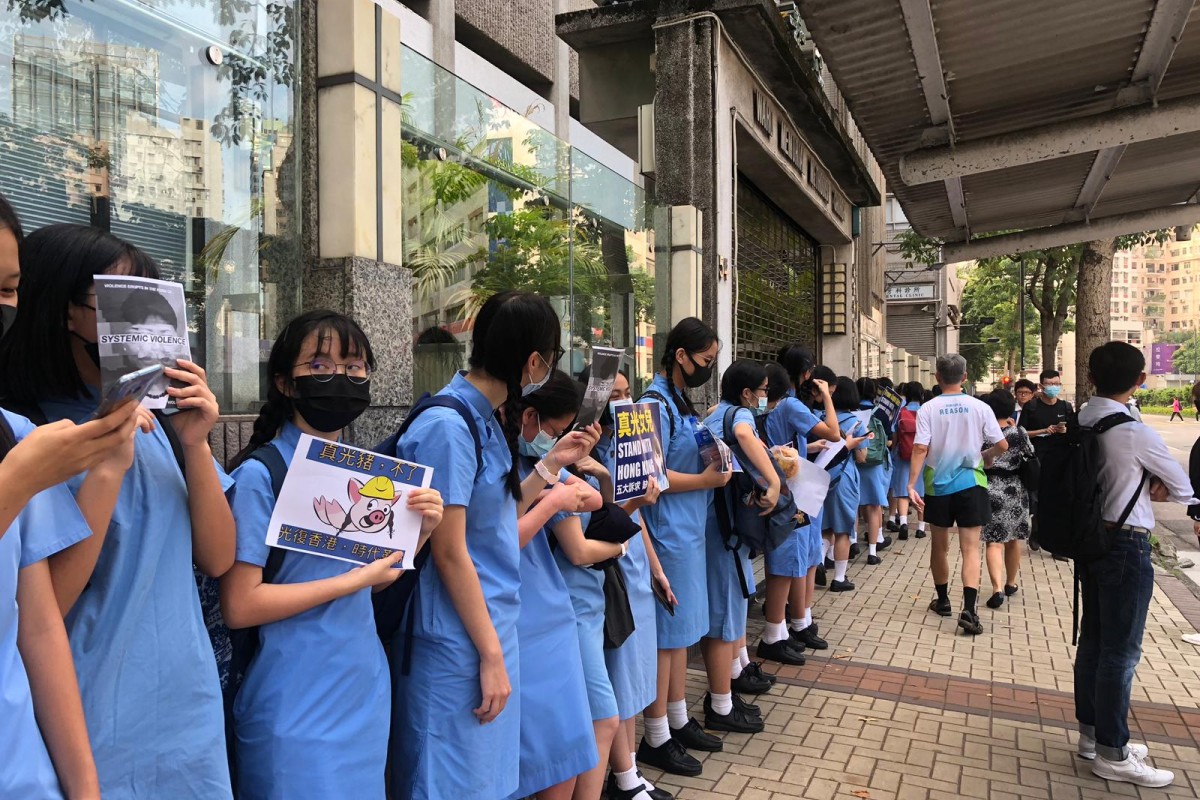 Students from True Light Middle School form a human chain in support of the ongoing call for "5 demands, not one less" in Hong Kong.
Hundreds of secondary students from across 17 schools in To Kwa Wan, Ho Man Tin and Yau Ma Tei joined hands to form a human chain, "Road of Freedom", on Monday morning. 
The chain stretched across five kilometres, covering roads like Sheung Shing Street, Sheung Lok Street and parts of the major thoroughfares such as Princess Margaret Road, Pui Ching Road and Waterloo Road. 
Students and alumni in Tuen Mun form human chain
Organisers expected 2,000 students and alumni would participate.
Beginning at 7am, students and alumni started gathering outside the 17 schools: New Asia Middle School, Chan Sui Ki (La Salle) College, Tang King Po School, Hoi Ping Chamber of Commerce Secondary School, St Teresa Secondary School, Shun Tak Fraternal Association Seaward Woo College, Wa Ying College, YWCA Hioe Tjo Yoeng College, Homantin Government Secondary School, Pentecostal Secondary School, SKH Tsoi Kung Po Secondary School, Heep Yunn School, Wah Yan College, Kowloon, True Light Girls' College, Scientia Secondary School, Pui Ching Middle School and ELCHK Lutheran Secondary School. 
Most students were wearing black masks and school uniforms, whilst the alumni wore all-black outfits. They chanted "Five demands, not one less" among many other slogans. 
At 7.45am, they began singing May Glory be to Hong Kong, an anthem recently composed by netizens, and Do You Hear the People Sing?
About 50 students out of about 1,000 students from Wah Yan College will also take part in a class boycott today. Teachers are generally supportive of this, according to students. 
A student from DGS, who did not wish to be named, said, "the government and police's actions were unacceptable. I was not allowed to join the protests, as my parents thought they were too dangerous, but they agreed to let me be a part of this 'human chain'," she said, "though, they told me to stay safe, and run for my life if something were to happen."
A Form Three student at DGS, who did not want to be named, said, "I'm here to speak for what I believe in. This is is our future that we are fighting for."
March to US consulate ends in tear gas, fire outside Central MTR
Students and alumni from True Light Girls' College, Wah Yan College, ELCHK Lutheran Secondary School, Pui Ching Middle School and Scientia Secondary School, started their formation at Waterloo Road. The chain covered a distance of about 5km, eventually joining other students and alumni from neighbouring districts participating in the activity. 
At about 8am, most students went back to their schools to resume classes. Many alumni, dressed mainly in black, remained in the line, and chanted slogans like: "Fight for freedom!" and "Stay with Hong Kong!"
A 16-year-old Form Five student from ELCHK Lutheran School joining the human chain said that she wanted to make it clear to the government that students are against the actions of the police.
"They are abusing their power," she said. "And the response from the government about this issue has been extremely poor."
Students demand apology from school after a student loses two front teeth following alleged tackle by police
A 16-year-old, Form Five student from Wah Yan College, said that in addition to the human chain, he will also take part in a class boycott today.
According to him, about 50 of the approximately 1,000 students from Wah Yan College will take part in today's class boycott. This is higher than last week's turnout of about 30 students.
"The teachers said they support us to express out political opinion," he said. "They have remained quite neutral. We are quite lucky, as I am aware of some schools where the teachers aren't supportive of such activities."
He expressed, however, that the number isn't very high because some parents do not wish for their children to participate in a class boycott, and some students do not want to miss their studies. 
"That's why most students taking part in the human chain will go to class at 8am," he says.
Another 17-year-old student from Wah Yan College emphasised that he wished to show the government that the protesters' demands can be achieved in a peaceful manner.
"The protesters are not alone," he said. "I want to show that we support them and are in the same fight."
Ng Wang-yip, Vice Principal of ELCHK Lutheran School, said that he was supportive of the human chain formation, but that the safety of students was of utmost importance.
He observed the activity from outside the school gate. "I am just making sure all the students are safe, and don't injure themselves," he said.
While more than 400 students from True Light School, ELCHK Lutheran School and Pui Ching Middle School joined the human chain, none proceeded to boycott class, owing to concerns over studies and parents' objections. 
Sign up for the YP Teachers Newsletter
Get updates for teachers sent directly to your inbox
Sign up for YP Weekly
Get updates sent directly to your inbox