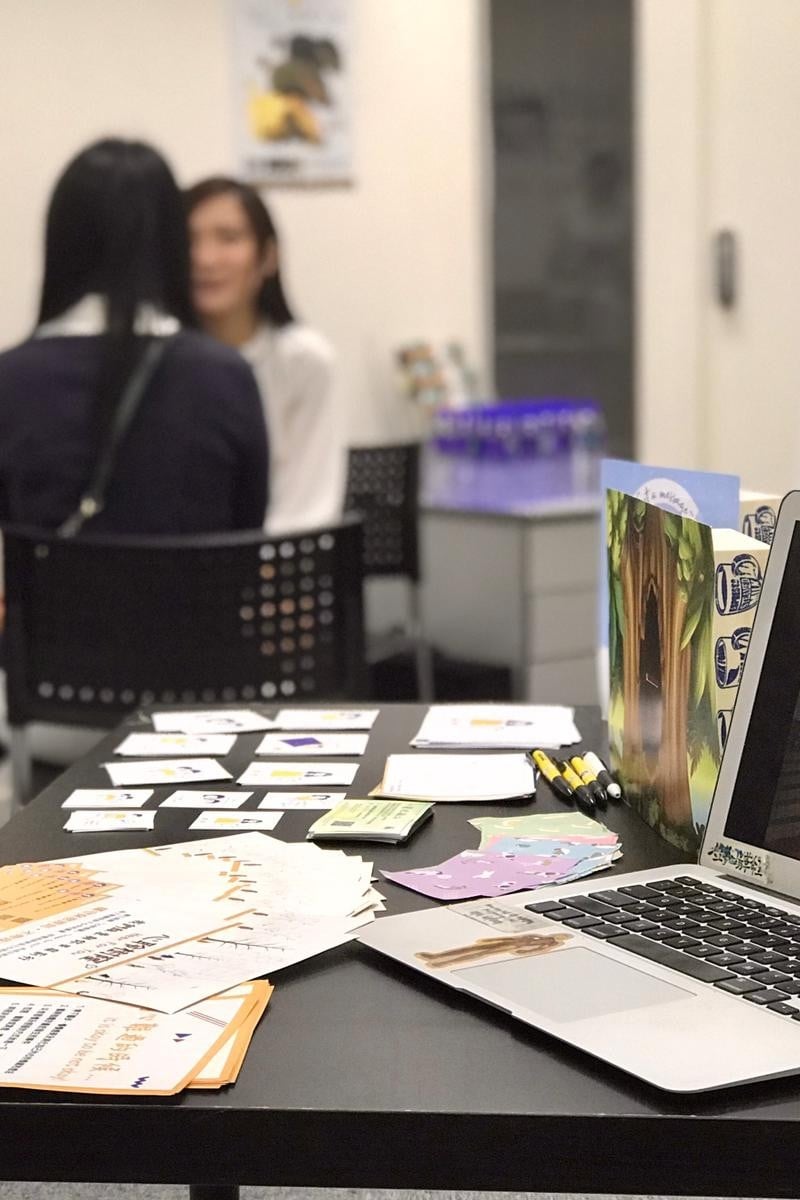 Hong Kong protests: As demonstrations take an emotional toll, a student-run initiative invites people to share their worries and fears
Hear For You volunteers encourage people young and old to open up and talk to counsellors about their feelings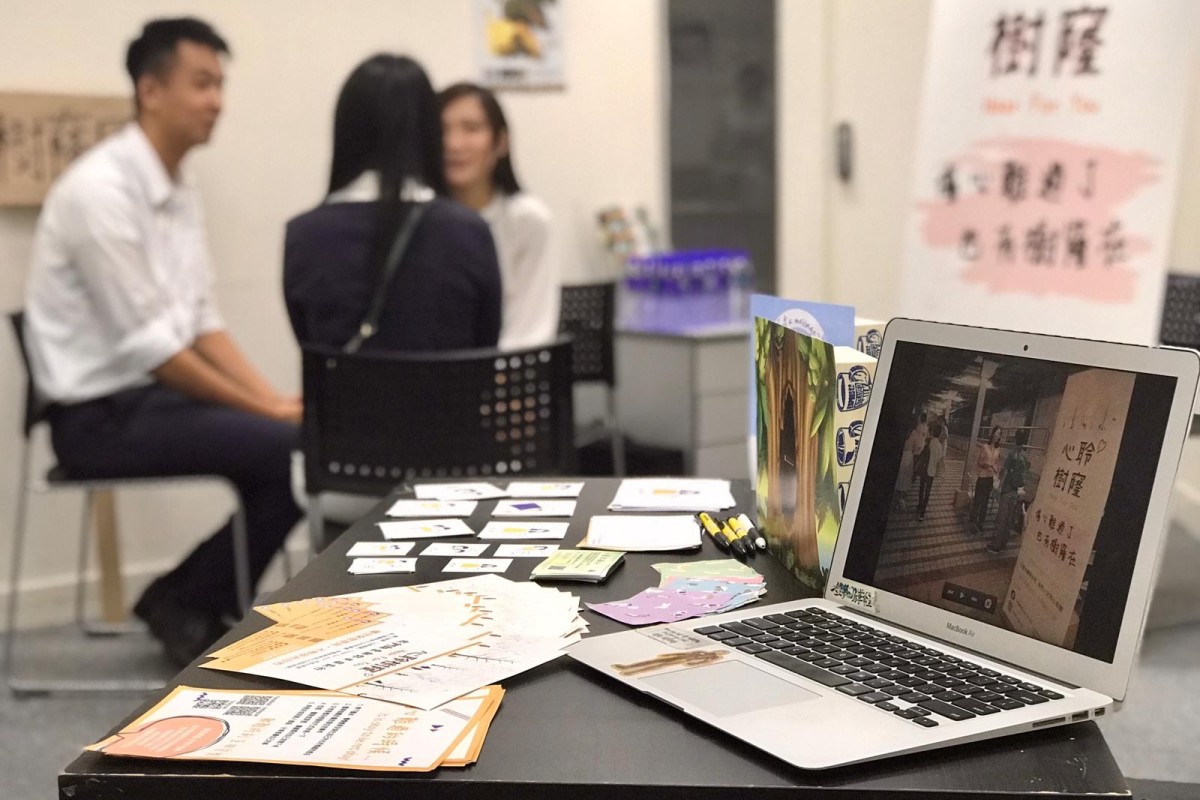 Hear For You is run by students and counsellors who provide a safe, non-judgmental space for people to talk.
Twenty one-year-old Joanna Yeung nods attentively as the woman opposite her describes her conflicting thoughts about the political turmoil in Hong Kong. The woman is not alone in her fears; Yeung meets many others like her at the "Hear For You" street booth she's currently running in Choi Hung.
The third year Hong Kong University of Science and Technology student set up Hear For You back in July – just as the political crisis in the city was worsening – with the help of a fellow student and four trained social workers. She saw the need for a place where members of the public could speak to counsellors in a safe, non-judgemental environment.
The group runs booths for three hours every Saturday evening, across different districts in the city.
"I realised there are loads of people around me who need help, whether it be students who are on the front lines of the protests, or parents who worry about the safety of their children," Yeung says.
How to take care of your mental health during the Hong Kong extradition bill protests
According to a survey by the University of Hong Kong, nearly one in 10 people have experienced symptoms of depression since the anti-extradition protests began.
"Some students have reported having vivid dreams, flashbacks of violence, and being scared by sudden noises – all of which are symptoms of PTSD," says Yeung. Post-traumatic stress disorder is a mental health condition that's triggered by a scary event.
"They're dealing with family conflicts, negative emotions like distress, anger, and frustration, and a lot of people may not have an outlet to express it," adds Yeung. She points out that getting in touch with a psychiatrist "can be complicated and take a long time", which is why she wants Hear For You to provide an instant, direct service.
Yeung strongly emphasises the non-judgemental aspect of the initiative.
"We want to show people that we care about them as people, regardless of political views," she says.
"It is hard to share your thoughts in this political climate without feeling like you are being judged in one way or another".
Before launching, Yeung and the rest of the team had to get permission from the council members of each district.
"It was important to emphasise to everyone that what we were doing had no political messages, and [the district council] has been very supportive of us", Yeung says.
If you're struggling with mental health issues, remember that problems are temporary and there is hope
Once the logistics were arranged, the team began to screen volunteers and counsellors. "We received an overwhelming amount of support from people who wanted to help," says Yeung; "it was really heart-warming".
The response prompted the group to create a separate team of volunteers – mostly students who lacked counselling experience – to promote mental health awareness on social media. The team meets every week to plan content and strategy.
Yeung stresses the importance of having an online presence. "The street booths only reach a certain number of people," she says.
The team now runs a Telegram group, which offers the same services as the booths but remotely. Social workers and volunteers work in four-hour shifts. All volunteers must abide by confidentiality guidelines, and have the contacts of professional groups if callers need further support.
Getting to hear from Hongkongers of all ages and political quarters has been a unique learning experience. Yeung recalls being on the receiving end of one old man's angry rant.
"After he had expressed his frustrations, he told us that he had not spoken to young people in a very long time as no one was willing to listen. The fact that we were willing made him realise how much young people care", Yueng says.
"People are so focused on labelling you based on political views nowadays, that no one cares about your emotional needs, which is where the power of listening comes in."
The team have received similar feedback from members of the public who say speaking to the volunteers has changed their attitude towards Hong Kong's youth.
Schools urged to pay extra attention to students' mental health in the wake of anti-government demonstrations
"As young people, we understand how the Hong Kong youth feel, but at the same time we are willing to listen to demographics who hold different political views."
Yeung's goal is to keep expanding the team's outreach. Now that the new school term has begun, the team plans to set up booths on school campuses. "We know that there are still plenty of people who need help that we have not been able to reach, which is why we want to develop our publicity further."
Although Yueng didn't imagine Hear For You would be a long-term initiative, she remains strongly committed to the cause.
"As long as Hong Kong is in pain, we will be here to listen".
Edited by Charlotte Ames-Ettridge
Sign up for the YP Teachers Newsletter
Get updates for teachers sent directly to your inbox
Sign up for YP Weekly
Get updates sent directly to your inbox