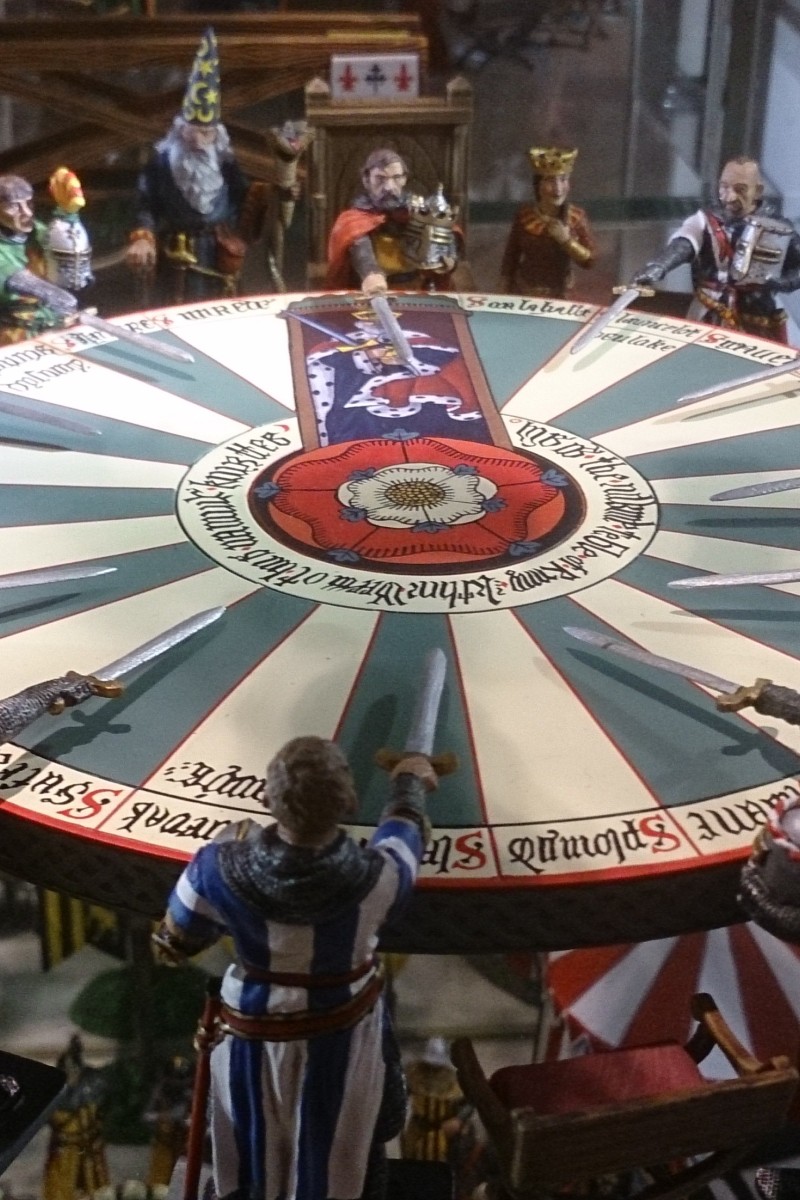 Former soldier Andy C. Neilson opened his first shop in Central in 1986 and sells a range of miniatures, from WWII tanks to Three Kingdoms characters
King Arthur and his Knights of the Round Table are just one of the themes you can choose at King & Country.
You don't have to join the army to lead thousands of soldiers into battle – just patience, a little money, and a trip down to King & Country in Admiralty.
"You're the general," says Andy C. Neilson, the toy shop's co-founder. "You're in command. That's the appeal of toy soldiers." The toy shop in Pacific Place designs and makes all-metal, hand-painted 1:30 scale toy figures, from US Army Air Force commanders and military planes, to rickshaw drivers and char siu bao sellers.
One of Neilson's favourite things to do when he was growing up in Scotland was collecting toy soldiers. He never outgrew his love for them, and his passion for playing with them stayed with him even after he left school. After doing a number of different jobs, one of which was as a Royal Marine Commando in the Royal Navy, he and his then-wife, Laura McAllister-Johnson, opened up a toy shop selling toy soldiers in Hong Kong in 1986.
The city was once known as the world capital of toymaking. Toys made in Hong Kong were cheap, but of a high quality. McAllister-Johnson wanted to take advantage of that while the city was still known as the world's Toy Town – and the gamble has clearly paid off, as King & Country is now known as one of the world's leading producers of toy soldiers.
"We opened up our first shop on Wyndham Street in Central but the building our shop was in had to be torn down. So after six years, we moved to Pacific Place," Neilson tells Young Post.
"The shop name, King & Country, comes from a British first world war poster that was trying to encourage men to join the army. That's what we wanted this shop to be – we wanted to encourage people to come into our shop."
Toy soldier collecting isn't a cheap hobby, though, and as Neilson talked us through the process of making a toy soldier, we can see why some of them can cost more than HK$1,000. Designing and making a single toy soldier can take anywhere between four to six months.
"First, I'll talk to my staff about creating a new product. Sometimes a collector will message me with their suggestions. Then, I'll research that particular period. I then have to sketch it out."
The sketches are then sent to a team of sculptors on the mainland, who use them to create a test model from a special clay. That gets sent back to Neilson, who spends a lot of time examining it.
"I'll modify them and check to see if their bodies, heads or weapons need changing. Once everything is okay, we produce five unpainted metal figures. These figures are sent to an artist in China and two of our own artists here in Pacific Place," Neilson says, adding that the figures are like "works of art".
From these five metal figures, one is kept by the company, and the other four are sold. Neilson's office on Lockhart Road is filled with toy soldiers, and all of them are displayed in glass cabinets. King & Country produces between 25 to 35 figures every month. That means they're making between 300 to 400 figures every year.
What sort of people buy the figures?
Mainly men, Neilson admits, who like to buy military figures from the past, such as Ancient Roman archers, or an American fighter jet pilot. But it's not all soldiers, forts and planes – King & Country also make figures with a cultural twist.
Their "Streets of Old Hong Kong" and "Colonial Hong Kong" collections are full of tiny models that both male and female Hongkongers of all ages will love. There's even a "Three Kingdoms" collection, for lovers of the Romance of the Three Kingdoms video game series who fancy taking their on-screen battles off-screen.
When we asked Neilson which collection, or even which one figure in particular, is his favourite, he simply shrugs and laughs.
"It's like trying to choose between your children. You can't – you love them all!"
Sign up for the YP Teachers Newsletter
Get updates for teachers sent directly to your inbox
Sign up for YP Weekly
Get updates sent directly to your inbox