Doctors say the teenager will survive after being injured during anti-government demonstrations, in a day of tear gas and petrol bombs
South China Morning Post
|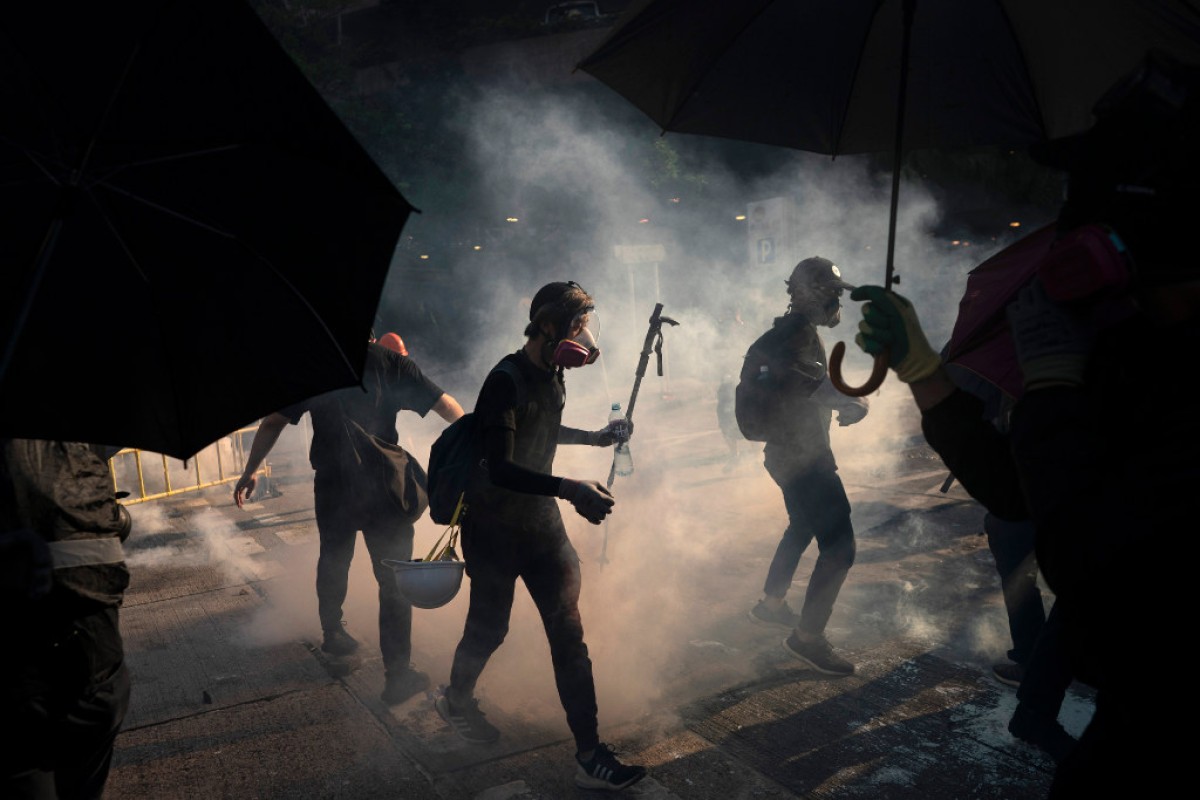 The National Day protests on October 1 saw the first protester shot by a live round in four months.
A secondary school student was in critical condition on Tuesday night after being shot with a live round by police. The 18-year-old was the first protester to be shot in the nearly four months of anti-government demonstrations. 
The teenager was first sent to Princess Margaret Hospital with a serious lung injury, then transferred to Queen Elizabeth Hospital, where he underwent a chest operation to have the bullet removed.
At 8.30pm, Democratic Party lawmaker Lam Cheuk-ting quoted medical sources as saying the victim "will survive".
A wrap up of the events of October 1
"I hope people continue to pray for him," Lam said.
The teenager, who was subsequently arrested for assaulting a police officer, was shot during a violent clash at around 4pm near Tai Ho Road in Tsuen Wan.
Video footage posted online showed a group of protesters chasing a police officer with a long shield into an alleyway, pinning him to the ground and beating him.
Another riot policeman in a gas mask then rushed forward with his service revolver pointed at the protesters.
As they clashed, the policeman with his gun drawn was seen kicking the victim, who swung his metal rod at the officer. At this point the officer pointed his gun and opened fire.
The victim then staggered backwards and fell onto the other riot policeman, who was under attack while pinned to the ground.
Anti-government anthem Glory to Hong Kong removed from Spotify
Another black-clad protester tried to rescue the wounded protester, but was also subdued by an officer.
A police source said the officer in a gas mask who opened fire had shouted a verbal warning before pulling the trigger.
"But the boy still hit his gun-holding arm with a metal rod, so he opened fire," the source said, adding that the shooting happened when the group of officers were retreating into a building at Tai Ho Road, where they had been outnumbered by protesters.
"The officers came out to help after seeing a colleague being attacked by the group of protesters," he added.
The source said police training guidelines authorised them to open fire in a life-and-death situation, and they were required to aim at the "centre mass of a body and not the limbs", as the arms and legs would be harder to target during a clash.
"We need to make sure that we hit the intended target and not misfire at others," he said.
A video by a City University student publication showed the protester bleeding from his chest and calling out his HKID number and name – Tsang Chi-kin – so he could be identified.
"My chest hurts a lot, I need to go to the hospital," Tsang was heard saying in the clip, while he was told to calm down as blood gushed out of his wound.
Students form human chain following Carrie Lam's first community dialogue
Tsang was given first aid before he was sent to Princess Margaret Hospital in Lai Chi Kok in a critical condition.
It was later confirmed that Tsang, 18, was a Form Five pupil of Tsuen Wan Public Ho Chuen Yiu Memorial College.
Soon after the confirmation, fellow pupils and alumni of the college flocked to an online group to voice support. "Hang in there!" many wrote.
Tsang's family was at the hospital with lawyers, while his teachers and classmates sat in the waiting room of the accident and emergency unit.
Two vice-principals from the school, Ho Wa-hung and Dr Lau Sui-yee, visited the hospital but left without getting a chance to see Tsang, they told reporters.
Two leaked medical scans showed fragments of the bullet in his chest. A source who reviewed the scans said the bullet had "barely missed the heart".
A cardiothoracic surgeon, who asked not to be named, said Tsang should not have been sent to Princess Margaret Hospital in the first place, as it lacked heart and lung surgery services.
"Such a delay could have cost this boy's life," the surgeon said. "Any gunshot injury to the lungs, chest or heart is very, very serious and can be fatal."
The roles protesters take when demonstrations turn violent
A third medical source said Tsang needed open surgery to stop the bleeding and remove the bullet.
"If the operation is smooth, given his age and good general condition, there is a good chance that he will survive," the source said.
In a joint statement, 24 opposition lawmakers strongly condemned police for "unnecessarily escalating the use of force and using deadly live ammunition" on an 18-year-old.
"The policeman's close-range shooting seems to be an attack rather than self-defence ... Many police officers have gone out of control and rudely treated demonstrators, the public, medical staff, journalists, social workers and lawmakers," the statement read.
Protest glossary: a guide to the key words you see in the news
Senior Counsel Lawrence Lok Ying-kam said the officer's move could be seen as an "inexcusable attempted homicide", adding that one possible defence was that he was outnumbered.
A government source said officials were thinking of seeking an interim injunction to withhold the officer's name and protect him from doxxing.
Police Senior Superintendent Yolanda Yu Hoi-kwan said she was "saddened" by the shooting.
"As an officer felt his life was under serious threat, he fired a round at the assailant to save his own life and his colleagues' lives," Yu said.