Tsuen Wan Public Ho Chuen Yiu Memorial College students and alumni held a peaceful demonstration in support of Tsang Chi-kin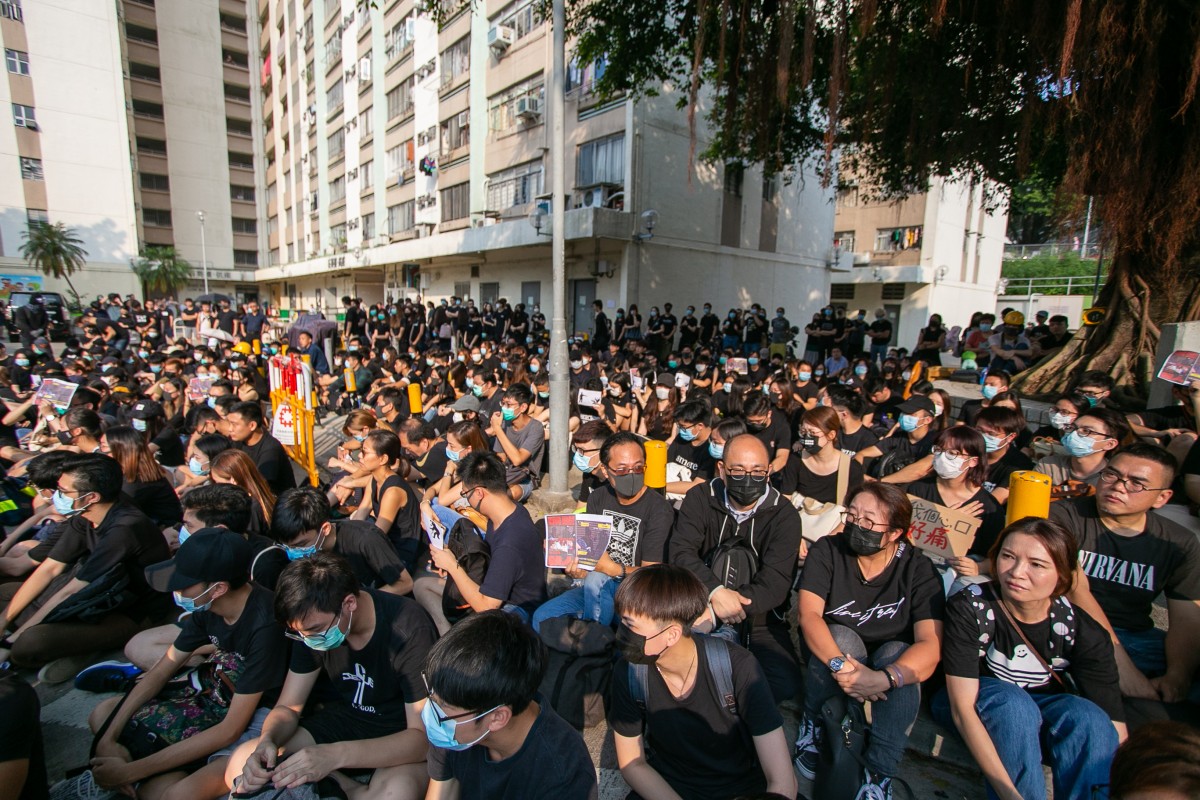 Several hundred students and alumni of Tsuen Wan Public Ho Chuen Yiu Memorial College staged a sit-in at the school gate on Wednesday morning.
Several hundred students and alumni of Tsuen Wan Public Ho Chuen Yiu Memorial College (Ho Chuen Yiu), where one of its students was shot in the chest by a police live round yesterday, staged a sit-in at the school gate on Wednesday morning.
The alumni, mostly dressed in black, were later invited to have a conversation with the school principal, Tse Yun-ming, at around 9am. This came after the alumni called for students who were boycotting class on campus to join them outside.
Wong, 22, who graduated from the school in 2014, brought protest gear and a sign that read "With blood, tears and sweat, we shall stride ahead" to the sit-in. He believed that as a former student, he had an obligation to protect those younger than him, and said that the responsibility to protest against the government should not be shouldered only by teenagers like Tsang Chi-kin.
Secondary student in critical condition after being hit with live round
"My whole body was shaking when I received the screenshot of the incident," said Wong. "No one deserves to be shot."
He added that he wouldn't be deterred by the fact that the police are firing live rounds at protesters, and would keep protesting.
"Just like our school motto, 'Rest in the Highest Excellence', our hearts won't stop aiming to do our best and do the right thing."
He added that despite his anger, he still didn't want to be blinded by hatred, echoing what the former spokesman of Hong Kong Indigenous Party Edward Leung Tin-kei said in his letter from prison on July 29.
Another student, surnamed Cheung, a member of the school's anti-ELAB concern group, said that he has known Tsang since primary school. At first, he couldn't believe that it was him when he saw the incident in a live video.
"I'm very worried. You could say that I'm in deep sorrow," he told Young Post.
Murder suspect who sparked anti-extradition bill protests to be released from prison
He added that he found Police Commissioner Stephen Lo Wai-chung's response completely useless and illogical, especially when Lo said the police did not decide the distance between him and Tsang and that the protester pushed in and left the officer with no choice but to use his weapon to stop the action.
"I feel like no matter if it's live rounds or not, shooting at people is inhumane," said Cheung. "I really don't want anyone to get hurt anymore."
A few students from Ho Chuen Yiu prepared posters that featured a screenshot from the footage that documented Tsang's injury. 16-year-old Cheng, who knew Tsang personally, explained that the posters were for informing the public about the incident, as well as raising international attention to the case.
The Form Six student broke into tears when she talked about Tsang's injury, and reaffirmed her support for teenagers like Tsang who took to the streets to show their discontent with the government.
"My hands were shaking when I read the news ... but I support Tsang ... for him to go to the frontline, because the government never responds to our demands," Cheng said.
On Tuesday night, students at the school also initiated a fundraising page on Instagram. They hoped to raise money for Tsang's medical expenses to ease his family's financial burden.
Anti-government anthem 'Glory to Hong Kong' removed from Spotify and Apple Music
Yesterday, video footage posted online showed a group of protesters chasing a police officer with a long shield into an alleyway, pinning him to the ground and beating him near Tai Ho Road in Tsuen Wan.
Another riot policeman in a gas mask then rushed forward with his service revolver pointed at the protesters. As they clashed, the policeman, with his gun drawn was seen kicking the victim, Tsang, who swung his metal rod at the officer. At this point the officer pointed his gun and opened fire.
The victim then staggered backwards and fell onto the other riot policeman. He was first sent to Princess Margaret Hospital with a serious lung injury, then transferred to Queen Elizabeth Hospital, where he underwent a chest operation to have the bullet removed. 
Tsang is in stable condition as of Wednesday. According to Cheung, Tsang, also known as his nickname Kin Jai, is quite a friendly and well-known person in school. He is a house committee member and is active in school activities. The school principal and Cheung said that no one from the school had seen him in person at the hospital, as he was undergoing an operation when they visited him.
The crowd gathered outside the school chanted protest slogans such as "Liberate Hong Kong, revolution of our times", "Hong Kong police, know the law but break it", and "There's no rioters, only a tyrannical regime". Some of them also put their hands on their hearts while they shouted.
By 8am, most Ho Chuen Yiu students, some masked and geared up with helmets, entered the school. Shortly after that, an alumnus in a V for Vendetta mask gave a speech to appeal for other alumni to step up in the movement.
Citizens vent anger and frustration during Carrie Lam's first open dialogue session
"If we had more people, we could've rescued Kin Jai," said the masked alumnus, who refused to reveal any details about himself. "If you're a keyboard fighter, could you go to the peaceful rallies? Could we all just push forward a little bit?"
At around 8:15am, the school principal spoke to the press. He briefly mentioned that the school had produced a press release announcing that it had set up an emergency response team to provide mental health support to students who needed it. The release also said the school would fully support Tsang and his family.
Most alumni were not satisfied with his answers. When they asked if Tse would condemn the police's actions, he did not respond, instead returning to the school.
At about 8:45am, alumni shouted at the school, asking the students who were skipping class to leave campus and join them outside the gate. Around 60 students went down to the ground floor but did not go out. Instead, they sat near the school gate. At about 9am, Tse invited all the alumni to join him for a conversation inside the school, but refused to let the press in.
According to one of the alumni who spoke with the principal, surnamed Wong, Tse promised that Tsang wouldn't receive any punishment from the school. He guaranteed that even if Tsang had to face legal consequences, the school would not expel him.
Tse told alumni that since the start of the movement, there has been a lot of news circulating online and he did not know what was true and what was not. He added that he was emotionally affected by the news, and had been avoiding it recently. 
The vice-principal Ho Wai-hung said the China-Hong Kong relationship was like a mother-and-son relationship, as well as the regime-and-protester relationship. "Even though the parents have done something wrong, does destroying everything at home make them understand where the problems lie?"
This infuriated alumni, according to Wong. They responded, "[The police] shot at a person! We're not talking about politics, but a humanitarian problem."
"We were once proud of Ho Chuen Yiu, but now we're ashamed of the school," a former student said in the meeting.
Carrie Lam says no to police inquiry during first community dialogue
Furthermore, a letter to parents issued by the school on Wednesday, which Young Post obtained from a student, noted that the entire school is grief-stricken and worried, and said that a crisis management team had been formed by educational psychologists, teachers and social workers to provide assistance to students who are emotionally distressed by the incident. They also pledged to provide full assistance to Tsang and his family, and advised students to stay away from danger when participating in public events, urging them to seek help from teachers if needed.
Students from neighbouring schools also participated in the sit-in; some stayed behind after most students went back to school at 8am.
Chan, 14, from Po Leung Kuk Yao Ling Sun College, told Young Post that she was outraged by Tsang's injury, and thus decided to skip classes today as a form of protest. The Form Two student hopes her peers from other schools can carry on with the class boycott and other internal protest activities, such as chanting slogans during recess and lunch break, to show solidarity with Tsang.
Meanwhile, former Hong Kong leader Leung Chun-ying, now vice-chairman of the Chinese People's Political Consultative Conference, said on his Facebook account on Wednesday afternoon that, "We should not only ask if the officer should have fired, but also if the students committed serious crimes when they took part in riots and attacked police."
"The principal should immediately remove the student status of these thugs as punishment. If the principal is afraid that others will cause damage to the school, then he should resign."
Leung also sent a letter to the school, reiterating what he said in the call.
Sign up the YP Teachers Newsletter
Get updates for teachers direct to your inbox
Subscribe to YP Weekly
Get updates direct to your inbox