Many see it as a safety measure, helping people avoid hotspots in the city, but the Chinese government says it 'incites illegal behaviour'
South China Morning Post
|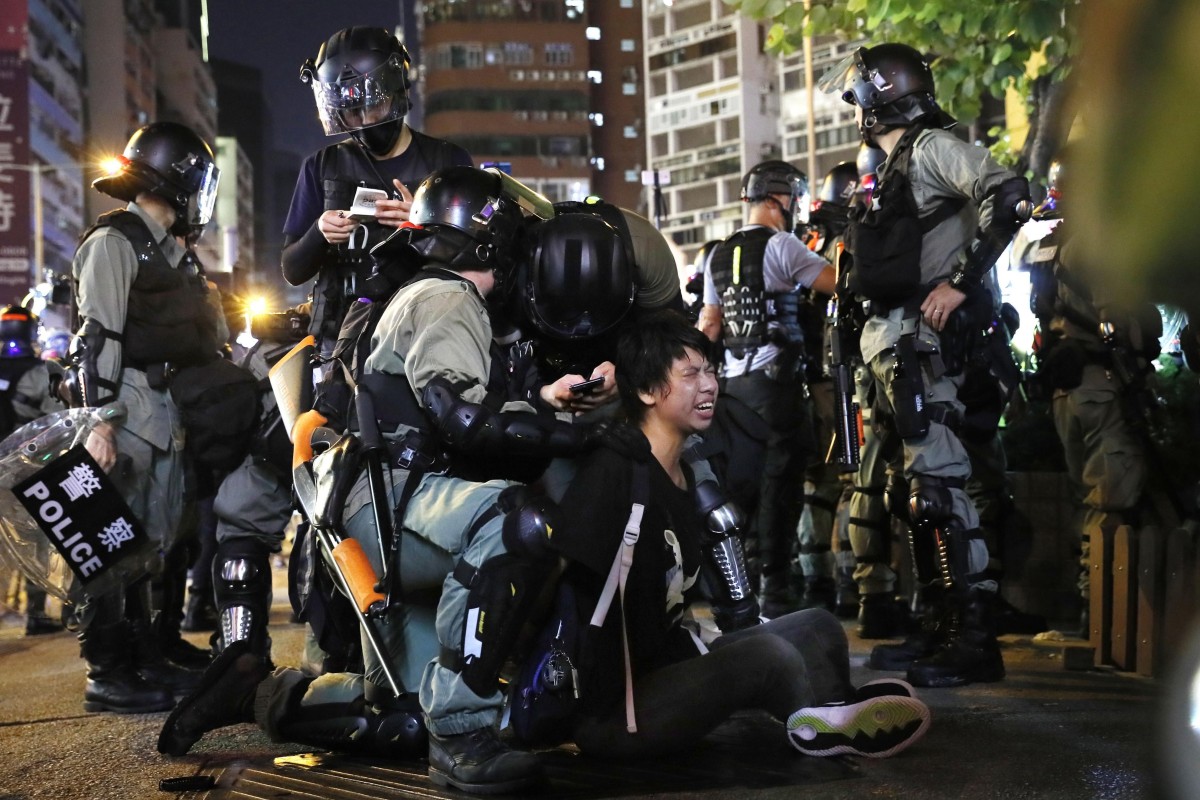 Police restrain a protester near a police station in the Mong Kok shopping district on Monday. Chinese commentators are criticising Apple Inc for making available an app that would allow users to avoid police actions in Hong Kong. Photo: Kyodo
On Tuesday, Chinese state media accused US tech giant Apple of "protecting rioters and enabling illegal behaviour" after it listed on its app store an application that tracks police activity in Hong Kong.
Apple had previously rejected the app, called HKmap.live, but reversed its decision on Friday and made the programme available for download from the iOS App Store on Saturday, according to the program's developer.
The developer declined to give a name when contacted via Twitter, citing concerns of arrest by the government.
The app relies on crowdsourced information to track the location of police presence in the city, alerting users to police vehicles, armed officers and incidents in which people have been injured. The app — a website version is also active — displays hotspots on a map of the city that is continuously updated as users report incidents.
"By allowing its platform to clear the way for an app that incites illegal behaviour, [does Apple] not worry about damaging its reputation and hurting the feelings of consumers?" said a commentary published on the app of People's Daily, the Chinese Communist Party mouthpiece.
The opinion piece, which was promptly republished by numerous other mainland Chinese outlets, was signed "Bolan Ping", an apparent pen name translating to "calming the waves" that has only emerged in recent weeks and that exclusively addresses issues relating to the unrest in Hong Kong.
Trump says Beijing's handling of Hong Kong protests could affect trade talks
The piece made no mention of the fact that the app is also available to Android users via the Google Play store.
Apple did not respond to requests for comment. 
Users of the HKmap.live app have praised it as a valuable tool for avoiding flashpoints and moving through the city safely.
Commenting on the Google Play store, where the app has been downloaded over 10,000 times and has a 4.1 star rating, one user said the app had helped "make my way to [my] hotel safely and faster".
Defying mask ban, tens of thousands of Hongkongers hold weekend demonstrations 
But the People's Daily commentary argued that the app's primary purpose was to enable evade police, and accused Apple of "opening the door wide for those violently wreaking havoc on Hong Kong".
Evoking China's historical suffering at the hands of foreign powers, the piece said that Apple's distribution of the "poisonous app" was a "betrayal of the Chinese people's feelings".
Online commentators in China overwhelmingly appeared to agree; in under three hours the article received over 50,000 likes on Weibo, the Chinese social media platform, as well as scores of comments calling for boycotts of Apple.
Sign up the YP Teachers Newsletter
Get updates for teachers direct to your inbox
Subscribe to YP Weekly
Get updates direct to your inbox