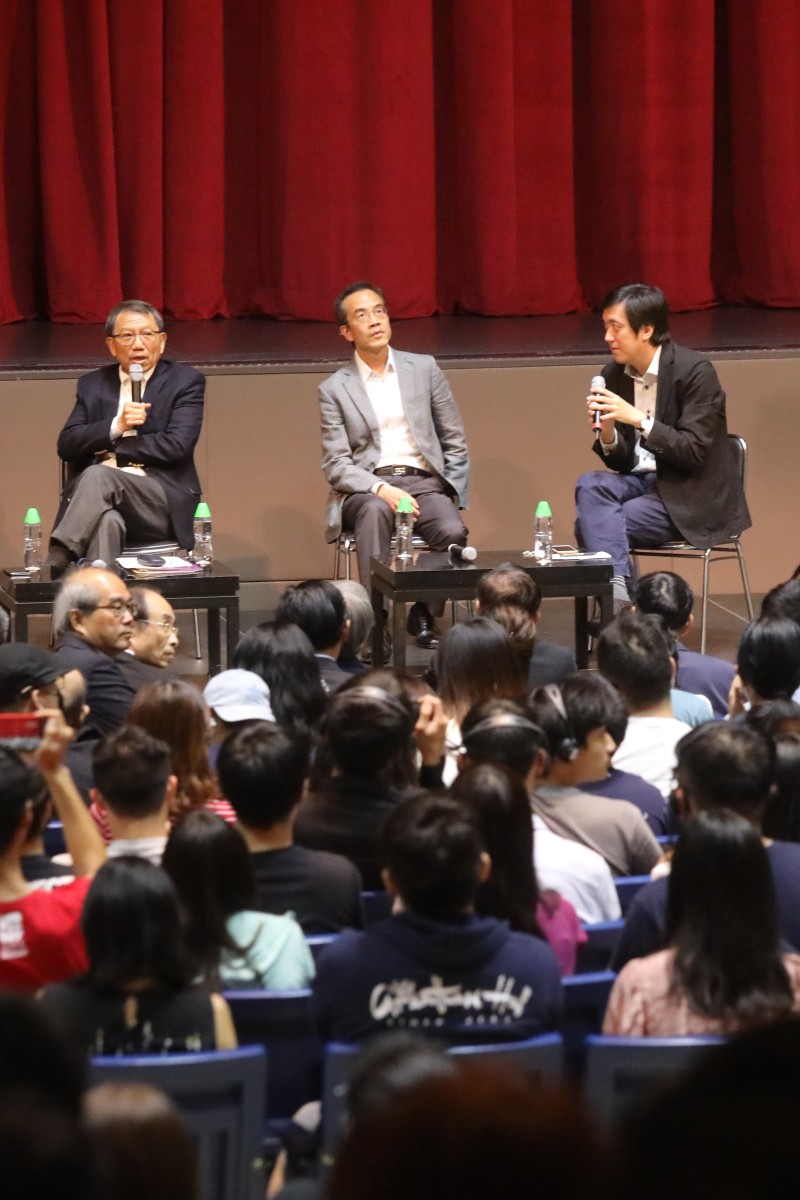 Many were visibly upset after he refused to condemn police brutality in an open dialogue on Thursday
South China Morning Post
|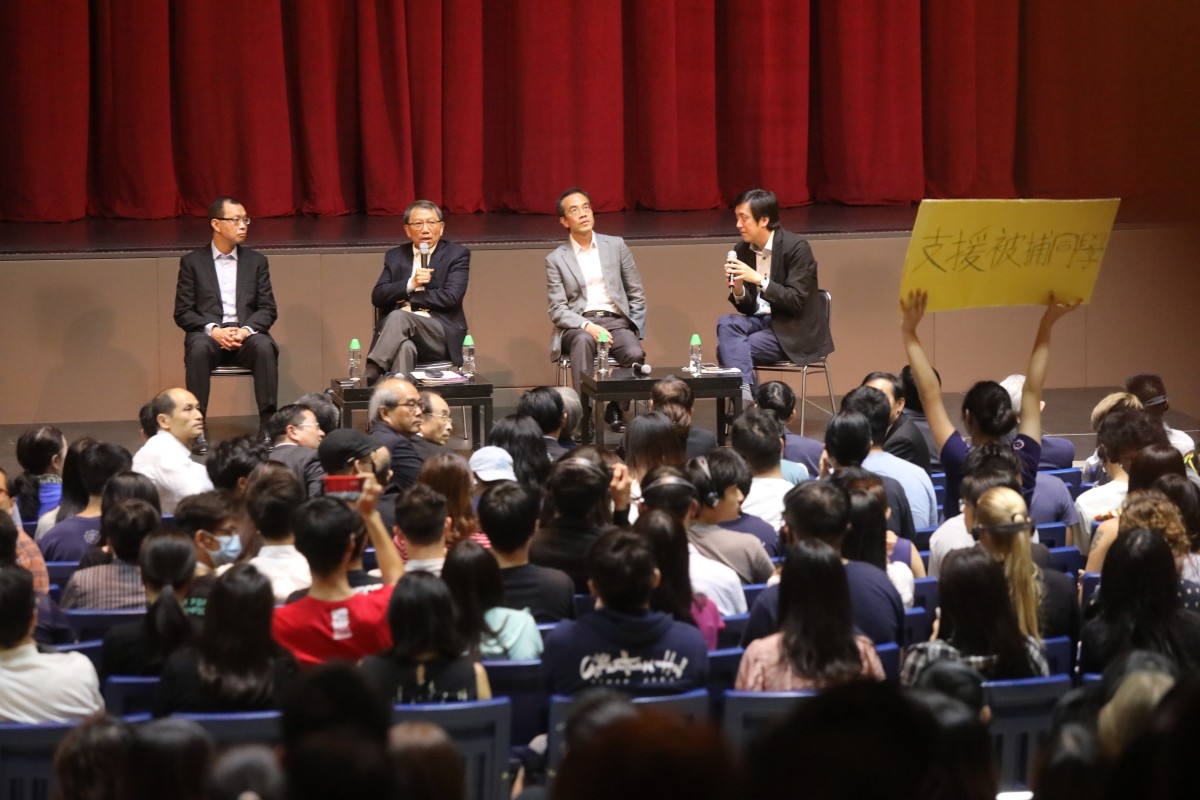 Vice-Chancellor Rocky Tuan Sung-chi (second left) of Chinese University on Thursday meets students and alumni for a dialogue session in Sha Tin.
Following a tense open dialogue on Thursday, police in Hong Kong have said they will investigate a sexual assault claim by a Chinese University student at San Uk Ling detention centre after hundreds of her classmates put pressure on the vice chancellor to condemn the alleged incident, along with other instances of police brutality.
They also demanded better security after riot police entered the campus last weekend.
Students and alumni filled 1,400-seat Sir Run Run Shaw Hall at the university's Sha Tin campus for a dialogue session with the school's president, Rocky Tuan Sung-chi.
Nearly one-third of anti-government demonstrators arrested are under the age of 18
At least 32 of the university's students have been arrested during the ongoing protests, according to Pro-vice-chancellor Dennis Ng Kee-pui. Ng said the university had met some of the arrested students and would provide them with the "necessary legal assistance".
During the 3½-hour session, Tuan was repeatedly questioned about the support the university provided the students. His replies were often interrupted by angry students who chanted slogans, pointed laser beams, shouted profanities and sang protest songs.
Dozens of students surrounded Tuan for more than 30 minutes after the meeting ended at 9pm. The students demanded that Tuan issue a statement condemning police brutality. Some students became emotional and burst into tears as they accused Tuan of continuously dodging questions.
"Why is it so hard [for Tuan] to condemn police brutality?," a student said, weeping.
Tuan replied that he would issue a statement in a week and would condemn what he called the police's sexual violence, referring to an alleged sexual assault on some arrested protesters.
Among the students who spoke during the dialogue was Sonia Ng, who said she was arrested at Prince Edward MTR station on August 31 and later detained in San Uk Ling detention centre near the mainland border.
"Do you know the body search room in San Uk Ling is all dark? Do you know I am not the only one who was subjected to sexual violence?" she said.
She also challenged Tuan to issue a statement to condemn alleged sexual violence by police, saying she would remove her mask if he did.
"I am willing to be courageous and take off my mask, would you also be brave and support us, and condemn police violence towards all the people arrested, including Chinese University students?" she said.
In his opening speech, Tuan said the government should "do more work" to resolve the divided society's many deep-rooted problems.
He said the government should conduct "independent inquiries on various aspects" to uncover the truth behind the months of protests. He also said he hoped members of the university would unite and "sail through these difficult times".
Tuan was then repeatedly grilled over whether he would condemn "police brutality". He was also questioned about his stance on the controversial anti-mask law that came into effect last Saturday.
The law was not applicable on university campuses, he said, without elaborating. He also reiterated his stance of "condemning all kinds of violence", including police violence.
Other students spoke out against the incident on Sunday when riot police officers entered the university and searched five students who were putting up promotional material. No arrest was made.
In response, Tuan said the MTR Corporation had called for the police because there were "acts of vandalism" at the station near the school.
He admitted that officers had entered the university, but said the school's security officers oversaw the situation. He said he hoped similar events "would not happen again".
A 21-year-old student surnamed Tsang said he felt "frustrated" by Tuan's comments, accusing the school official of evading many of the students' questions. Tsang said Tuan "did not offer anything new" during the session, adding that he had hoped Tuan would promise more concrete actions for the arrested students.
Meanwhile, in a statement released on Thursday night, police said they were aware of a female student claiming she was sexually assaulted by officers when she was detained at San Uk Ling Holding Centre.
"Police accord high priority to such a serious allegation," the force stated, adding that its Complaints Against Police Office has not received any case of sexual assault related to the facility.
"We will proactively contact the [woman] and appeal to her to provide concrete evidence so that we can launch a fair fact-finding investigation as soon as possible," the statement added.
Sign up for the YP Teachers Newsletter
Get updates for teachers sent directly to your inbox
Sign up for YP Weekly
Get updates sent directly to your inbox