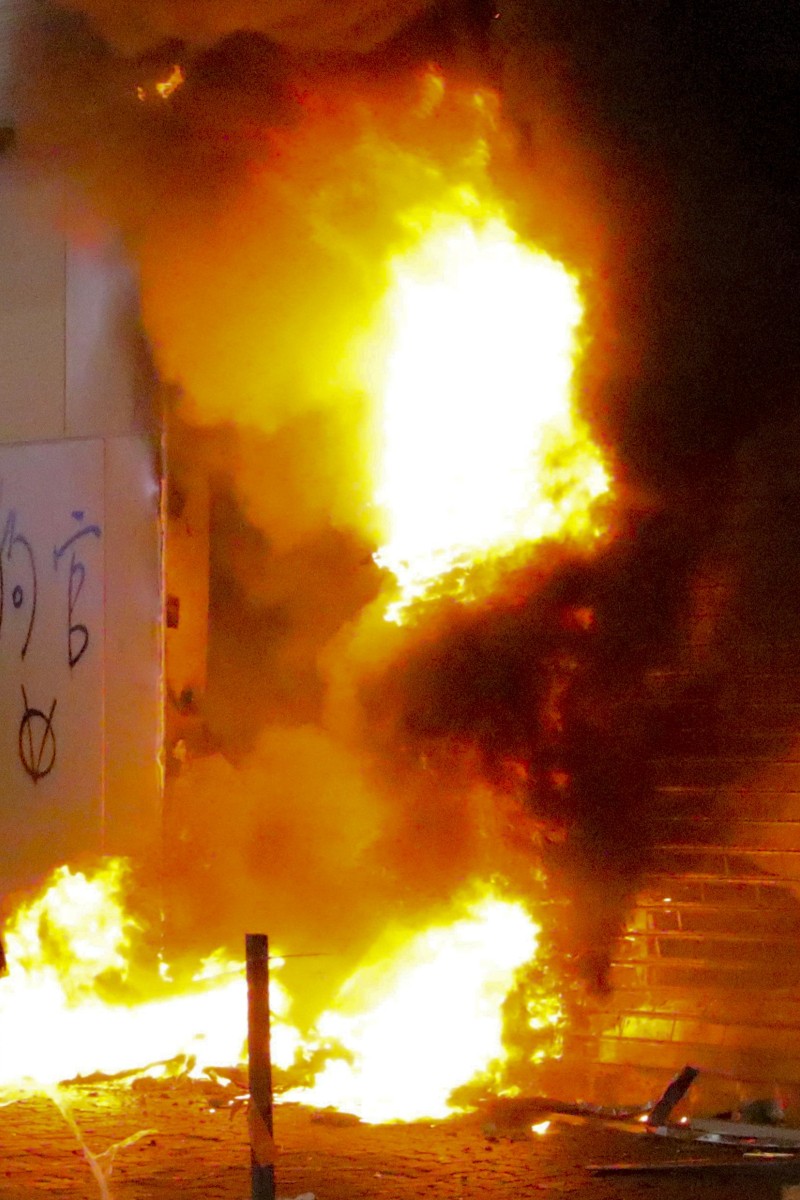 Several mainland-China linked businesses were vandalised and set on fire by demonstrators as the protests kicked off their 20th week
South China Morning Post
|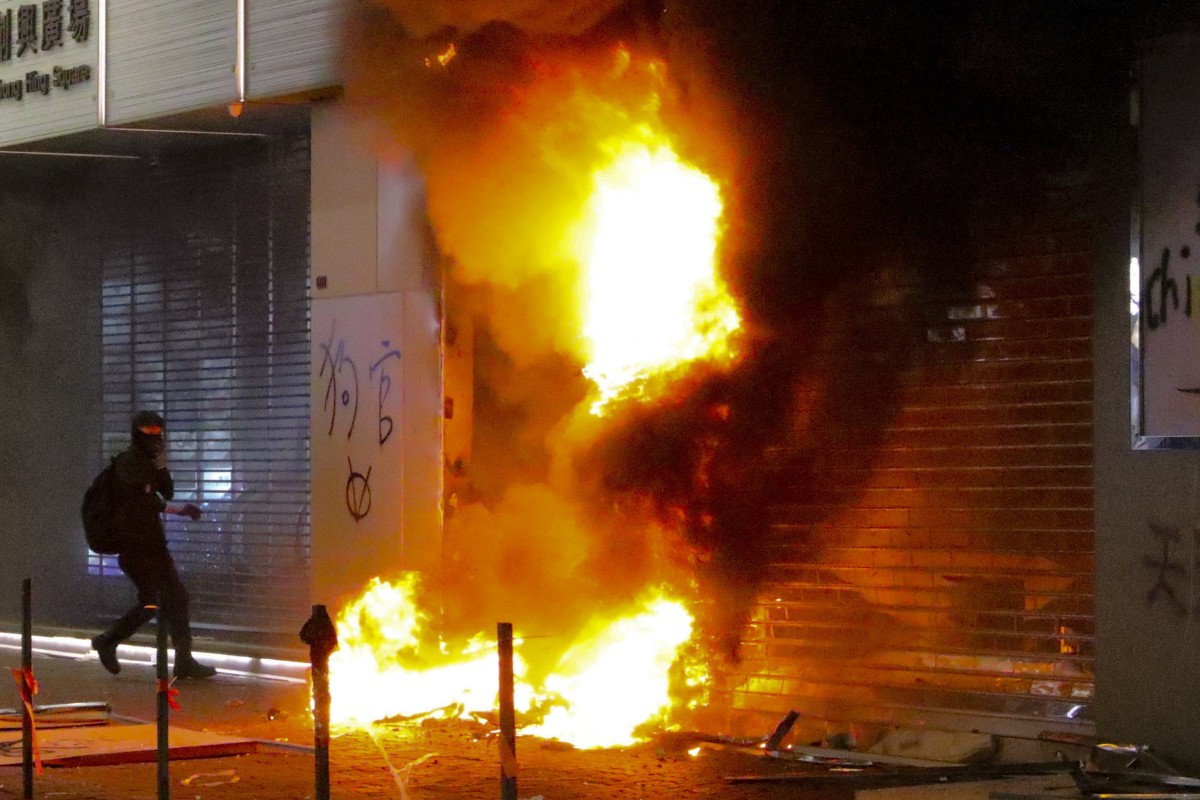 Masked anti-government protesters set stores on fire.
Hong Kong's 20th weekend of protests saw the city's largest mosque sprayed with blue dye from water cannons, fuelling tensions in the area. 
Kowloon Mosque and Chungking Mansions had been on high alert ahead of the march, amid fears that there would be retribution against the city's ethnic minority groups after Civil Human Rights Front's convenor Jimmy Sham Tsz-kit was attacked by people described to be of South Asian descent last Wednesday.
While protesters steered clear of the mosque, its gates ended up being soaked in blue solution by the police's water cannon. It was spotted going up and down Nathan Road several times, firing randomly at groups of bystanders and journalists.
"I don't understand why dye was sprayed on the religious building, as there were not many people around," said Mohammed Sadeque, 34, who came from Kolkata to settle in the city 12 years ago. But he appreciated fellow Hongkongers who helped to clean up the coloured mess afterwards.
The Civil Human Rights Front, which applied for the march today but failed, condemned police's use of a water cannon on the mosque, calling the action "totally unnecessary" as there were only "a few people" nearby.
Hong Kong Unison, which reported that some of its members were doused in the dye and injured while safeguarding the mosque, issued a statement saying it was "outraged by police's unjustifiable and rash action".
It demanded police explained their actions for deploying the "stinging dye" and issued an apology to those injured, as well as to the mosque.
Later in the evening, Ho Yun-sing, the district commander of Yau Tsim, visited the mosque to meet with the imam for 45 minutes. It was unclear whether there was an apology.
Demonstrators kicked off the illegal march in Tsim Sha Tsui peacefully but the initial calm dissipated in less than two hours as some protesters began blocking roads and throwing bricks and petrol bombs.
Secondary students rally at HKU to protest mask ban
Arson attacks began from around 3pm and lasted for more than eight hours as they set off fires inside mainland-linked businesses and police and metro stations, before gutting a Xiaomi shop and Chinese medicine store Tong Ren Tang in Mong Kok.
The tens of thousands of protesters began their illegal march equipped with banners and umbrellas from Salisbury Garden in the shopping district of Tsim Sha Tsui towards the West Kowloon terminus of the high-speed rail link, which was heavily guarded by police.
But before long, the protesters headed north all the way to Sham Shui Po along Canton Road and Nathan Road, as radicals forced open the shutters of shops and banks with mainland links and began trashing them and setting fires to several of them, including a Bank of China outlet.
Apart from the branches of Best Mart 360 – which has been target of vandalism after being accused of having ties with the "Fujian gangs" that had allegedly beaten protesters in the past – the Mong Kok branch of Chinese medicine group Tong Ren Tang was also smashed and its medicine cabinets ransacked. Protesters later returned to the medicine store to set it on fire.
In Yau Ma Tei, an elderly man who was accused of stealing at least three mobile phones from a trashed Xiaomi store was tied up by protesters, who insisted they did not condone looting.
A tense stand-off also erupted near the Park Lane Shoppers' Boulevard as protesters repeatedly hurled petrol bombs at the Tsim Sha Tsui station as officers fired rounds of tear gas at them from inside.
Protesters also cut down a surveillance camera near a Yau Ma Tei MTR exit with an electric chainsaw, before setting it on fire.
What are the 5 demands? What do protesters want?
They then threw petrol bombs inside at least four metro stations through their closed exits – forcing the partial suspension of Tsuen Wan line and the closure of at least 14 stations. The city's railway operator MTR has been the target of protesters who accused the operator of aiding the police's clearance actions.
By evening, a bomb disposal robot – believed to be deployed for the first time during the four-month protests – had also detonated a suspected explosive device inside a cardboard box placed at the intersection of Lai Chi Kok Road and Tong Mi Road in Tai Kok Tsui.
The marauding protesters also set a traffic light controller ablaze, apart from the fires they started in the shops the broke into.
In Mong Kok, riot police fired tear gas and rubber bullets at the mob but later appeared uncertain whether to continue their actions. As they retreated, protesters threw bricks at their vehicles, breaking the windows. Police then returned to clash again with the mob, before retreating yet again.
Figo Chan Ho-wun, the vice-convenor of the front who pushed ahead the banned march alongside three pan-democrats in their personal capacity, claimed an estimated 350,000 people had taken part in it.
A glossary of terms from the protests
A 25-year old frontline protester, surnamed Tang, said protesters had resorted to more violent behaviour because peaceful protests had not worked.
"Carrie Lam Cheng Yuet-ngor just won't listen," the banking staffer said, referring to the city's chief. "We must continue with our fight."
In a statement released just before midnight, the Hong Kong government strongly condemned the acts of "rioters who completely disregard law and order".
Sign up for the YP Teachers Newsletter
Get updates for teachers sent directly to your inbox
Sign up for YP Weekly
Get updates sent directly to your inbox