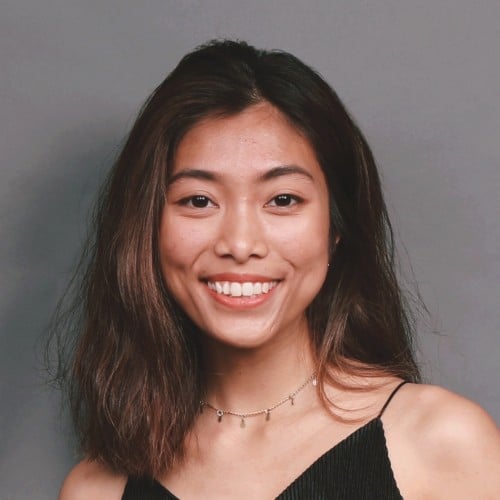 Joanne joined the Post in 2018. She majored in English Literature for her first degree and has a master's degree in Journalism.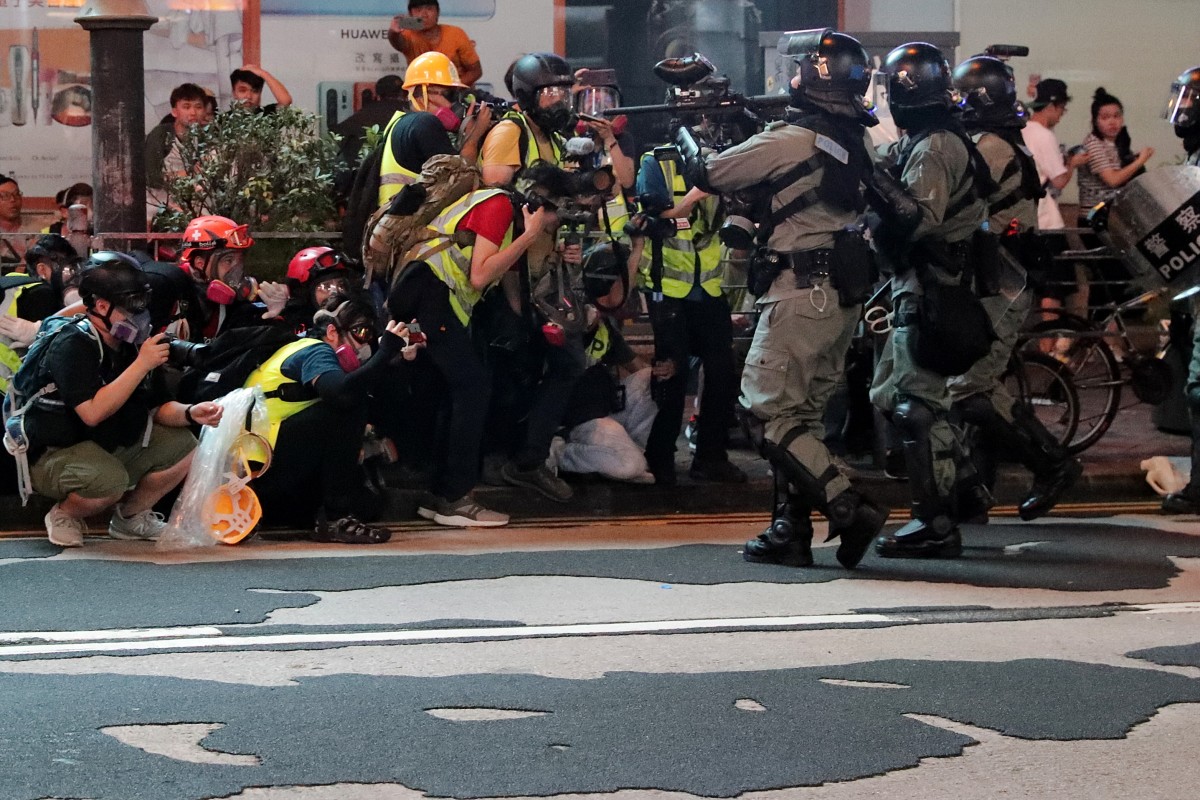 Riot police confront a group of media personnel in Mong Kok as citywide protests continued into the 21st straight weekend.
A female reporter condemned police brutality against journalists and their suppression of the city's press freedom, as citywide protests continued into the 21st straight weekend.
The reporter interrupted a police press conference today, claiming that the police's treatment of journalists had become worse by the day, and that they had been preventing journalists from covering the protests by shining bright lights at them. She demonstrated the police tactics by using a flashlight at the media gathering.
"[Recently], multiple riot police have unreasonably attempted to push reporters, and pull off their gas masks, and aimed pepper spray, rubber bullets, as well as water cannon at them ... A reporter was injured and detained for seven hours without reason on Sunday night," she said, pleading with other reporters at the conference to stand up for themselves.
Tear gas deployed and petrol bombs thrown as the city enters its 21st week of demonstrations
During her speech, the journalist was asked by the police to leave the venue, but she refused. She eventually left after 30 minutes, and the press conference resumed.
A police spokesman, Chief Superintendent John Tse Chun-chung, said he believed that most officers were not deliberately targeting reporters at protest sites. He asked journalists to stay in a safe space where they won't be taken advantage of by protesters.
Meanwhile, journalist organisations have criticised the police's obstruction of reporters, use of force against them, and the arrest of a photojournalist.
At least two journalists, including one from South China Morning Post, were injured by non-lethal rounds fired by police, while a freelance photographer was taken away by officers during the protests on Sunday that began in Tsim Sha Tsui and later spread to Mong Kok and Sham Shui Po.
The Foreign Correspondents' Club (FCC) condemned the arrest of freelance photojournalist May James, who was asked to remove her face mask by police while covering a protest for Hong Kong Free Press in Mong Kok on Sunday.
James was searched, arrested and detained overnight at a police station in Kowloon, the statement said. She was released early today. James has covered the protests as a freelance photographer for Hong Kong Free Press, Agence France-Presse and other news organisations.
Cafe seen as supportive of anti-government demonstrations vandalised 'by four masked men'
The RTHK Programme Staff Union also condemned the police's repeated hindrance of reporters, and the forceful removal of a RTHK videographer's face shield on Nathan Road in Mong Kok on Sunday.
According to the statement, the videographer was filming on a pavement, when a riot police officer suddenly approached him, shoved him into a shop gate, and forcibly ripped off his face shield. More than a dozen riot police then separated the officer from the onlookers nearby, and warned them and the media to leave.
As the videographer continued his work, the statement read, a police Special Tactical Squad member sprayed blue pepper liquid in the direction of the videographer and a group of journalists.
What are the 'five demands'? What do protesters want?
The union emphasised that the videographer was wearing a reflective vest bearing the RTHK logo, the video camera had an RTHK sticker, and he was also wearing his press pass.
"The police obviously targeted media, lost control of their senses, lacked the ability to make judgments, and acted in a barbaric and unprofessional manner, leading one to question if the officers are fit to continue to serve on the front lines," the statement read.
Condemning what they described as a serious infringement of press freedom and human rights, the union called on the police to make public the officer's identity and investigate whether the officer had violated police regulations.
A timeline of events, from the introduction of the extradition bill to the 2 million person march and more
Earlier this month, Robert Mahoney, Deputy Executive Director of the Committee to Protect Journalists (CPJ), an independent organisation that advocates press freedom worldwide, sent a letter to the city's chief executive, Carrie Lam Cheng Yuet-ngor, expressing his concern about the repeated attacks on journalists by Hong Kong police.
"We have seen disturbing incidents that are difficult to explain as anything other than intentional attacks or, at a minimum, extremely undisciplined and unprofessional police work that should never be tolerated in Hong Kong," he said.
Examples included the well-documented firing of a projectile that hit Indonesian journalist Veby Indah, who was standing with other easily identifiable journalists well apart from any protesters. Indah lost sight in her right eye as a result.
Students at Inter-school Swimming Competition sing Glory to Hong Kong ahead of prize-giving
The committee urged Lam to establish an independent body with full investigative authority and to take immediate action to ensure journalists can carry out their work safely.
On July 14, more than 1,500 Hong Kong journalists staged a silent march against what they called police mistreatment of frontline reporters and infringement of press freedom during extradition bill protests. They also demanded that officers follow rules, and warned them against obstructing journalists from doing their job.
Sign up for the YP Teachers Newsletter
Get updates for teachers sent directly to your inbox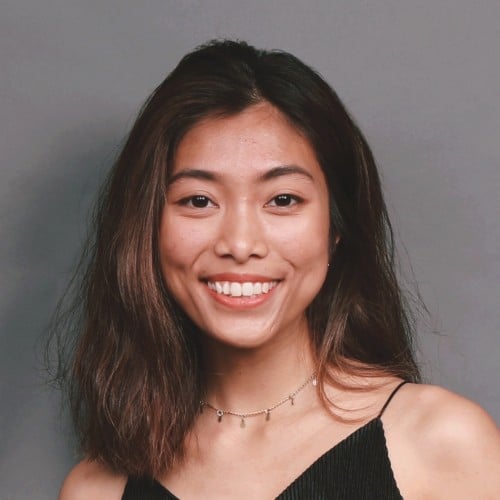 Joanne joined the Post in 2018. She majored in English Literature for her first degree and has a master's degree in Journalism.
Sign up for YP Weekly
Get updates sent directly to your inbox