A man from mainland China also waved a knife at a group of students while singing the Chinese national anthem
South China Morning Post
|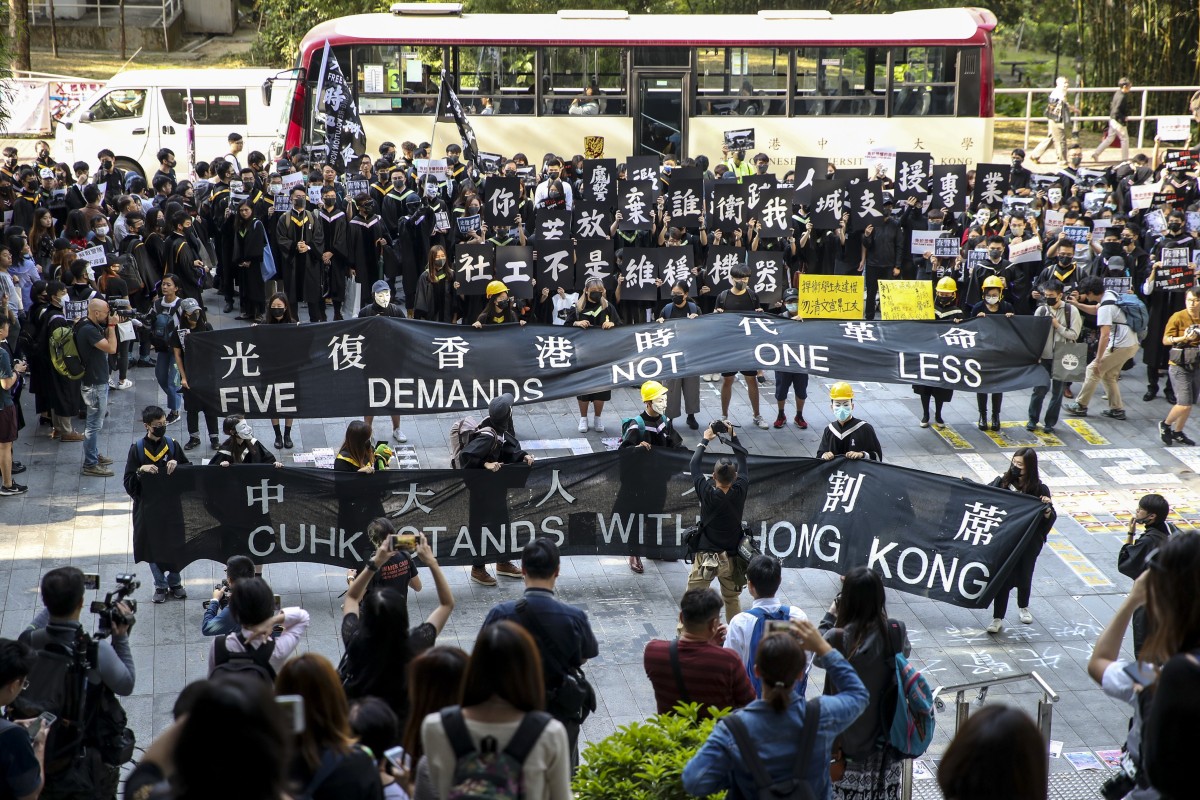 Chinese University students wear masks during a march before the graduation ceremony.
A graduation ceremony at the Chinese University of Hong Kong was abruptly halted on Thursday after students wearing masks chanted slogans as the national anthem was being played.
The university decided to end the ceremony immediately after degrees had been conferred by vice chancellor Rocky Tuan because of "special circumstances", a CUHK spokeswoman said.
"Verbal disputes broke out between those with different opinions, graffiti was sprayed on the campus and there were disruptions while the ceremony was taking place," she said.
Pro-Beijing lawmaker Junius Ho injured in knife attack
"Therefore, after awarding all the degrees, the university decided to suspend the ceremony immediately."
The presentation of teaching and research awards, as well as professorship installation, was skipped as a result of ending the ceremony.
When the national anthem was played at the beginning of the ceremony, many students turned their backs on the stage, and some could be heard chanting slogans such as "Liberate Hong Kong, Revolution of our times", although they remained quiet throughout the rest of the ceremony. Many students also wore masks and held up banners.
At around 9.30am, before the ceremony began, a man who claimed to be a student from mainland China waved a knife at a group of more than 300 students chanting slogans outside the venue of the congregation while he sang the Chinese national anthem.
When asked by reporters why he was holding a knife, he put it down and said that he "wanted to protect himself, after seeing what happened at HKUST yesterday".
He was swiftly taken away by university security guards. The police were called, according to CUHK.
On Wednesday evening, at a dialogue forum hosted by the president of Hong Kong University of Science and Technology Wei Shyy, chaos erupted when a student believed to be from the mainland pushed a Hong Kong student to the ground.
HK police officer lives double life as riot squad member and protester
The trigger for the clash was unclear but the incident left at least four students injured, with one taken away in a wheelchair.
Earlier on Thursday, at 8.30am, more than 300 students gathered at the Goddess of Democracy at the bottom of the campus, before marching to the University Mall where the graduation ceremony was held.
Students held up long banners with "CUHK stands with Hong Kong" and "Five demands not one less".
Sign up the YP Teachers Newsletter
Get updates for teachers direct to your inbox
Subscribe to YP Weekly
Get updates direct to your inbox