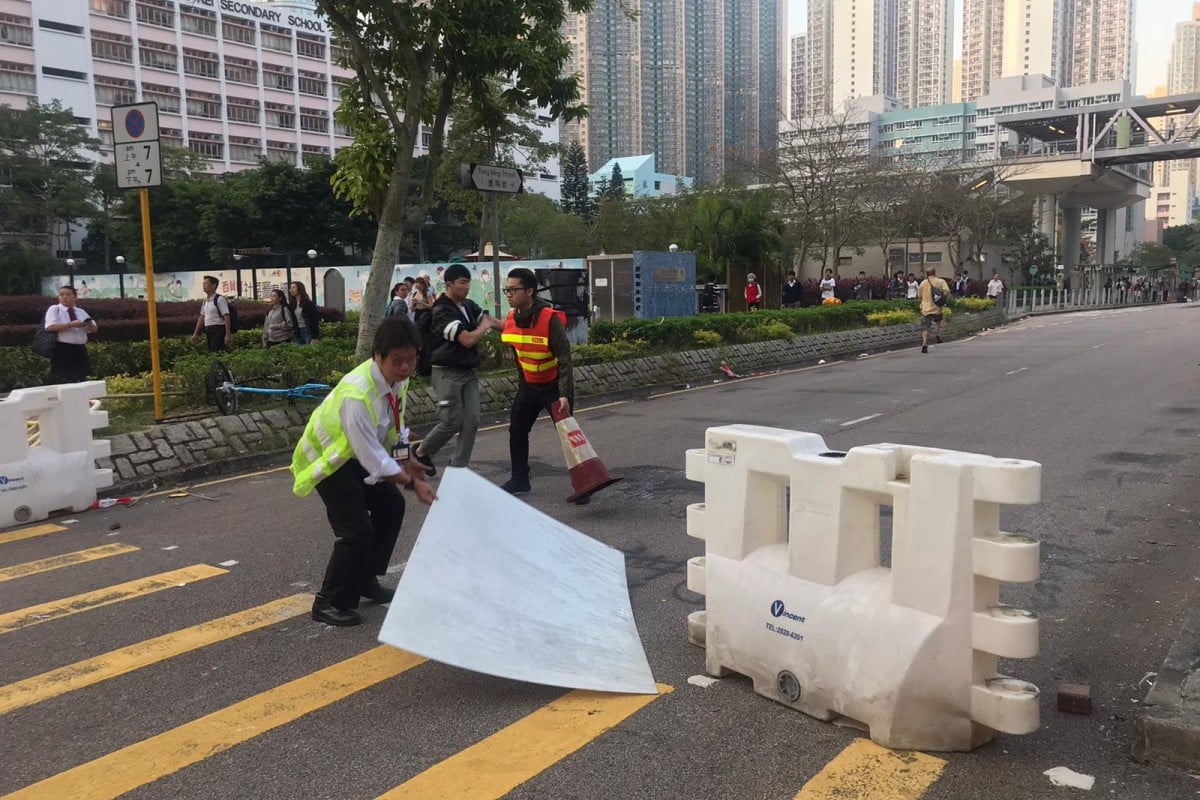 A TKO Roadblock is immediately cleared by people in KMB vests and some drivers. A driver said she wanted to go to work, "please don't do this yet, let me go to work first".
On 11 November, protesers organised a citywide strike, announcing they would set up roadblocks in some areas and disrupt MTR services. Three secondary schools in Sai Wan Ho and Shau Kei Wan announced they would have a "Walk with you" protest beginning from Sai Wan Ho MTR station.
Follow our blog for live updates of this morning's events:
This is the end of Young Post's coverage. For further live updates, head to the SCMP website.
[2.00pm, Chai Wan]
Dozens of healthcare workers held a rally protesting police brutality in the lobby of Pamela Youde Nethersole Eastern Hospital, where the protester who sustained a gunshot injury is being treated. They chanted slogans like "Hongkongers, revenge!" and "Oppose police brutality", with some holding placards accusing police of misbehaviour on different dates, including one saying police "killed people on November 11". 
A nurse named Lilian was among those who joined the rally. "I found the police are really shameless," she said. "[The protester] looked harmless, I didn't understand why the police would shoot him."
"I felt really sad when I learned about the news," she said. 
Kay Tse, a community nurse from the hospital, said he used this way to protest instead of a strike. 
"We chose to work, but we have seen disciplinary forces not following their guidelines and using force improperly," Tse said. "We feel angry about the loss of life."
[12:53pm, Ma On Shan]
A man was set on fire during a dispute on an On Chun Street footbridge in Ma On Shan, according to police. Online video footage showed a man in a green T-shirt was sprayed with an unknown solution during an arguement. When he began walking away, he shouted "you all are not Chinese" to a crowd, which responded by saying "We are Hongkongers." A dispute ensued again. During the dispute, he was set on fire. A police source said the injured man was taken to Prince of Wales Hospital in Sha Tin for medical treatment.
[1.55pm, Central]
[1.53pm, Wong Tai Sin]
[1.53pm, Sai Wan Ho]
The protester who was shot by a police live round in Sai Wan Ho on Monday morning, together with another protester who was also subdued by the police, are both alumni of the Salesian English School, according to pro-democracy lawmaker Raymond Chan Chi-chuen.
Chan, himself an alumnus of the Sai Wan Ho school, says he has contacted the school principal, who confirmed to him the two are both school alumni.
"It was shocking what happened. The teenagers were not armed. They were also not attacking the police officers there," Chan says, adding the two are both recent graduates. 
A prayer session will take place on Monday evening at the Salesian Missionary House.
[1.30pm, Hung Hom]
[1.30pm, Education Bureau turns says PM classes need not be suspended]
The Education Bureau has turned down the suggestion by Hong Kong Professional Teachers' Union to suspend classes of all PM schools on Monday, saying it is not necessary at the moment.
"The PM school students who have yet to go to school are mostly kindergarten pupils and most of them would either get there by school bus or with parents' company," a bureau spokeswoman says. "We remind parents to pay attention to the traffic updates and relevant announcement before going out."
The bureau also calls on the schools to take appropriate arrangement and keep in touch with students' parents while urging the pupils to head back home immediately and not to engage in any illegal activities after school.
In an earlier statement, the Professional Teachers' Union has called on the government to suspend classes of all PM school to safeguard pupil's safety.
Teddy Tang Chun-keung, chairman of the Hong Kong Association of the Heads of Secondary Schools, says school management of different schools are now deciding on their own whether to release students early. 
"It depends on the location of each school. For instance, there might be a higher risk if the school is located next to a police station or the conflict point," he says.
[1.20pm, Hung Hom]
[1.14pm, Update on injured protester]
A source confirms that the protester that was shot by a live round on Monday morning had his right kidney and part of his liver removed in surgery.
[1.05pm, Tung Chung]
Meanwhile, a few dozen riot police have arrived in Tung Chung, outside the MTR station. 
[12.55pm, Sai Wan Ho]
Three young men have been subdued and asked to face the wall by the police outside the Holy Cross Centre in Sai Wan Ho. 
[12.51pm, Central]
[12.48pm, Central]
At least five rounds of teargas have been fired in Central, as clashes between protesters and police continue on Pedder Street. 
[12.41, Central]
[12.36pm, Central]
Police have raised the black flag warning in central. 
[12.28, update on injured protester]
A source says the bullet inside the injured protester, surnamed Chow, has been taken out. It passed through Chow's right kidney and right liver, rupturing the two organs. 
The patient is now in the hospital's intensive care unit.
[12.25pm, Central]
Hundreds of protesters have gathered in Central and are shouting at about a dozen riot police, accusing them of "murder". 
Meanwhile, the blue flag has been raised by the police in Central. 
[12.19pm, Central]
Riot police are stationed in Chater Garden and outside Central MTR, ahead of a march that is speculated to take place during lunch time. Several young men wearing masks are stopped and searched, but are allowed to leave later. 
[12.15pm, Police force confirms use of live round on Monday morning]
In a statement on Facebook, the police force has confirmed the shooting of a live round at a man, and the drawing of handguns in Sha Tin and Tung Chung, blaming "rioters' extensive illegal acts". 
It also rejected online rumours claiming force management had licensed the reckless use of firearms at today's operations. "Police clarifies that this allegation is totally false and malicious," the statement said. 
[12.14pm, Sergeant celebrated among police supporters comments on shooting]
Hong Kong sergeant Lau Chak-kei, who has become a celebrated figure in mainland China after he raised a shotgun at anti-government protesters in July, says the officer who shot a protester with a live round on Monday morning was following "international standards" of policing.
"Don't think that the police would never fire a shot," he wrote on his Chinese microblogging site, Weibo.
He wrote the post at around 8am and, by noon, it had already drawn about 60,000 "likes".
In Tseung Kwan O, roadblocks at the intersection of Tong Ming Street and Tong Chun Street are cleared so vehicles can pass through again. Police warn a crowd nearby not the engage in "unlawful assembly".
[12.01pm; Tai Po]
Protesters at CUHK advance towards police on Tai Po Road, near the campus. Police fire tear gas and sponge grenades at protesters, who throw bricks towards them. Police leave after the confrontation, and protesters rebuild a roadblock outside the campus. 
[11.51am; Sai Wan Ho]
[11.52am; University update: Hang Seng University]
Hang Seng University cancels all Monday classes in view of the traffic situation as it urges students and staff to stay at safe locations. 
"Supervisors will exercise their discretion to handle the attendance of individual staff members due to traffic problems," it says in a statement.
[11.35am, Kwun Tong]
Democratic Party community Officer, and Edith Leung Yik-ting is earlier arrested by police in Kwun Tong during a standoff with officers, the party confirms. Leung is a district council election candidate in one constituency in Kwun Tong, running against Nelson Chan Wah-yu.
[11.30am, Wong Tai Sin]
When riot police leave Wong Tai Sin square, dozens of people immediately dig out bricks and throw them and other objects on to Lung Cheung Road to block traffic again.
[11.27am, Citywide]
While police were seen drawing guns at various locations this morning, a police source said the officers were easily outnumbered, as there were many as over 80 scenes of damages and barricades across the city.
Another police source denied that there has been a change of strategy to escalate the use of force, as widely speculated online.
[11.05am, Hung Hom]
[11.05am, Tseung Kwan O]
[10.57am]
A medical source said the protester, surnamed Chow, who sustained a gunshot injury is 21 years old. The operation on his liver and kidney has been completed. Medics are still looking for the bullet inside his body.
[10.49am, Tseung Kwan O]
[10.50am, Sai Wan Ho]
Firemen put out the fire as teams of police arrive and start the dispersal operation. Tear gas is fired.
[10.46am, Sai Wan Ho]
Protesters have blocked firemen from reaching the fire via a human chain. 
"Please go, sorry. It's our bad. We know you guys have worked hard," the protesters said. 
[10.31am, Sai Wan Ho]
[10.25am, Sai Wan Ho]
Around 20 riot police are on guard at the footbridge near a bus stop on Lung Cheung road where road blocks were set up. They blocked the bridge and let passerbys go through. About 50 metres away, dozens of people are staying. They shouted at the police earlier.
[10.23am, Sai Wan Ho]
[10.23am, University of Hong Kong]
Scenes from HKU, where tear gas was fired earlier this morning. 
[10.17am, Citywide]
As of now, the Whampoa, Tung Chung and Kwai Fong MTR stations have been closed.
On the Tsueng Kwan O Line, services between Yau Tong and Po Lam, as well as the LOHAS Park stations, have been suspended. Services between North Point and Yau Tong stations are running at 8-minute interval.
On the West Rail Line, services between the Kam Sheung Road and Tuen Mun stations have been suspended but the MTR is providing free shuttle bus services.  Trains are running at 10-minute interval between Hung Hom and Yuen Long.
On the East Rail Line, services between Fo Tan and Lo Wu, as well as Lok Ma Chau, have been suspended. But the MTR is also providing free shuttle bus services. Trains between Hung Hom and Fo Tan are running at 5-minute intervals.
On the Kwun Tong Line, trains between Kwun Tong and Tiu Keng Leng are running at 20-minute intervals.
Services on the Ma On Shan Line is gradually resuming but the Heng On station on this line has been closed.
Light Rail routes 705, 706, 751 and 761P in Tin Shui Wai are delayed.
[10.02am, Sai Wan Ho]
A retiree surnamed Wong who lives in Sai Wan Ho comes over to the site where the earlier shot happened 
"We taxpayers pay the police, but they shot our youngsters. It is outrageous," he said. "The government uses violence to curb violence. That would only lead us nowhere but more violence."
"Carrie Lam said she wants to have dialogues with the public. So Where is she? More than a month has passed, but there is no trace of the second dialogue!"
He refers to the first dialogue held in Wan Chai on September 26.
[10.00am, Sha Tin]
Black-clad protesters destroy Shatin MTR station with a fire hose and extinguisher in the customers service centre.
[10.00am, Education University]
An Education University spokesman says all classes and exams today are cancelled due to unexpected circumstances, as it urged students and staff to stay safe.
[9.53am, Sai Wan Ho]
Police have sprayed multiple rounds of pepper spray during confrontations in Sai Wai Ho. A resident, a Southeast Asian, was badly hit. "I just come down to buy some milk. I wandered around and they pepper sprayed me, very closely," he said. "Police are now rubbish, the dregs of society. They had no need to fire live rounds, right? They were just blocking roads." 
A hair salon opened its door, inviting those who are hit by pepper spray to wash themselves off.
Shau Kei Wan Road was again blocked, after protesters set up some roadblocks. 
A group of police retreated around 9:45, with a team remaining outside the MTR station facing the scorns and jeers from residents.
[9.45am, Open University]
Open University cancels classes today due to the disruption of public transport services. It also reminds staff and students to be cautious and "adopt a safety first approach if they are on their way to the campus" and if they have already returned to campus they should stay in a safe place.
[9.40am, Hung Hom]
In a statement, Polytechnic University says that because some people were blocking roads near the Cross Harbour Tunnel at around 7am, riot police chased them into the university campus. The police have already left the campus, the university says, adding that it will contact contact the relevant authorities to find out more about the incident. The university also expresses regret about the protesters who caused disturbances inside the campus. To ensure the safety of its teachers and students, the university has decided to cancel all classes scheduled to take place before 2.30pm.
[9.10am, Wong Tai Sin]
More than 20 riot police went to Wong Ta Sin square from the bus stop nearby where roadblocks were set up. "You can use whatever appropriate force," a riot police said to his colleagues. The police showed the blue flag immediately. Then police suddenly charged at people in the square, catching people in different groups. A man was released quickly after questioning. Three boys were questioned and searched by police under an outdoor theatre place in an area cordonned off by the police. The scene got quite intense as dozens of people surrounded the police area, shouting and cursing at them. "Murders! Rapists!" They said as they accused the police of committing murders and rapes. 
Police pointed tear gas at the crowds several times before they showed the black flag warning to fire tear gas.
[9.20am, Chai Wan]
A medical source said a protester who was shot was in critical condition as he was sent to Eastern Hospital in Chai Wan. An emergency operation was being arranged and a bed in the intensive care unit has also been prepared.
[9.18am, Tseung Kwan 0]
A woman in a wheelchair, surnamed Choy, 64, who lives in Tseung Kwan O, says she had gone out to buy groceries at a market nearby but roadblocks were set along the way. She said she feels scared as she feared that her wheelchair might be tripped up by the bricks.
"Why did they do that, I don't know. The government does not give in, the young people do not give in, its best that they stop this."
On Tong Ming Street, a man surnamed Yeung, 34, who was on the way to work in a car accompanied by a co-worker who was driving, said he thinks the roadblocks have not disrupted his plans. "It is expected, as their plans were announced yesterday ... I don't feel much anger about that."
[9.08am, Hung Hom]
Protesters set plants and rubbish on fire inside Polytechnic University. Glass panels of the Li Ka Shing building on campus were wrecked. Multiple entrances of the university have been blocked with metal barriers and plants.
[9.02am, Sai Wan Ho]
A university student, Rocky, who witnessed the live rounds being shot, condemned the police's use of unproportional force.
"There was no verbal warning and the officer could have chosen to fire up to the sky or use pepper," he said. "The injured protestor had no weapons in his hands at all." 
He said the police had pressed the injured one on the ground with his knees, and didn't give him help instantly for his wounds. 
Rocky, masked, said he skipped school to support the movement. Saying he was infuriated and saddened of another protester being shot, he believed many protesters would escalate their use of force against the police.
[9.03am, Shue Yan University]
Shue Yan University said in an email to staff and students that classes today are cancelled for the day due to traffic distruption, urging students to "staff calm and restraint" and stay away from violence
[8.50am, Sha Tin]
Financial worker Jenny Chan, 25, expresses her sheer horror at the firing of live shots at morning rush hours. "Clearly there were no threat to the officers' lives as we can see in the video the protesters were unarmed and only engaged in hand to hand combat. How many people have to die before Hongkongers realise we live in a police state and everyone's life is at risk?" Chan asked. 
Chan skipped work today in her second general strike since June after the one in August 5. She says her boss understands her cause, and in any event the future of Hong Kong is more important than her job.
[8.55am, Baptist University]
Baptist University cancels lessons "due to serious traffic disruptions", it announced in a statement. Staff may have work arrangements such as working at home "depending on operational needs".
[8.50am, Sai Wan Ho]
[8.37am, Kwai Fong]
[8.40am, Hung Hom]
Black clad protesters set up roadblocks along Chatham Road North outside Polytechnic University at Hung Hom. Commuters hopped off buses and walked to work instead. Riot police have fired teargas along the Hung Hom cross harbour around 7:30am, according to students walking around. 0840 -Outside Polytechnic University in Hung Hom, a Form Two student from Methodist College surnamed Lee said she is running 30 minutes late to class.
"I was stuck in the bus for almost 20 minutes, so I followed other passengers and now I have to walk about 15 minutes to school," Lee said, "At least the school won't mark us as late.
Lee said the roadblocks are inconvenient but she is not afraid as police are not around the area.
[8.30am, Tseung Kwan O]
[8.27am, Hung Hom]
[8.27am, Chinese University of Hong Kong]
Chinese University cancels classes today "as public transport services are being seriously affected", it also urges all staff members to be careful and stay at safe locations saying they do not need to go to work "unless it is safe to do so". 
Unit heads should "exercise flexibility when handling the attendance or punctuality of individual staff members due to traffic problems", it added.
[8.20am, Citywide]
MTR services are disrupted on Monday morning as protesters threw objects onto some tracks. On the East Rail Line, services between the Fo Tan station and the Lo Wu station, as well as the Lok Ma Chau station, have been suspended. Services between Hung Hom and Fo Tan stations are running on five-minute intervals. 
On the Ma On Shan Line, services between Shek Mun and Wu Kai Sha stations have bene suspended, while that between Tai Wai and Shek Mun stations are running on six-minute intervals.
Tung Chung station has been suspended and the MTR has warned that other stations may close at any time without prior notice.
Light rail services of routes 705, 706, 751 and 761P in Tin Shui Wai are delayed.
Several protesters are seen vandalising the Tseung Kwan O MTR station, and setting a staff counter on fire.
[8.00am, Sai Wan Ho]
A witness surnamed Lam, said the firing of liveshots happened at around 7:21am, when around 20 protesters were blocking roads outside the Sai Wan Ho Mtr station. A traffic police grabbed one protester to the middle of the road, then other protesters rushed out trying to grab the arrested back. Then another traffic policeman came over, and she heard three to four loud shots.
[8.00am, Kwai Fong]
[8.05am, Tseung Kwan O]
[8.02am, Sai Wan Ho]
[8.03am, Sha Tin]
[7.55am, Wong Tai Sin]
Police let go of two boys after questioning and searching them for more than 15 minutes in Wong Ta Sin. One of them, surnamed Chan is a secondary school student, and said the police came to him suddenly when he was just walking alone and questioned why he had gloves. "They warned me not to show up there again," he said.
[7.55am, Sai Wan Ho]
There are reports of a live round being fired around Sai Wan Ho. Furthermore, Tung Chung station is now closed after protesters blocked it. 
[7.44am, Sai Wan Ho]
After the reported live round shot in Sai Wan Ho, police have blocked the exit to the area in island east corridor.
[7.22am, Sha Tin]
In Shatin, dozens of residents on Tai Chung Kiu Road have decided to walk to Shatin MTR station on foot after it has been blocked off by protesters. Many have got off their bus to join them too. Office worker Johnny Chan, 30, and a resident in the district says he isn't too bothered by the action as he can still take the train at the nearest station. "I already left home 30 minutes earlier, but this time they carried out their action with a timing worthy of military precision. I understand why they are doing this though, as we need more radical protest action like a general strike after Chow Tsz-lok's death," he said, referring to the student who died from his carpark fall near a police operation last Friday.
[7.04am, Tseung Kwan O]
Sign up for the YP Teachers Newsletter
Get updates for teachers sent directly to your inbox
Sign up for YP Weekly
Get updates sent directly to your inbox