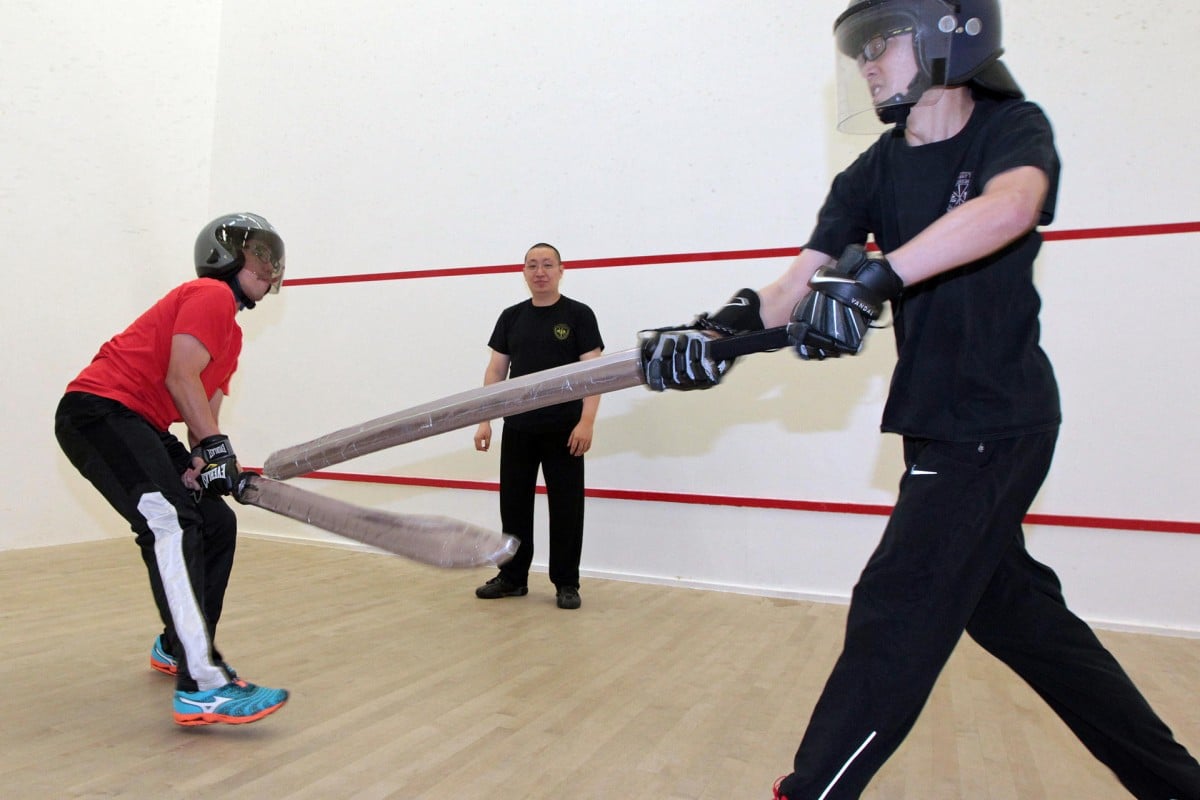 If the Star Wars trailers and Game of Thrones have gotten you in the mood for sword fighting, you should talk to Hong Kong's sword fighting master – Lancelot Chan Ying-chih. (Yes, that is his real name and it's on his HKID.) But Chan will tell you that most of those scenes are pretty fake. "In a real fight, the goal is to not let your opponent know how you're going to strike. If even the audience can see what you're going to do, your opponents definitely do too so they can easily block your attacks."
Chan says the movie with the least realistic fight scenes is Highlander, a 1986 action-fantasy film about an age-old battle between immortal warriors, starring Christopher Lambert and Sean Connery.
Still, those fake movie fights inspired Chan in his youth. The 37-year-old Hongkonger studied at a technical school – which he doesn't want to name – and was always using broken TV aerials and sticks to have duels with his friends.
"Before class, we'd all go crazy and fight each other. Our teacher would yell at us, 'Stop, or you'll all get detention!' He did that from a safe distance, of course."
But not all teachers discouraged this passion. "Our metal working teacher wanted us to pay attention to him, so he said if we listened to him, he'd teach us how to make an aluminium ruler. A few of us learned how to make one and that made for an excellent weapon that lasted a long time. That was funny, but that's also why I can't tell you which school I went to."
That's where Chan learned to use the tools he makes swords with today. He has gone a long way since fighting with rulers. He makes a wide variety of training weapons, including Chinese daos, a German bastard sword, Japanese katanas, a European rapier, and a Zulu war spear.
As the swordsmanship director of the Ancient Combat Association, Chan is training around 20 students in the art of the blades. He's not sure exactly how many sword fighters there are around the world, but there are enough that several countries, including Canada, the US, and China, have schools devoted to the skill. This March, Russia launched a mixed martial arts division where fighters dress up as knights and fight with swords and shields.
Chan studied martial arts as a boy, but one night in Primary Five, he suddenly couldn't move. Doctors said he had rheumatoid arthritis, a painful disorder that affects the joints. He took medication to reduce the inflammation, but he no longer had the flexibility and endurance he once had. So he moved from hand-to-hand combat to training with weapons, which is less physically demanding.
He chose the name Lancelot after seeing the movie Excalibur. He says he was taken by Lancelot, more so than the other knights of King Arthur's Round Table because unlike the other knights, Lancelot isn't a perfect example of virtue: he made mistakes but ultimately redeemed himself.
The name has caused Chan some trouble though, starting when he was 18 and getting his Hong Kong ID card.
"While registering for my HKID card, the person didn't know this is an English name and gave me one day to prove that this was an actual name. I had to run to a bookstore, buy a very thick dictionary that had the name Lancelot and show it to the person, who made a photocopy of the page."
The trouble followed him when he went to his first swordsmanship forum in the US in the 90s.
"They didn't let me register with the name Lancelot. I didn't realise how strange this name was to them. They asked me to prove it, and I showed them a scanned copy of my HKID card.
"I said, 'now that I've proved it, can you apologise?' The guy refused, and shortened it to Lance, which is a more common name. That happened at several forums I went to when I was younger, they'd rename me Lance. But later I got more famous, or maybe organisers just became more liberal, so it's fine now."
Back then, swordplay was just something he did for fun. He studied IT in university and that's when he started practicing sword fighting in earnest. In 2001, he figured out how to make training weapons that weigh and feel like real swords, without any risk of injuring the fighters. He does this by making the core of sword with steel, and wrapping it with foam rubber, similar to the kind used for foam blocks or pool noodles.
Chan has been making swords and teaching sword fighting full time since 2005, but he says it's difficult to keep up because he can't control the number of clients and students he has. He says he had a bit of a head start because by the time he started his business, he already knew a lot of people worldwide who would become potential customers.
"It may look like an ideal business to you, but this comes from the blood and sweat of a lot of my supporters. It's just that I'm the public face of this whole thing," Chan says. "Once you lose your health and your basic mobility, there's not much you can really do, now that I'm somewhat healthy, I decided to just take the plunge."
His wife, Annie Ma Cheuk-yin, says she supports him, and that he was already into sword fighting by the time she met him, though at first she thought he was bragging about his skills. Chan sometimes spars with her; she uses a spear.
He sells his swords for around HK$800 to HK$1,000 each. To make them feel like real swords, he'll try actual weapons to get the balance and grip right. For instance, he attends any exhibitions featuring actual swords. Many of them are hands-on shows, where the swords are displayed safely inside glass cases with a hole cut out so visitors can grasp the handles
When this is not allowed, Chan contacts the organisers to arrange a private viewing session where he can handle the weapons. He says as long as he proves he really does make swords for a living, and signs a liability waiver, they let him handle the swords.
He held the swords from Macau's Masters of Fire exhibition from almost a decade ago, and more recently, he tried out the work from Chinese sword-master Hu Xiaojun, when it was shown here last year.
One of Chan's students is Taku Mak Ming-ting, a 30-year-old who has been learning from Chan since 2008. He even makes his own plastic armour, and brought his wife along as well. Mak says he was always interested in weapons as a child and learned Taekwondo, but wanted to try something that feels like actual combat.
"I feel like if you're learning martial arts, then of course you want to find something that's as close to the real thing as possible. It's like driving: you don't want to drive a fake car; you want to drive a real car, or even a racecar."
Chan says as far as he knows, there are only two other people in the world who do what he does full time: a guy in Japan who lives with his family and a guy in Germany who sells sword fighting videos online. Chan says he has considered going back to teaching IT with his father, which is what he did after graduating from university, but he'll continue with this for as long as he can.
"I'll keep doing this until the property prices drive me out of business. I've been doing it since 2005, and if I get back on the job market now, I won't be able to find a job."
Sign up for the YP Teachers Newsletter
Get updates for teachers sent directly to your inbox
Sign up for YP Weekly
Get updates sent directly to your inbox