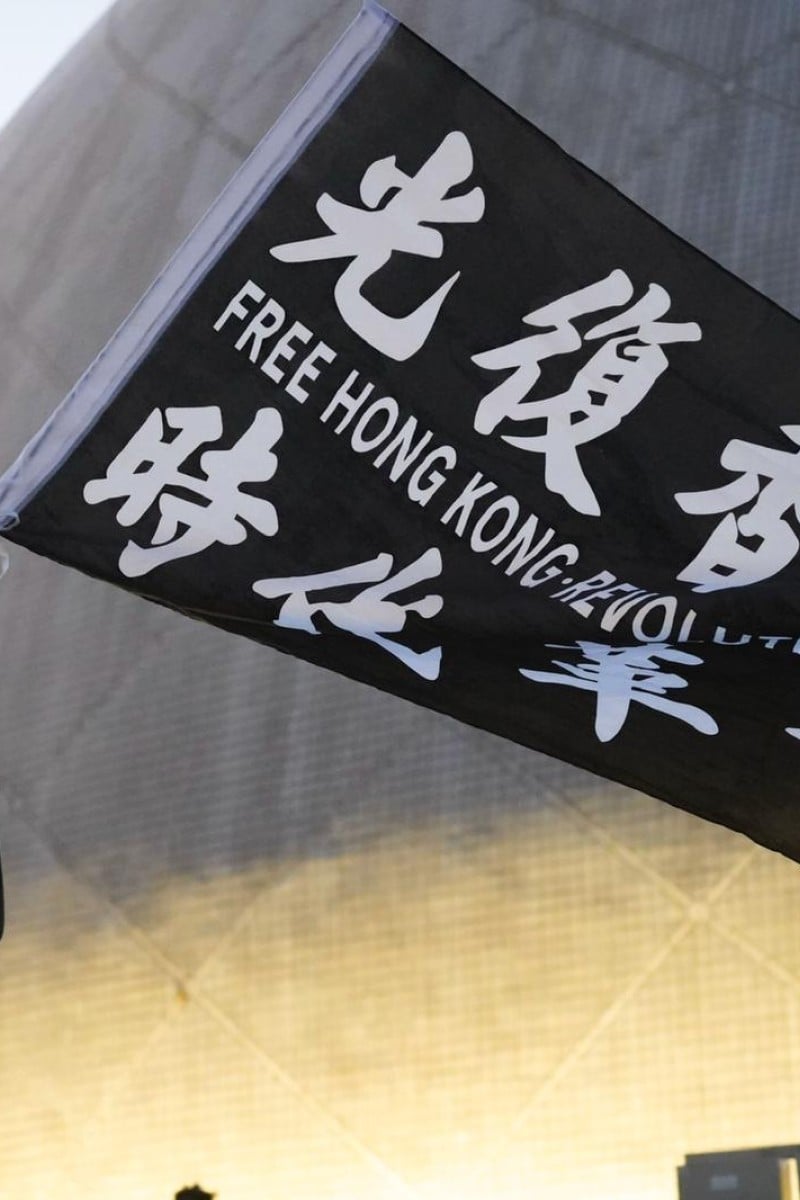 Students in the Yau Tsim Mong and Sham Shui Po districts gather in Tsim Sha Tsui to chant slogans and sing protest songs
A flag that reads 'Liberate Hong Kong, Revolution of our times' is held up by a student at a rally near the Space Museum.
Secondary students from Yau Tsim Mong and Sham Shui Po districts will be gathering at Salisbury Garden in Tsim Sha Tsui at 6pm today to show solidarity for students arrested during the anti-government movement.
Jointly organised with the Preparatory Platform of Class Boycotts in Secondary Schools, the rally will feature slogan chanting, protest song singing, origami paper cranes making, as well as sharings by district council members and teachers.
Follow our live coverage below:
[8.45pm]
Our coverage of tonight's events has ended. Head to our topic page for future updates about the Hong Kong protests here.
[8.35pm]
The rally ended peacefully at around 8.30pm, with an estimated turnout of 500 people. Demosisto's Isaac Cheng Ka-long (right) and Yau Tsim Mong district joint-school student concern group representative Tsang spoke to the media at the end of the rally.
Cheng strongly condemned the police for conducting multiple stop-and-searches of student participants before the start of the rally. Calling the police's action as "unreasonable and inappropriate", Cheng added that it was a means to discourage young protesters from participating in similar anti-government rallies in the future.
[8.22pm]
[8.08pm]
A 12-year-old Ying Wa College student surnamed Fok, who made his first public appearance at the September 30 student rally at Chater Garden in Central, said he would not stop speaking publicly against the government.
"The government's oppression won't scare me away," he said, to cheers from the crowd.
He showed admiration for Carrie Lam's recent propaganda asking Hongkongers to "treasure Hong Kong". 
"She's right. Our love for Hong Kong is stronger than violence," the student said. The only people destroying the city, he added, are Carrie Lam and the police. 
"We need to show the government that we will win [the fight], and that democracy is what we'll get."
[7.45pm]
Pro-democracy legislator Claudia Mo Man-ching reminded teenage frontline protesters not to be blinded by heroism and to think about the consequences of their actions.
She referred to the arrests made at Polytechnic University last month and said a lot of the arrested protesters felt that they were obliged to protect their younger counterparts. "Yes, we need to persist, but we have to think about what the best means are."
[7.40pm]
Pro-democracy lawyer and Prince Edward district council elect Daniel Wong Kwok-tung said some lawyers have been working day and night to provide legal assistance to citizens arrested during the anti-government movment. 
"The arrested protesters might not be able to reach lawyers if they do not have the lawyers' direct line... This situation has never happened [to arrestees] before," Wong said. 
"This is completely unreasonable, but that's what [some] policemen do nowadays," he added. 
Often it is difficult to locate the arrested protesters because they are rarely sent to the police station closest to where they were arrested, he stated.
"But we will do our best [to assist the arrested] because we owe them [for fighting the battle], he added.
[7.29pm]
[7.08pm]
Artistic scenes from the student rally.
[7.07pm]
"Would the police [abuse their power and use violence] if they were in our shoes?" said a young female protester who was arrested during the movment on stage. 
There will be no future for Hong Kong if citizens don't stand up against the government, she added. 
A friend who was also on stage, admitted she was really scared her friend would be mistreated in the police station. 
She also condemned anti-protester citizens who were destroying Lennon Walls across the city. "You can also build your own Lennon Wall, why wouldn't you respect our freedom of speech?"
[6.45pm]
Ying, a volunteer for the elderly group "Protect the Children" that has been mediating at the front lines of recent protests, began her speech to the crowd with "Hongkongers, add oil!"
Ying shared her experience of helping the besieged students at CUHK and PolyU. She also said some people suspected that she was paid to support the protesters, but denied this was the case. 
"Even though our organisation's support is limited, we will never distance ourselves from the young protesters," she said.
[6.45pm]
A neon sign that has been seen at many recent rallies is held up by masked students. 
[6.32pm]
A young female student urges fellow anti-government protesters to stand up against law enforcers who make arbitrary ID check requests. She referred to an incident that happened earlier today when she and her peers, who were using their smartphones in the garden before the start of the rally, were asked to show their student IDs.
[6.23pm]
Demosisto Vice-Chairperson Isaac Cheng Ka-long also joined the rally to root for young students. He recommended the Taiwanese movie Detention, a psychological horror set during Taiwan's White Terror period.
[6.20pm]
Ah Hins, one of the organisers of tonight's event, said more people should listen to the voice of the anti-government secondary students. 
He said he was present the night HKUST student Chow Tsz-lok fell from the third floor of a car park in Tseung Kwan O. 
"I was so nervous and didn't know what to do [when I learned that someone fell]," he said.
"Until now I cannot accept that he has passed away," he added, still visibly upset about the incident.
 
He also said that lot of suicide cases and suspicious suicide cases identified during the anti-government movment might not have occurred had the government listened to public opinion and retracted the extradition bill earlier.
[6.11pm]
Students, mostly masked and in uniform, observe a moment of silence for those who have lost their lives during events they perceive to be related to the ongoing anti-government protests.
[6.01pm]
Students are beginning to gather at Salisbury Garden next to the Hong Kong Space Museum to begin a peaceful anti-government protest.
Sign up for the YP Teachers Newsletter
Get updates for teachers sent directly to your inbox
Sign up for YP Weekly
Get updates sent directly to your inbox