At least 25 people were hospitalised with protest-related injuries between Tuesday and Wednesday morning; Carrie Lam has condemned the "illegal acts" for dampening the festive mood
South China Morning Post
|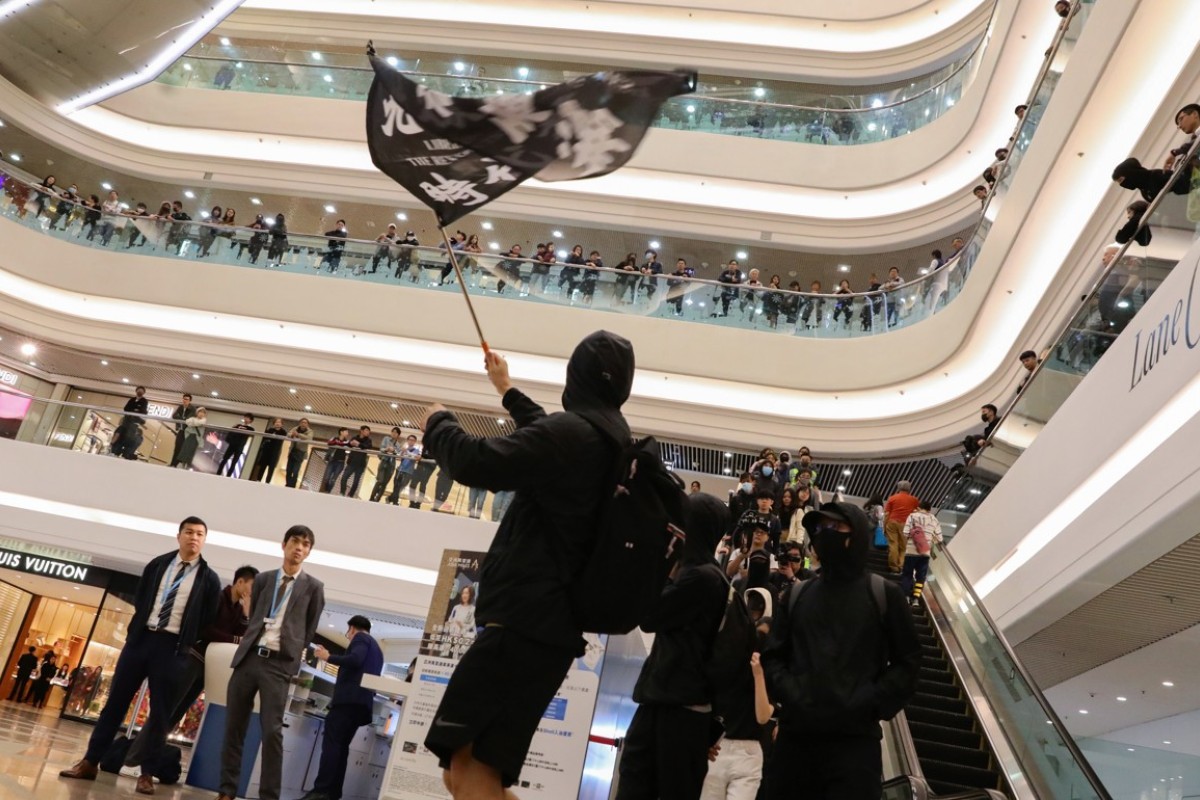 Scores of people dressed in black, chanting slogans including "disband police now" and "Hong Kong independence" gathered at Times Square mall in Causeway Bay on Christmas Day.
Hong Kong's Christmas holidays were more chaotic than usual as defiant anti-government protesters took to the streets and gathered in shopping centres on Christmas Eve and Christmas Day.
Christmas Eve saw stand-offs in Tsim Sha Tsui and Mong Kok that dragged into the early hours of Wednesday morning, with protesters ignoring police warnings and tear gas while counting down to midnight before wishing everyone, including officers, a "Merry Christmas". 
After the celebrations, petrol bombs and tear gas were exchanged between the police and protesters in Mong Kok, where earlier, black-clad protsters had smashed the glass walls of an HSBC branch on Nathan Road and started a fire at its entrance.
Mainland Chinese student takes a stand for the other side during demonstrations
Earlier in the evening, trouble broke out at Harbour City mall in Tsim Sha Tsui, as protesters attacked people they suspected of being undercover officers. When some people threw objects at officers who had entered the mall, police pointed crowd-control weapons at the demonstrators. 
Similar demonstrations took place at Times Square in Causeway Bay and New Town Plaza in Sha Tin. At Yoho Mall in Yuen Long, police arrested a man after he fled, following a request to be stopped and searched. During the chase, the suspect jumped over a barrier and fell to the first floor of the mall. He was sent to the hospital for treatment and was reported to be in stable condition.
In addition, a 16-year-old boy is in stable condition after falling from a restaurant balcony after police entered a Mong Kok establishment looking for protesters early on Wednesday.
The Hospital Authority said at least 25 people were hospitalised with protest-related injuries between Tuesday and Wednesday morning.
Demonstrations continued on Wednesday, where riot police were out in force at various hot spots and pepper sprayed protesters inside Sha Tin's New Town Plaza, outside Langham Place in Mong Kok, and at Telford Plaza in Kowloon Bay riot police chased after protesters and sprayed them at close range. Earlier, around 200 protesters gathered at Telford Plaza at 8pm and sang their anthem, Glory to Hong Kong.
Officers were seen subduing protesters and taking them away at several flashpoints, including around 10 at New Town Plaza.
Riot police retreated to their vans as hundreds of protesters advanced towards them in Mong Kok's Shanghai Street, and fired two rounds of tear gas at them at around 6.30pm without raising any warning flag.
The city's embattled leader, Chief Executive Carrie Lam Cheng Yuet-ngor, expressed her frustration at the behaviour of some protesters on Christmas Eve, saying many people as well as tourists coming to Hong Kong were disappointed that their festive celebrations had been ruined by "a group of reckless and selfish rioters".
"Such illegal acts have not only dampened the festive mood but also adversely affected local businesses," she said in a Facebook post. "The government will try its utmost to uphold law and order, and restore peace in Hong Kong."
The government also hit back at Hong Kong Watch after the Britain-based group claimed the city had "witnessed truly outrageous police brutality on Christmas Eve", dismissing the allegation as "fake, utterly irresponsible and grossly unfair".
"Only minimum force was deployed in response to the blatant unlawful activities of the violent protesters on Christmas Eve," a spokesman said in a statement.
"These violent activities included arson, recklessly vandalising shops and the Mong Kok branch of HSBC, blockading roads, destroying 21 sets of traffic lights in the Mong Kok area, brutally assaulting innocent members of the public, attacking police officers by petrol bombs and charging police cordon lines and unlawful assembly."
Inside Langham Place, a Maxim's restaurant and a Starbucks cafe, which have been regularly targeted by protesters as mainland Chinese-linked businesses, were closed for the day, but most other shops were open.
The mall authorities asked shoppers to vacate the premises when about 50 protesters stormed the food court on the fourth floor.
Many panic-stricken shoppers left the mall, but some were undeterred.
Sie Florrie, a 14-year-old student, said she did not have any plans to join protests on Wednesday, but changed her mind when she heard slogans being chanted in the mall.
Hong Kong protests explained: a guide to the key words you see in the news
"I'm one of them. When I see them, I feel like I should join them," she said. "We need to keep fighting till we reach our purpose."
The protesters earlier launched online calls for lunchtime marches on Christmas Day and Boxing Day in six districts – Wan Chai, Causeway Bay, Tsim Sha Tsui, Mong Kok, Sha Tin, and Central – to press their demands, which include launching an independent investigation into police conduct and starting a political reform process for universal suffrage.
At Harbour City mall in Tsim Sha Tsui, business was normal with festive revellers thronging the place for shopping. But security was stepped up with a dozen of riot police patrolling around Canton Road.
Protesters at New Town Plaza chanted slogans and cheered when shops closed.
They entered a restaurant they regarded as pro-police at 6.35pm, touching the computer system as to print out long sheets of "waiting vouchers", sitting down and yelling to diners "Don't eat here. It is a blue restaurant".
Twenty riot police then rushed into the mall and used pepper spray, hitting officers including Chief Superintendent Rupert Dover, as well as protesters, before 10 people were taken away with their hands tied.
The shopping centre, which normally closes at 10pm, announced it was closing three hours early.
However, the Lan Kwai Fong entertainment district in Central, Lee Tung Street in Wan Chai, and the busy shopping district of Kowloon in Mong Kok, remained largely peaceful till late afternoon on Wednesday.
Sign up the YP Teachers Newsletter
Get updates for teachers direct to your inbox
Subscribe to YP Weekly
Get updates direct to your inbox