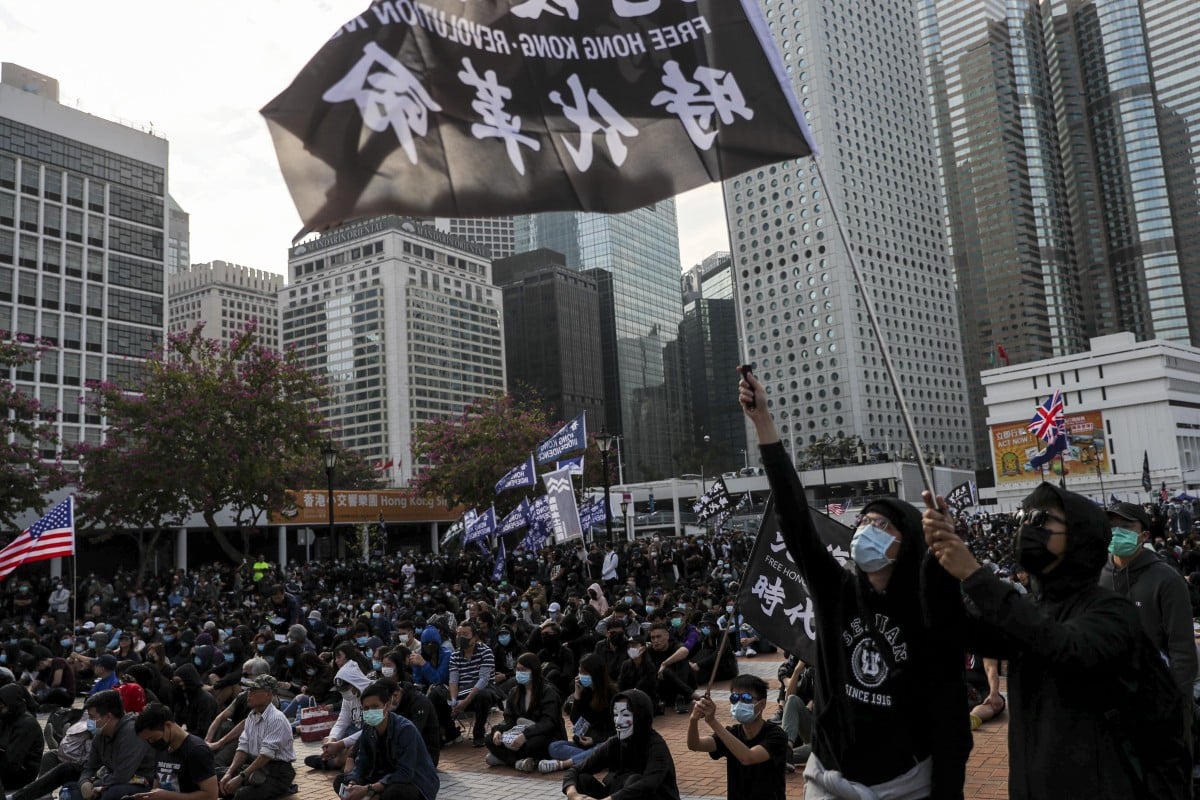 Protesters attend the rally at Edinburgh Place in Central.
Thousands of people joined a rally in Edinburgh Place in Central on Sunday to demand universal suffrage in the legislative election in September, urging the international community to impose sanctions on the authorities if their calls fall on deaf ears.
The demonstration took place a day after Taiwan President Tsai Ing-wen won re-election for a second term in a victory that was seen as a referendum on the self-ruled island's approach to Beijing.
Tsai's victory was widely celebrated by Hong Kong activists, who called it a morale boost for their months-long protest movement, and expressed hope her administration would support demonstrators who had fled there.
Demosisto activist arrested in connection with Legco takeover
"In the coming year, Hongkongers must continue to make our voices heard by the international community, to tell them that our fight against authoritarianism is not over yet," said Ventus Lau Wing-hong, spokesman of the organiser, the Hong Kong Civil Assembly Team.
"If Hong Kong has a Legislative Council that represents the voices of the people, that defends the interests of Hong Kong, the extradition bill would have been vetoed long ago. We would not have needed seven months of bloodshed."
The organiser claimed 36,000 people took part in Sunday's rally, while police put the figure at 3,000 at the event's peak.
Lau urged foreign governments to impose sanctions on Hong Kong officials if there was still no universal suffrage in the Legislative Council election later this year. This could be done by, for example, freezing their overseas assets or imposing economic sanctions on the city, he added.
The protesters say the "unjust" functional constituencies, which return 35 lawmakers in the 70-seat legislature and have long been criticised for their "small circle" nature, should be scrapped.
Lau said the sanctions should also apply to government officials and police officers who violated human rights in the city.
Protests top list of most-read stories in Hong Kong for 2019
A 19-year-old rally participant, Yeung, said if more foreign countries would impose sanctions, this would be a morale booster for Hong Kong protesters.
The university student said he had no faith in the government but protesters must keep the social movement going until all five of their demands were met.
"The election result in Taiwan is very encouraging to us. A lot of people here have been talking about it but we must not forget that our fight is here in Hong Kong," he said.
'Rioters' were trained overseas, says government security minister
Another protester, 23-year-old Lau, supported international sanctions on Hong Kong if the government refused to introduce universal suffrage in September's election, saying this was the way to keep the protest movement going.
The rally was organised to ramp up support for another protest, called "universal siege on communists", that would take place next Sunday.
After the event, police officers intercepted some people, many of them dressed in black, in Central and Admiralty and searched their bags. Two people were seen being taken to police vehicles.
Sign up the YP Teachers Newsletter
Get updates for teachers direct to your inbox
Subscribe to YP Weekly
Get updates direct to your inbox