With as many as 25,000 domestic helpers imprisoned by their employers, local students were proud to join the freedom movement
By Kha-Nhi Nguyen and Grace Giddings, Hong Kong International School
|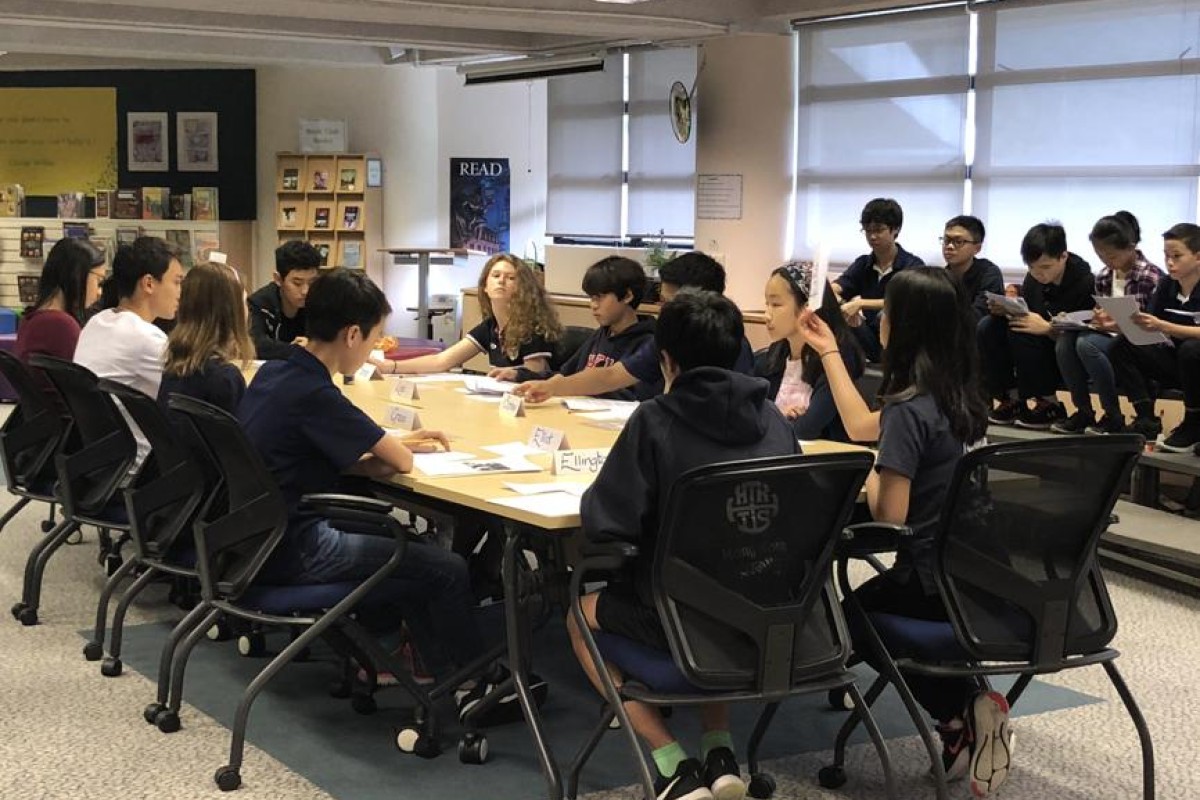 Eighth graders speaking passionately in a Socratic Seminar about modern slavery.
As sunlight splashed against the walls of Hong Kong International School, the excitement on campus was palpable. Students were eagerly awaiting the arrival of CNN's news crew, who would be filming around the school for My Freedom Day. But behind the cheer was a sobering, eye-opening cause. CNN's My Freedom Day, which takes place every year on March 14, raises awareness about modern day slavery, which remains just as prevalent today as in the past. This year, CNN chose HKIS to participate in this important event. What students discovered was that slavery is often happening right in front of us.
The students and staff HKIS – in particular, the Student Leadership Team – worked tirelessly with CNN to put on a range of talks and activities to provide others with a better understanding of modern day slavery. One of the events which stood out was the Socratic Seminar, in which students from different eighth grade classes came together to discuss why slavery isn't simply a problem overseas, but one that affects people here in Hong Kong.
Students also attended a Freedom gathering, where special guest and human rights activist, Matt Friedman, detailed the different forms slavery can take, from forced prostitution to working on fishing boats to children being made to beg on the streets. He shared some of his experiences in Nepal and India working with the United Nations to stop slavery. Students were visibly affected hearing about the horrors Friedman had witnessed. But again, Friedman pointed out that slavery is also a problem in Hong Kong. As many as 25,000 domestic helpers are imprisoned as slaves by their employers; it's vital, therefore, to be able to spot the warning signs.
While the event aimed to raise awareness about a grave issue, it was also a celebration of freedom, diversity and inclusivity – values which HKIS hold dear. Throughout the day, students were able to write on a Freedom Wall about what freedom means to them. For 13-year-old student Aliyah He, freedom means "being true to your own beliefs and being able to freely act upon them." Her classmate, Claire Fu, 13, said that while slavery can't be eradicated overnight, there are small acts each of us can do to be less complicit, such as by buying fair trade products. She felt hopeful that HKIS had helped to raise awareness.
Meanwhile, HKIS Choir did their part by performing uplifting anthem This Is Me, from the film The Greatest Showman. The Student Leadership Team also handed out 700 handmade pins that read "Freedom Day" in different colours for students to wear proudly. In fact, the entire school chipped in by wearing the flags and colours of their nationality
Hearing statistics about slavery can be overwhelming and disheartening, but HKIS students showed a willingness to be part of the solution. Indeed, this year's My Freedom Day reached people all over the world; #MyFreedomDay posts made more than 1 billion impressions on more than 100 million unique twitter accounts on March 14, while the #MyFreedomDay hashtag was used in posts from more than 100 countries. Many, many anti-slavery NGOs spread the message on their social media accounts, including Free the Girls, Ricky Martin Foundation, Lumos, The Freedom Fund, No More Slaves, Stahili Foundation, A21, International Justice Mission, I am Jane Doe Film, Fairtrade US and Polaris Project.
Edited by Charlotte Ames-Ettridge