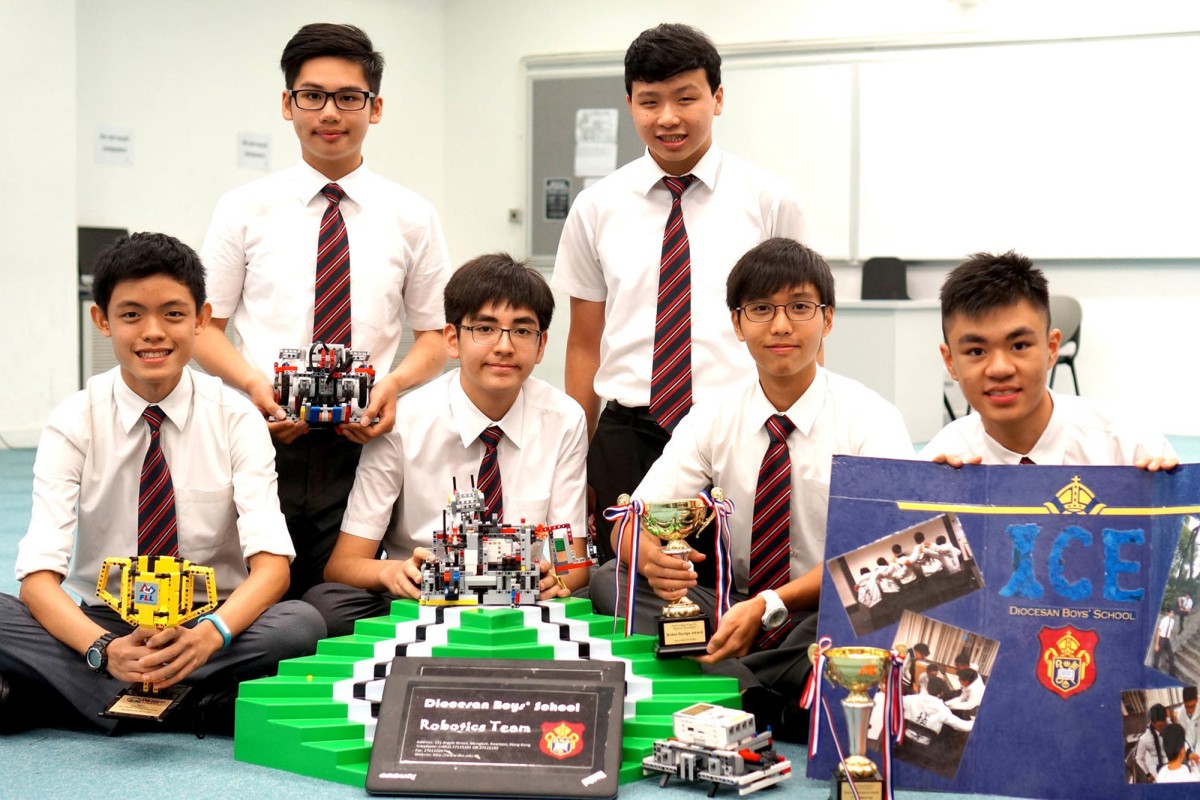 team Ice members include Issac To (bottom left), Thomas Chan (third from left, bottom row) and Sampson Tam (bottom right), and together they created Hypercycle, which helps students with ADHD.
The robotics team from Diocesan Boys' School has come up with a simple solution for students with attention deficit hyperactivity disorder (ADHD). It's an exercise bike with an interactive e-book at the front.
Called Hypercycle, the bike's handlebars can detect the user's heartbeat to determine if they are concentrating.
"Research showed us that when a person's heartbeat is irregular, they are not focusing," says Sampson Tam Shum-yin, a Form Five student and one of the leaders of the eight-member team, Ice.
"We have classmates with ADHD and it really affects their learning. But it's nothing really serious. Sometimes they just have minor symptoms and all they need is a small task to help them concentrate," says Isaac To Yan-shek, also a Form Five team leader. "Medication for ADHD is expensive and has a lot of side-effects, but with the bike, we can avoid all of that."
The bike helps students focus: they have to study the e-book, and when the bike detects that they're not concentrating, the e-book will ask them questions or the screen will flash to make them pay attention.
Pedalling also charges the bike, which takes up the same space as a desk and chair would in a classroom. So it was perfect for the "World Class" theme of this year's First Lego League, an annual international robotics competition which asked participants to think of an innovative solution to problems related to learning.
The competition is split into two parts - the project, which is about developing a solution the team has found to a problem (for Team Ice, this was Hypercycle), and the robot game, where participants have to programme a robot to complete 14 missions by itself, including opening doors and throwing a ball.

After presenting the idea for Hypercycle to a panel of judges this summer in Sydney, Australia, Team Ice were awarded the research prize.
But the competition isn't just about ideas. For the robot game, the boys had to get hands-on. Starting in August last year, they designed, built and programmed a robot to complete a set of missions on a field mat.
At the tournament, their robot had two and a half minutes to complete as many of the 14 missions as possible.
The robot had to be totally independent, and navigate on its own by detecting coloured lines on the field mat.
Using Lego Technic parts, which have axles, gears and connector pegs that allow more versatile movements than traditional Lego bricks, the team assembled the base car and added attachable parts for the specific tasks.
They then programmed the robot using the latest Lego Mindstorms system, EV3.
During the three-day competition in July, they were given three trials on the official field mat, and spent the rest of their time tweaking their design and programming. Lighting, air bubbles on the mat, as well as other differences between their practice and race mat all had to be accounted for.
Thomas Chan Long-yin, another Team Ice leader, says the German contestants had the best design. Their programming was also very precise. "It's the environment. They all have big homes with garages so they can have a field mat at home and do their own mini-projects. But many Hong Kong families barely even have a toolbox at home."
He says Team Ice usually had to spend their lunch breaks and time after school working on the 3-metre by 1.5-metre mat in their design and technology classroom.
But it was the Taiwanese who won the race. "They are very ambitious," says Sampson. "They spent every single minute improving their robot. But the downside to that was that they didn't have much time to interact with others."
This Saturday, the boys will once again put their robotic skills to the test in the local round of the World Robot Olympiad.
But Isaac, who has been working with robotics for seven years, is more ambitious. He hopes to work for companies like Xiaomi to produce affordable technology and create smart homes. And while he firmly believes that there's nothing humans can't do, Isaac thinks artificial intelligence will soon play a bigger role in society.
"Robots can be programmed to be loyal, and they can't be swayed by things like money. They're more trustworthy than humans."
Sign up for the YP Teachers Newsletter
Get updates for teachers sent directly to your inbox
Sign up for YP Weekly
Get updates sent directly to your inbox