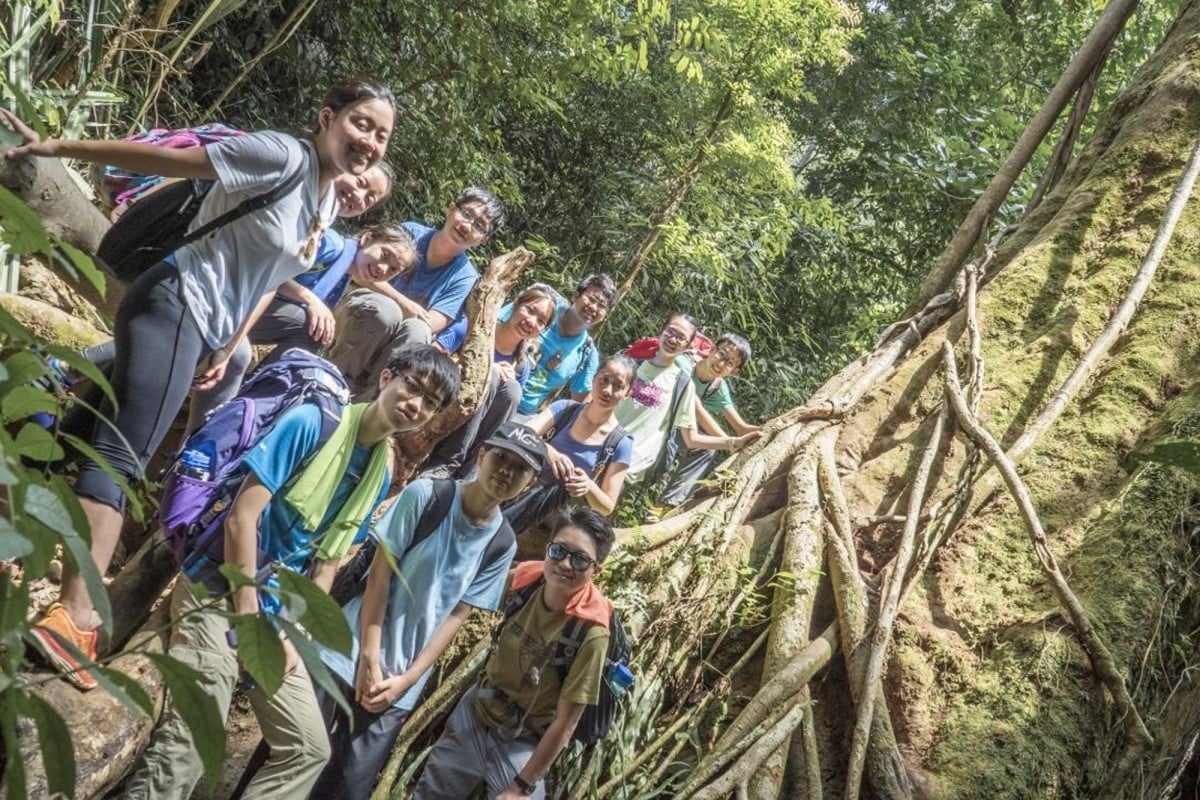 Trekking through the jungle was the hardest and least fun part of the trip, but it didn't dampen the students' spirits.
The winners of the Hong Kong Outstanding Students Award (HKOSA) don't believe in taking it easy. They work hard and push themselves throughout the school year, and the same mentality applies when they go travelling.
No luxury hotels or relaxing on beaches for these 10 students - instead the HKOSA 2014-15 winners headed to Sumatra, Indonesia, from July 30 to August 6, to trek through the jungle and experience life as a local.
And it wasn't easy, says student coordinator Katie Ng Hin-kiu, 19, and a student at King's College London. "We were trekking all day long in the rainforest and it was raining really heavily," she says.
Sitting across from her, Jackson Cheung Chun-sing, 18, a student at the University of Hong Kong, pipes up: "I fell."
"Oh yeah!" Katie laughs, "Jackson slipped and fell all the way down a hill. He was covered in mud!"
But as the two chuckled, remembering the experience, it's clear the difficulty of the trip didn't dampen their enthusiasm at all.
The group were selected by the Youth Arch Foundation from 50 finalists from schools across Hong Kong. Katie, a winner from 2013-2014, returned as a supervisor for this year's trip.
For some, it was an entirely new experience.
"I think a lot of us have been to a lot of places, but most of us have not had this kind of experience. Trekking and camping in the wild isn't something most people have done," Katie says. "Two of our winners had never travelled abroad. They'd never been on a plane before. It was quite a challenge for them; it really pushed them out of their comfort zone."

But pushing on and overcoming difficulties is what makes HKOSA winners stand out. "I think everybody challenged themselves," Katie says. "We're all willing to do and try everything."
In addition to hiking, trekking and water sports, the students also split into groups to explore different environmental issues linked to the rainforest and its preservation.
"I was in the group working on orangutans," says Jackson. Each group had the opportunity to interview leaders and important figures related to their topics, and get footage for video projects to help educate others on what they had learned. "It's really difficult to see orangutans in Indonesia because they're an endangered species, but during the trip we saw seven or eight," says Jackson.
When they weren't camping, the students stayed with host families. For Katie, this was the most meaningful part of the trip, as it showed her just how different life outside of Hong Kong could be.
"My host family couldn't really speak English, but they were very welcoming." And despite the language barrier, Katie says they still managed to bond and find ways to communicate.
But Jackson says there were tough times as well. On the fourth day trekking through the jungle, the group all started getting sick. Not being used to the food and only having bamboo and campfires to cook on took its toll as many people felt feverish and even vomited.
"Jungle trekking was the most difficult and least fun part of the trip," admits Jackson. "The whole day was up and down, up and down, and it was very steep."
While such hardships would be more than enough to discourage other travellers, the HKOSA students embraced the challenge. "Some of the awardees will take their DSEs this year, but they're already planning to go back to Indonesia for their graduation trip," says Jackson.
The trip's challenges taught the group a lot about life beyond Hong Kong. And for Jackson and Katie, it's all about finding out how to fit into that world.
"Changing society is difficult," says Jackson. "So we need to start with ourselves. We are still students, so we need to focus on what we can do now. That way, we can spread it to others later."
Sign up for the YP Teachers Newsletter
Get updates for teachers sent directly to your inbox
Sign up for YP Weekly
Get updates sent directly to your inbox