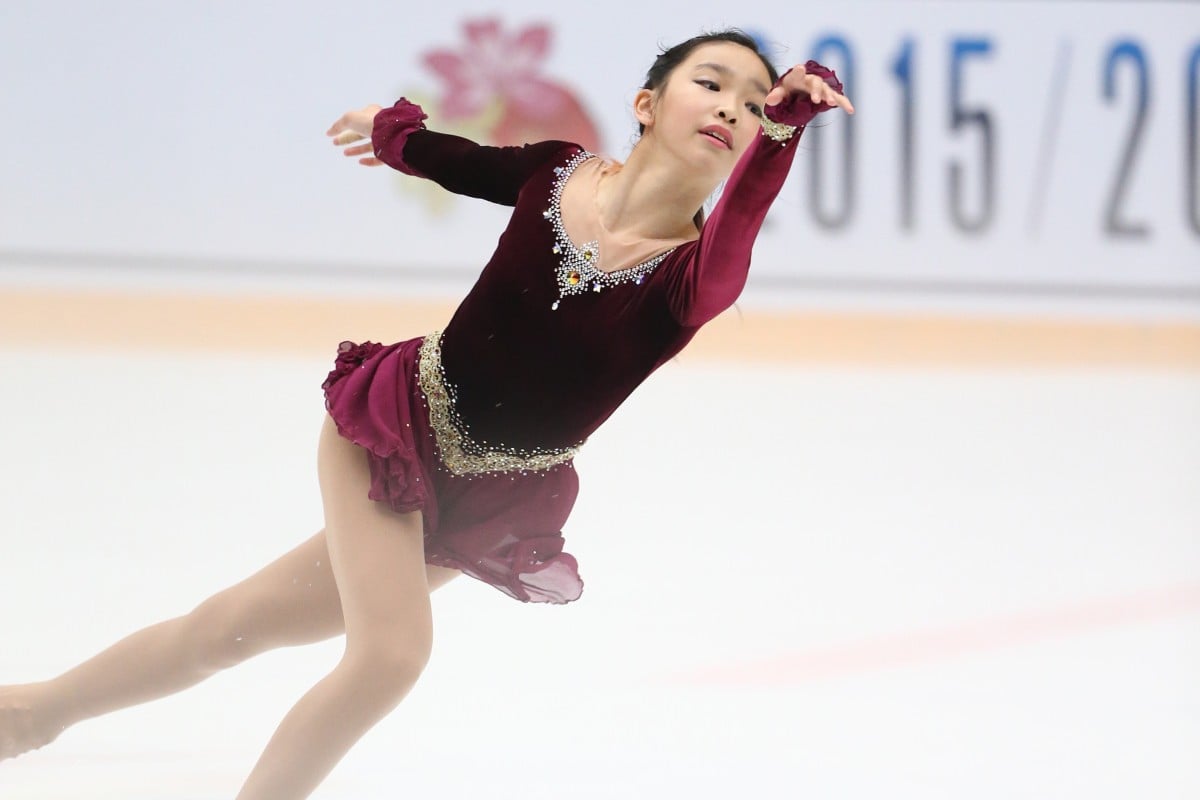 Nicole makes figure skating look easy, but even she finds it tough to stay cool on the ice sometimes
Nicole Chan Tsin-nam has a lot on her mind. She has a complicated performance routine to memorise and must practise it until it's perfect. She has to focus on her facial expressions, body movements and control - from the tips of toes to her fingers, everything has to be perfect. When it comes time to perform, she has to do it not only in front of a huge audience, but also in front of a panel of judges who will be watching for any small mistake. 
And she has to do it all on ice. 
Nicole is a figure skater. At 12 years old, she not only has to balance her classes at Renaissance College, but she also has to keep up with daily practice in Shenzhen as part of the Hong Kong Figure Skating National Team, and is a 2015-2016 Hong Kong Sports Institute Elite Sport Scholarship Athlete. 
But despite all the pressure, Nicole seems to glide through all her responsibilities with the same grace and ease she shows on the ice. 
"I love to perform!" she says. "I really enjoy perfecting my movements and routines then coming out and performing for everyone. 
"What I like about performing is that I can tell a story and express my feelings through my body and facial expressions."
She's had years to hone her performance skills, because she has been skating since she was just three years old.
 "I first got involved in skating because of my mother," she explains. "When my mum was younger, she really enjoyed skating. So at a very young age, I was introduced to it." But while her mother encouraged her passion, the drive to compete came entirely from Nicole. 
"I was never forced to skate," she adds. 
Competing is the highlight of figure skating for Nicole. Last year at the Asian Open Trophy in Taipei - the highest level of competition in Asia - she was first runner up in the Basic Novice A group, with a score of 34.28. 
"I was the first person in Hong Kong to win a silver medal in the 2014 Asian Open Trophy competition," she says. Nicole came second out of 17 competitors from 10 countries. 
And this year she did it again, winning silver in the Advance Novice group at the 2015 Hong Kong Figure Skating Championships. 
Nicole says her goal is to represent Hong Kong at the Worlds Figure Skating Championships, and get into the top 15. 
But she admits that not everything is smooth skating. "One of my biggest challenges is being able to control my frustration and emotions," she says. "I tend to get frustrated easily, especially when I am really passionate about what I am doing." 
But Nicole knows that getting upset over a mistake or failed jump won't help anything. 
"I am trying my best to improve on communicating with my coach and finding a way to express my frustration," she says. 
"No pent up anger."
What song/movie title best describes you when you're playing your sport?
I would say the song Hero by Mariah Carey. I often feel like giving up, but I could never truly let go of skating because I love it too much. 
"So when you feel like hope is gone/ Look inside you and be strong." 
You can have any superpower you choose for 24 hours. What do you choose and how do you use this power?
To be able to teleport. I would choose this because every day I have to go up to Shenzhen to skate and it takes up a lot of time. 
So if I had the power to teleport, it would save me so much time and I would have a lot more time to rest. 
If you could have an unlimited supply of anything, what would it be and why?
I would have an unlimited supply of rinks and practice places. In Hong Kong, there aren't that many rinks and more often than not they are really crowded, especially after school, which is when I train. 
The rinks in Hong Kong are also not big enough. They are quite a bit smaller than the standard international rink size. That's another reason have to go to Shenzhen to train every day.
10 years in the future, you are a famous athlete. What company do you sign-on as spokesperson for, and what product do you promote?
I would choose Lululemon and promote their vests and jackets, because finding clothes that are appropriate for skating isn't exactly easy. When I skate, I prefer to have tight fitting clothes as I do a lot of jumps and spins that are affected by baggy clothing. 
Lululemon also care about the world, and are trying to be more sustainable, so I think they're a great brand.
Sign up for the YP Teachers Newsletter
Get updates for teachers sent directly to your inbox
Sign up for YP Weekly
Get updates sent directly to your inbox