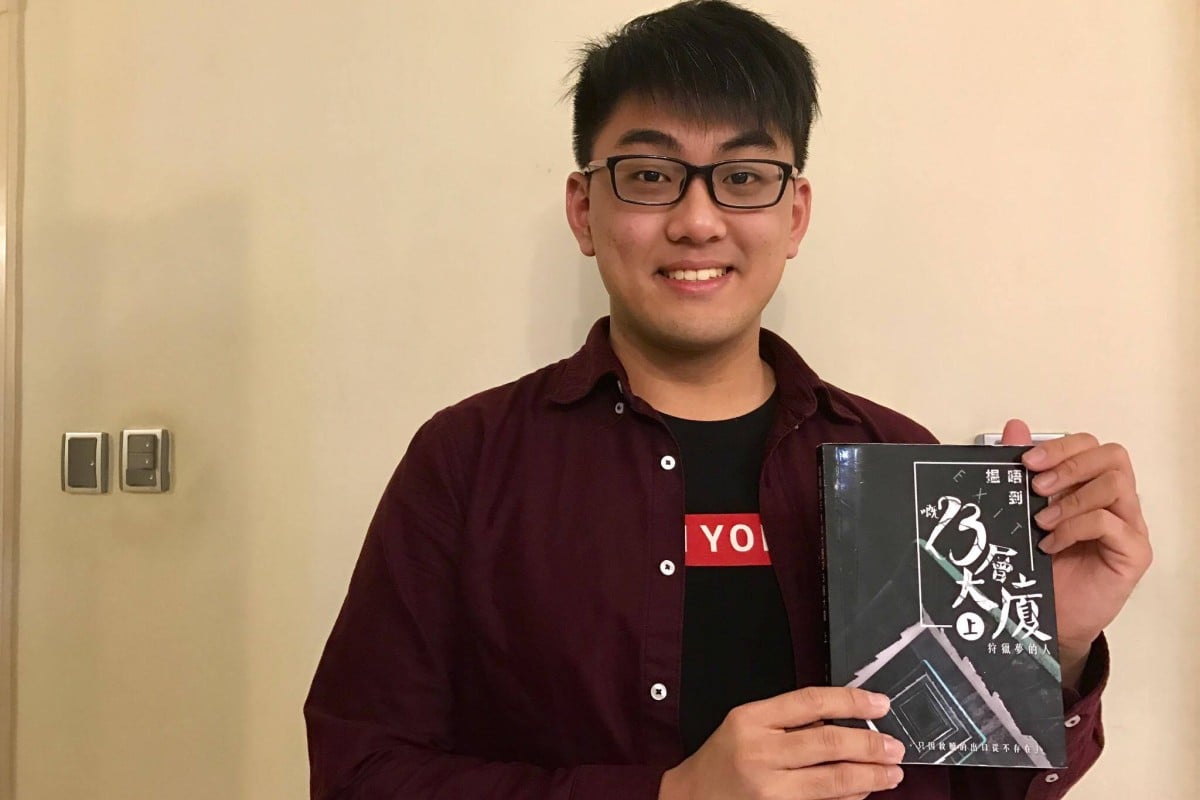 Henry Cheung is surprised by the success.
A few secondary school friends take the lift to a party on the 23rd floor of a block of flats in Mong Kok. They have a great time, but at 3am, they realise they are trapped; there is no way out of the building. They try a lot of ways to escape – going back to the ground floor, climbing out of the window – but nothing works.
Have ghosts trapped them in the building? Have they stumbled into an alternate dimension? Or is there something more sinister going on?
That's the plot of The Exitless 23 Storey Building, Henry Cheung Hoi-wing's debut novel, which has taken the world by surprise. The book – all 159 chapters – has been picked up by online forums like Shikoto.com and HK Golden, where it has attracted more than a million views since February last year.
Young Post had coffee with Cheung last week, to find out what the 20-year-old graduate from Wah Yan College has planned for the future and what it feels like to be such a success.
Cheung's novel is a horror story, but there's a lot more to it than cheap thrills and lots of gore.
"One day, I went to my friend's home, which was on the 22nd floor," he says. "I was thinking whether there would be anything interesting that could happen in the building. Could I find a real-life situation, and then use my pen or my MacBook to add some excitement to it?"
Cheung thinks Hongkongers lead fairly boring, repetitive lives and wanted to bring an element of surprise to their ordinary lives.
"I was inspired by Ni Kuang, Hong Kong's most famous author," Cheung says. "He wrote a lot of books with characters who are faced with riddles, where buildings have their own minds, and eat or brainwash people. It changed my mind on how to write stories. Ni Kuang's stories taught me to not always be realistic."
He knows that life might seem easy in the city, but in reality, there is a lot of pressure on young people to live up to expectations of those around them.
"Sometimes we feel powerless or hopeless. But you need to find out why you want to struggle for your dream, family, your values or your liberty," says Cheung. "We all have difficulties in life and we try to overcome them. There are social values that we should not give up fighting for, [for example] human rights and equality, even if we face a lot of problems."
And, like most young Hongkongers, he knows what he's talking about. At first, his family was not too keen on the idea of him taking up a career in writing. "They wanted me to focus more on academic results," he says quietly. "But they seriously changed their minds about writing when they saw my increasing popularity."
The hardcopy of his book was published earlier this year, it has already sold 100 copies, and more than a million people have read his stories online.
Cheung, who is currently a third year student at the Chinese University's department of government and public administration, can barely believe his success.
"At first, I only wrote as a hobby. I did not expect people to read my book. I thought they would only read Harry Potter, Lord of the Rings or rather play games. But, many people here like weird things that differ from their current lives, as Hongkongers seem to feel bored nowadays."
Cheung's second novel, Don't Take Tram 137 to Kennedy Town, is proof of that. It is due to be published on paper within a few months, but it is already the second most popular story on Shinkoto.
"This idea that young Hongkongers hate reading is not true," he says. "Locals do not hate reading books, and they do read online. There is support for local writers."
He wants to remind readers that Hongkongers, particularly students, should be free to do what they want for their future.
"Schools, peers or parents may think what you want to do is useless if you don't make enough money," Cheung says. "They might say you have to go to university, or become a teacher, lawyer or government officer."
He believes that the key is to try things, because you never know what will work. If you know what you want to achieve, you can keep working towards that.
"You can work part time, and still write good stories after work," he says.
Sign up for the YP Teachers Newsletter
Get updates for teachers sent directly to your inbox
Sign up for YP Weekly
Get updates sent directly to your inbox