Secondary school principals call for a final grade based on projects, mock tests and internal assessment, but concerns surface over fairness
South China Morning Post
|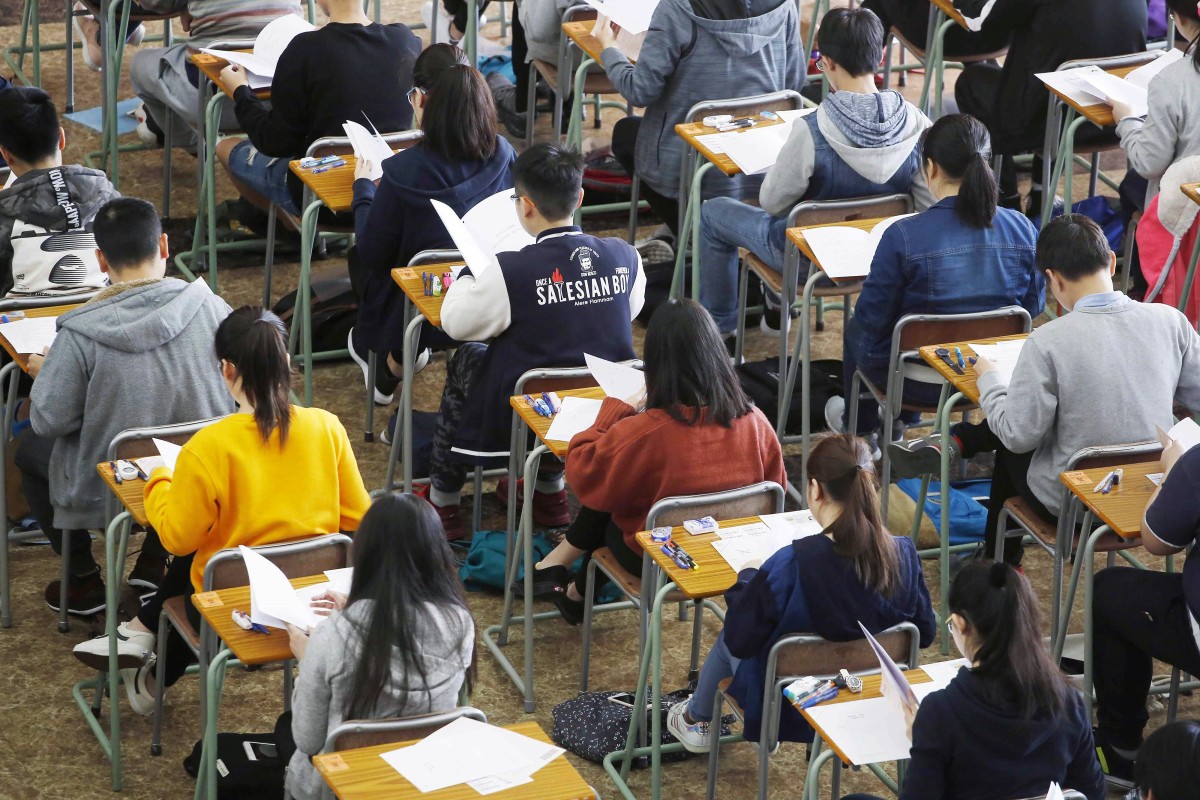 Hong Kong has suspended classes since February, and now education officials are debating postponing or cancelling assessments.
Education officials in Hong Kong are discussing contingency plans for the city's university entrance examinations following a one-month postponement caused by the coronavirus pandemic, as further delays or even cancellations loom.
The government has consulted publicly funded universities over the likely impact of pushing back again, or calling off entirely, the Diploma of Secondary Education assessments.
And some university leaders have agreed that if the exams had to be delayed to July, the start of the new school term should be postponed to October, according to a government source.
Secondary school principals who spoke to SCMP said candidates should still receive a final grade for university admission in case the DSE exams were eventually cancelled.
The score could be calculated from students' internal assessment and mock exam results.
Hong Kong's DSE exams, which were originally expected to begin from March 27, had been postponed until April 24 following a surge of Covid-19 cases in the city, affecting some 52,000 candidates.
International exams such as the International Baccalaureate and IGCSE were cancelled worldwide last month.
Some Hong Kong students planning to resit exams
Tang also suggested that if the DSE exams were dropped, students' final grades could come from items such as their internal test results, mock exam performances, as well as previous school-based assessments.
He added that grades calculated this way should also be based on past cohorts' performances within each school – as internal tests varied across schools – to ensure fair results across the board.
"The [process] has to be open and transparent … and different stakeholders should be consulted, including secondary schools, universities, parents and students," he said, as he urged the government to discuss the matter with the sector as soon as possible.
James Lam Yat-fung, principal of Lions College and former chairman of the Subsidised Secondary Schools Council, also said education authorities should come up with alternative plans which would be widely accepted by students and parents.
He pointed out, however, that some schools had not completed their mock exams this year following a citywide suspension of classes since early February.
"If the [DSE] exams can proceed, it would be best to ensure fairness for all students," said Lam. "But if the exams really need to be cancelled, an alternative formula to come up with a final grade should [at least] be generally accepted by students. If students and parents do not agree on such a formula, it's probably going to bring up [other issues].
Covid-19 has been declared a pandemic; what does that mean?
"The DSE results have an impact not only on students' university admissions, but would also be considered by their future employers."
But DSE candidate Mickey Leung, 17, who is from a secondary school in Tuen Mun, said some students already felt pressured after a one-month postponement of the exams.
"If the daily surge in cases continues this month, I think it might be better to cancel the exams. Because if they are further postponed, it would make students more anxious … We would have to adjust our preparations again," she said.
On the other hand, Mike Lau, 18, a DSE candidate from Carmel Secondary School, emphasised that the DSE should never be cancelled, since it is the only fair assessment for university admissions.
"Even if the late April time slot is not be suitable, postponing the exam, even at the expense of the first semester of university, would still be a fairer option than [cancelling the DSE exams]," he said.
Cyrus Chu, a 17-year-old candidate from St Louis School, agreed that the DSE should not be cancelled entirely. "To put it simply, there are no other alternatives. One can argue that we use the School Based Assessment (SBA) to examine our abilities, yet, the SBA is not required in every subject," he said.
The things we took for granted before Covid-19
On top of that, SBA marks are subject to adjustments based on the results of students' DSE exams, added Sunny Bow, 17, from Sing Yin Secondary School. "Without the DSE, there would be no adjustments and it would be a disadvantage for some of us," he said.
Cyrus'  biggest worry upon hearing the news was if he could submit his DSE grades on time to overseas institutions, for example, in the UK.
"Many offers from different universities, including those from UCAS, the UK admissions system, ask that we submit our examination grades before July 31. If the DSEs are delayed further, the results will be pushed back too," he said.
Saltwater spray infects 46 churchgoers with Covid-19
Chung Ching-to was also concerned about how officials would maintain fairness if the DSE were cancelled. The 17-year-old candidate from Carmel Secondary School said, "I would prefer further delays of the exams, even it might change the admission dates for universities, because we have already put a lot of effort in preparing for it."
However, if the cancellation of the DSE was inevitable, Ching-to suggested that local universities lower their admission standards and screen out some of the students after the first year of study.
The HKEAA, while reiterating in a reply on Thursday that the DSE exams would not be "hastily cancelled", said it had been keeping in close contact with the Education Bureau, health authorities, as well as the secondary and tertiary education sector on suitable contingency plans.
The bureau said it would follow the pandemic closely and make an announcement early if the need for special arrangements arose.
Sign up for the YP Teachers Newsletter
Get updates for teachers sent directly to your inbox
Sign up for YP Weekly
Get updates sent directly to your inbox