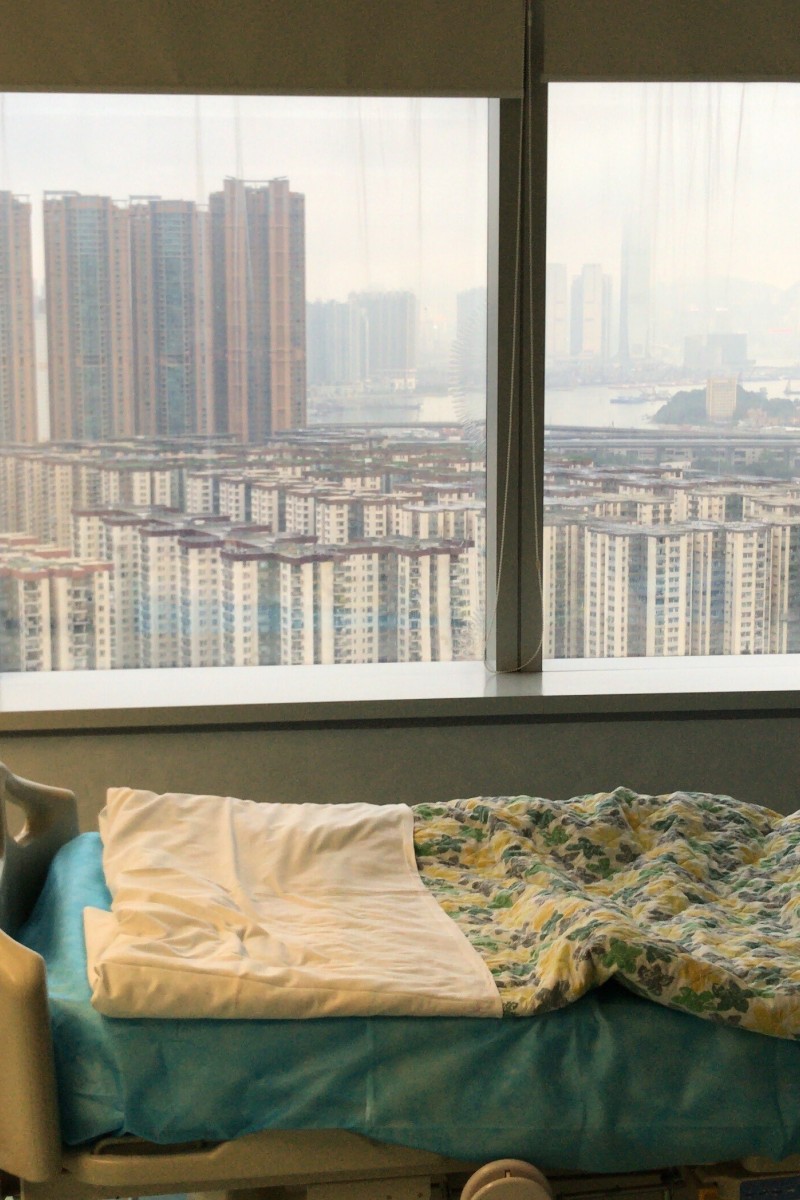 Amalissa Hall writes about her experience with the virus, the nasal tests, her time in a Hong Kong hospital and life in isolation.
She is currently staying in a ward with four other asymptomatic women.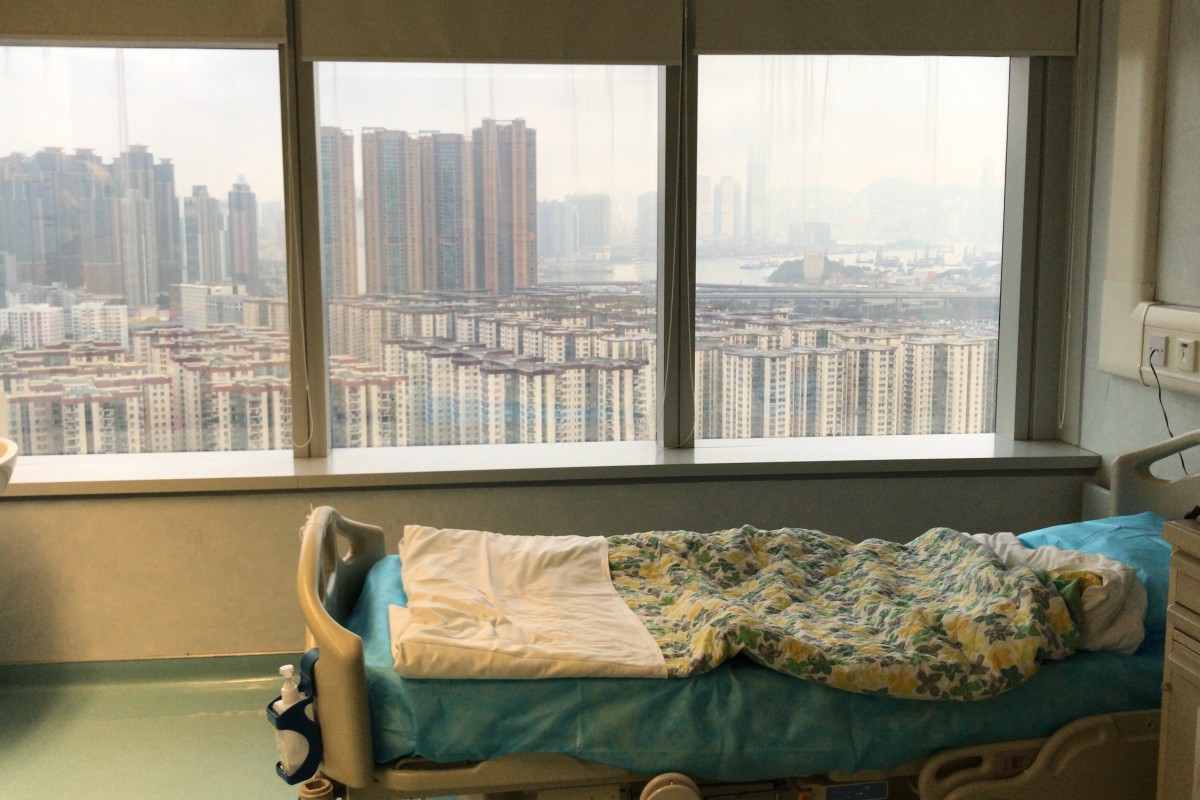 The view from Amalissa room at Princess Margaret Hospital.
During the three weeks I've been in hospital for Covid-19, I've learned that it is possible for my ears to cringe.
Every time I catch sight of the long swab used for nasal tests, I can physically feel my ears recoil as I recall how far up my nostril the swab goes. Sometimes it hurts; most times it's over quickly.
It feels like when you've eaten too much wasabi and everything stings. The swab is much better compared to the test I received at the Tsuen Wan Yan Chai Hospital when I was first brought to hospital. The nurse put a small tube all the way up my nose, and further still down into my throat so she could suction a sample for further testing. It was necessary since the initial deep throat saliva test I did was only considered preliminary positive. My nose hurt for days after.
After that test came back secondary positive, I was transported to an isolation ward at the Princess Margaret Hospital and was strapped down to a bed. Holding my bags tightly to my chest, I was covered with a bright blue blanket to "contain my germs."
Coronavirus: I am a 14-year-old girl in a Hong Kong government quarantine centre, all by myself
The upside was that whilst lying down in the ambulance, I caught a last glimpse of the sunset behind all the trees. It helped soothe the fluttering uncertainty in my stomach. I felt guilty for sending my family, friends and colleagues to quarantine, and anxious about the state of those quarantine facilities.
I was pleasantly surprised by the isolation room I was in, as there was enough space to pace around whilst I was on the phone. I even had a food hatch to receive my meals and any supplies from the few friends that weren't in quarantine.
The best part was the enormous windows that overlooked Lai Chi Kok to the left, and Hong Kong Island on the right. If the sun came through in the morning, I would sunbathe on the window ledge, look out to the Peak and wistfully think about all the times I said I was too busy to go walking up there with my mum. It was a pleasant spot to eat my meals.
Determined to set a routine for myself to help time pass, I read, kept a diary, did yoga or targeted workouts, showered, video called whoever was available, and binge watched Netflix until I saw the lights outside come on.
That was a sign that I'd survived another day completely alone. Being an only child used to my own company, I was somewhat content. I could even see the shadow of an ab coming along.
However, by the two-week mark, I was feeling restless and frustrated that I had to stay here and continue eating bland food. I'm convinced my tastebuds are now redundant, rather than it being a symptom of the virus.
During this whole ordeal I've been extremely lucky to have it easier than others with mild symptoms. But I was bitter that everyone had finished their stints in quarantine whilst I was missing home and frankly, felt embarrassed that I was using so many hospital resources despite not being sick. Also, I just really craved nachos.
Finally, the doctors had news for me — I tested negative! If I tested negative again the next day, I would be able to go home. 
Unluckily for me, that next test returned "low positive", meaning there were still traces of the virus in my body but it was breaking down, much like my mental state.
Coronavirus: A first-hand account of what it's like to survive Covid-19, from one Hong Kong student who caught the virus
I was subsequently moved to a shared ward, where I'm writing this now, with four other women who also are asymptomatic.
Thankfully, they were equally as nervous to interact and share a bathroom as me, and we've broken the ice by sharing crackers and sachets of coffee.
We've exchanged our feelings of restlessness and even managed a laugh every now and again. I thought this would be worse than isolation, but it's nice being in the company of others. I'd forgotten what it was like.
Wherever we are stuck, we need to be resilient, keep our routines, find alternative ways to connect with people and remember that Covid-19 is much more than a minor inconvenience of not being able to traipse around Hong Kong.
We cannot irresponsibly go about life like normal yet. Just look at the rest of the world.
Being with other people in this boat has helped me accept that none of this is easy, but we are all here out of necessity, not choice, and we ultimately have to go through this process for the safety of the public.
I'm not looking for silver linings, it's just easier to conclude that this is my current state of existence, and I'll be home, eventually.
Sign up for the YP Teachers Newsletter
Get updates for teachers sent directly to your inbox
Sign up for YP Weekly
Get updates sent directly to your inbox