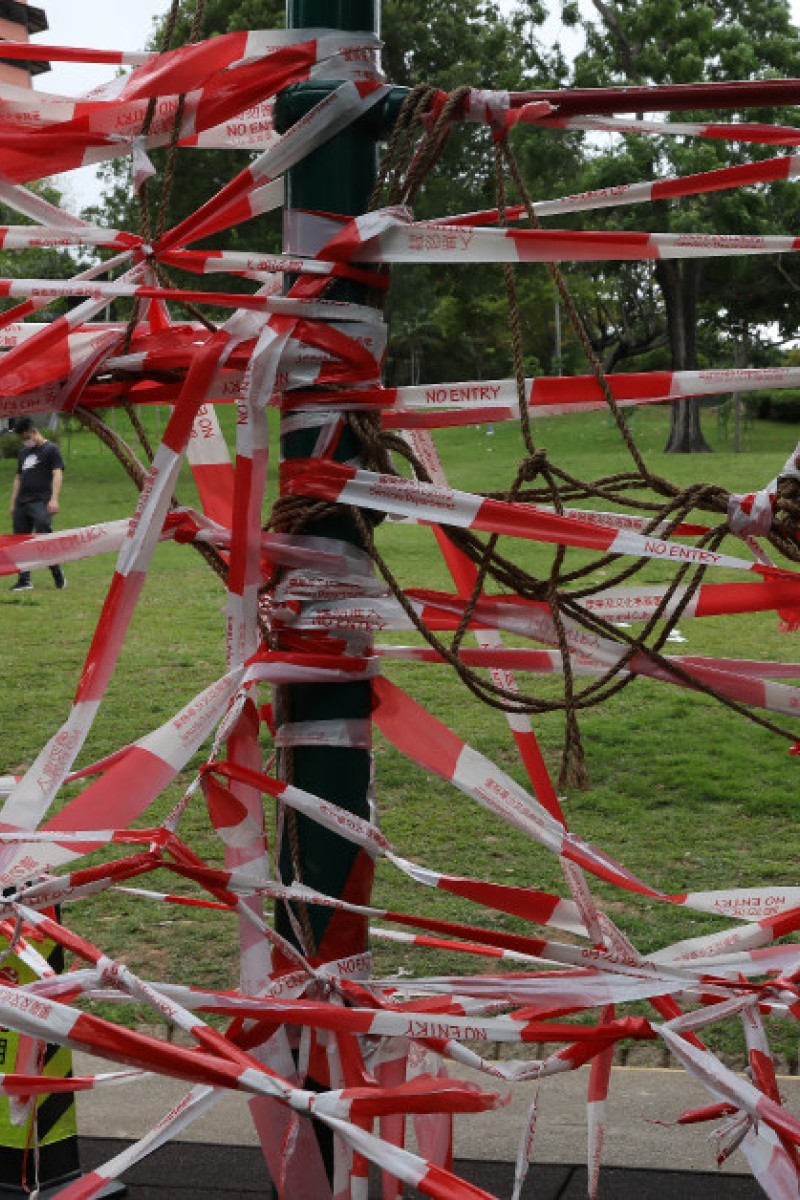 Coronavirus: Hong Kong could start relaxing social distancing measures in early May
For 12 days in the row, the city has reported only single-digit increases in Covid-19 cases, most of them imported. 

Experts disagree on how long social-distancing measures and closures should go on.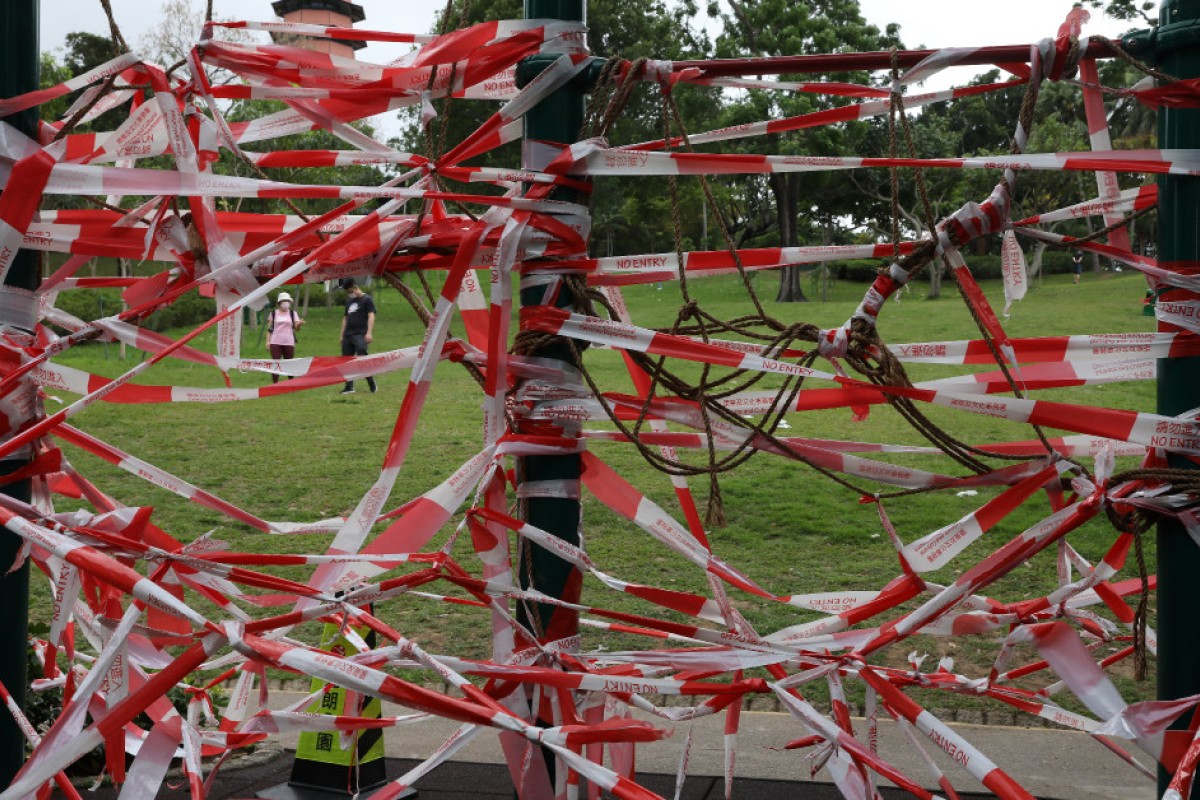 A playground in Yuen Long cordoned off amid the coronavirus outbreak, to further promote social distancing.
Hong Kong could start relaxing some of its social-distancing measures by early May, according to top health experts, as the city confirmed two new Covid-19 cases, both imported, on Thursday. 
It was the 12th day in a row that the daily rise in infections remained under double digits, and experts said the transmission of Covid-19 had weakened, while most local cases were traceable.
University of Hong Kong microbiologist Dr Ho Pak-leung, who has advocated hardline coronavirus measures and been critical of the government's response, said the city could consider lifting some restrictions after two weeks, if new infections remained in single digits on most days. 
Pandemic may worsen technology gap for students 
The two new cases had a history of recent travel in the US, Britain and Europe. One was a 58-year-old man who had failed to report his symptoms while quarantined and later went for dental treatment and a haircut at a luxury hotel after his release. Their cases took the city's tally to 1,035 since January, with four related deaths.
"Overall, the transmission within the community is slowing down, and we see the silver lining for cutting off local transmission," Ho said. "If we can keep up the momentum, some social-distancing measures can be lifted after May 7."
The government announced on Tuesday that the temporary ban on some businesses opening would be extended, with bars, pubs, beauty salons, massage parlours and karaoke bars among the 11 kinds of premises that would have to remain shut until at least May 7.
Please stay home if you are told to; it could save lives
Ho pointed to the actions of the World Health Organisation after the severe acute respiratory syndrome (Sars) outbreak in 2003, when a travel ban on Hong Kong was lifted based on a few objective factors.
"Criteria could include an apparent fall in the number of confirmed cases, no export of cases from Hong Kong, as well as when most of the local infection cases are traceable," he told a radio programme. "We have fulfilled most of these criteria, and only two of the [recent] local infections are from unknown sources." 
He said the most serious local infection clusters were linked to nightlife districts and bars, but the last related case was confirmed on April 13. Since then, there had been only two local cases.
Opinion: Western countries are wrong to blame China for Covid-19
But at a daily press briefing, Undersecretary for Food and Health Dr Chui Tak-yi did not give a definite date on easing the measures, saying restrictions had to remain in place for now. The authorities had already relaxed a requirement for restaurants to cut their customer capacity by half.
"Whether to adjust it further will depend on the latest situation in due course," he said
Another authority on public health, respiratory medicine expert Dr David Hui Shu-cheong, agreed with Ho that the city was doing well in containing another community outbreak.
Some dining out restrictions have already been relaxed, and others may soon follow.
But Hui, who advises the government on its pandemic response, had some reservations based on the case of an airline employee at Hong Kong International Airport.
"The Virgin Atlantic ground attendant diagnosed on Sunday is a bit worrying. Although she works at the airport, there is no proof she contracted it from any inbound visitors, and she had been working with around 70 colleagues since the onset of her symptoms," he said.
"The following few days will be significant, and we hope there will not be another outbreak." 
Hui said if the number of new local cases remained low in the next two weeks, some measures could be relaxed, such as all civil servants returning to their workplaces, while certain establishments could reopen. 
Museums around the world offer virtual tours during Covid-19
However, the two experts disagreed when it came to completely lifting all restrictions.
Ho said the administration could only do that when there had been no local cases for 28 days, or two 14-day incubation periods for the infection, while Hui said the city had a little more leeway.
"The coronavirus is a totally new virus, and we can expect there will be a few cases getting into the community once in a while," Hui said.
"I believe as long as it is not an outbreak, we can evaluate and relax most of the measures after 28 days. Otherwise, it may have a serious [economic] impact on our society."
Sign up for the YP Teachers Newsletter
Get updates for teachers sent directly to your inbox
Sign up for YP Weekly
Get updates sent directly to your inbox