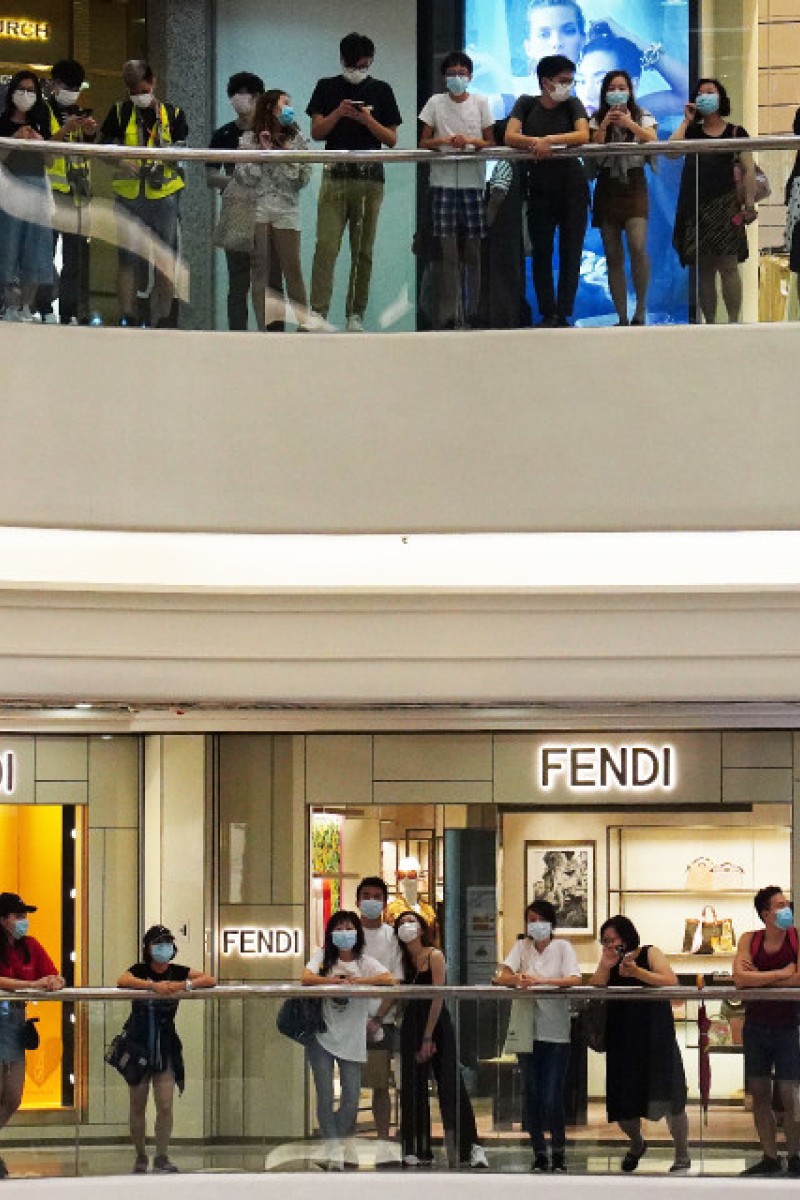 Hong Kong protests: Clashes break out on Chief Executive Carrie Lam's birthday
The demonstrations were in defiance of the Covid-19 ban on public gatherings and saw riot police enter malls.

Police used pepper spray against journalists in Sha Tin's New Town Plaza as they arrested a demonstrator.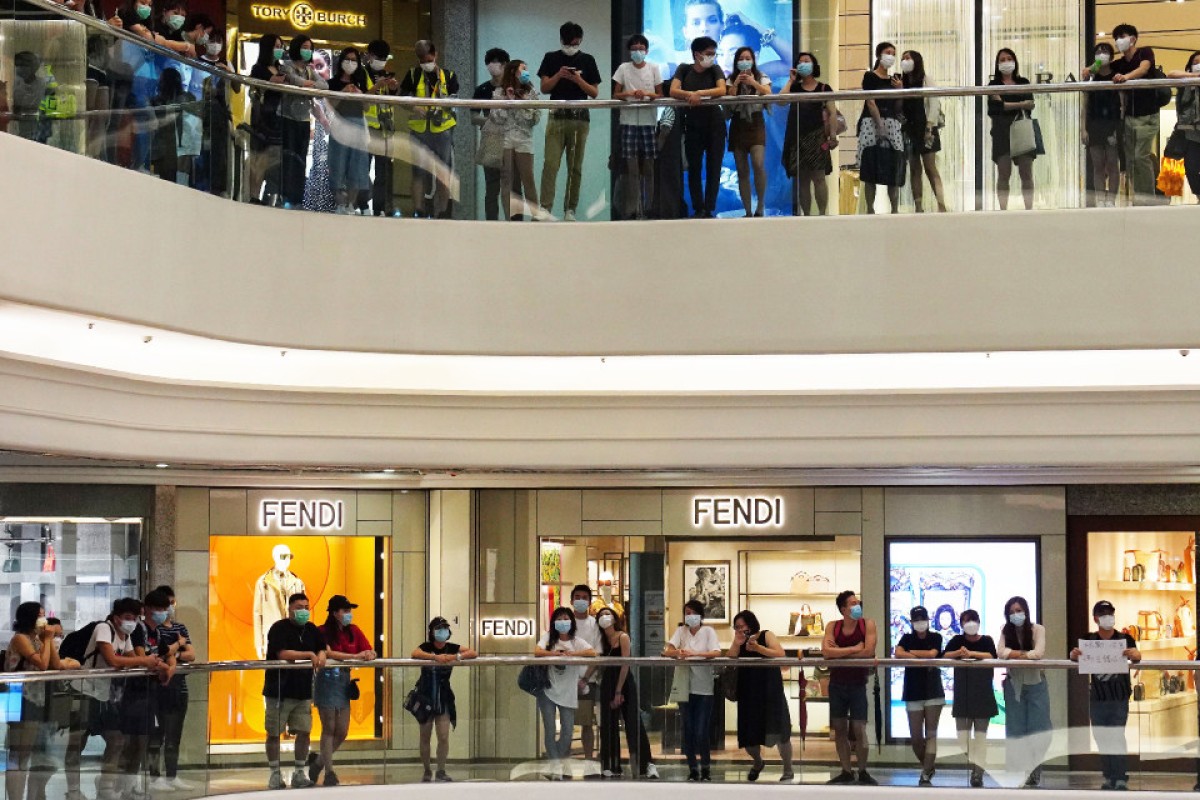 Protesters gather at Times Square to 'celebrate' the birthday of Chief Executive Carrie Lam.
Clashes broke out on Wednesday evening as anti-government protesters gathered in at least 10 shopping centres across the city, responding to online calls to "celebrate" Hong Kong leader Carrie Lam Cheng Yuet-ngor's birthday.
The demonstrations were in defiance of the coronavirus-related ban on public gatherings of more than eight people, and saw riot police enter some malls, using pepper spray in one to disperse protesters and journalists. 
The rallies started at 7.30pm, with protesters chanting and waving banners that read "Liberate Hong Kong; revolution of our times" and "five demands, not one less" – two popular slogans of the anti-government movement. Some also carried Hong Kong independence flags.
Pro-democracy activists say plan to read National Anthem Bill purposely coincides with start of school
Protesters also shouted profanities targeting Lam on her 63rd birthday.
Police were also verbally abused, with insults hurled at them, and mocked over recent scandals that led to the arrest of 18 officers for various offences in the past three weeks. 
Events were staged at Times Square in Causeway Bay, Cityplaza in Taikoo Shing, IFC Mall in Central, New Town Plaza in Sha Tin, Langham Place in Mong Kok, Olympian City in Tai Kok Tsui, APM in Kwun Tong, Tsuen Wan Plaza in Tsuen Wan, Mega Mall in Tai Po and tmtplaza in Tuen Mun. 
Messages were broadcast in the malls reminding protesters they could be violating the ban if they continued to gather, as police stood outside.
Hong Kong police chief calls for press accreditation system
In Times Square, more than 70 people chanted slogans. 
At Tsuen Wan Plaza, where several dozen protesters gathered, police officers in riot gear entered and warned the participants and mall-goers to disperse or they would be breaking social-distancing rules.
Inside New Town Plaza, tensions flared at 8.50pm as two plain-clothes officers subdued a young man. 
An officer fired pepper spray towards journalists and others to warn them off. Squads of officers in riot gear arrived as backup within minutes.
The man, who was taken away at 9.09pm, was later arrested. 
Carrie Lam vows to 'fix' Liberal Studies 
Police later said on their Facebook page that "rioters" raided a shop and broke monitors, electronic devices and other facilities at about 9pm. Plain-clothes officers nearby rushed to stop them. Someone waved an umbrella at officers, who used pepper spray.
After the incident, officers subsequently dispersed all other mall-goers and cordoned off the site. Two online media reporters were hit with pepper spray and they said police gave no warnings beforehand. 
Meanwhile, at 9.40pm on Wednesday, outside New Town Plaza near Sha Tin Town Hall, a man was also arrested. A witness said the man had been sitting on a staircase when police approached him. 
Officers arrested the man and tied his hands after he used foul language. The police action quickly drew an angry crowd, confronting officers behind a cordon line. Two more men were later arrested after a stop and search nearby.
Hong Kong teachers demand apology from Carrie Lam after 'insulting' Liberal Studies 
Inside Langham Place at 9.20pm, protesters stepped on images of Lam's face superimposed with a skull. They also spread "ghost money" on the floor along with a fake birthday cake and bowed three times, a custom performed at funerals.
At 10pm, on Nathan Road near Langham Place, riot police ordered people to get back on the pavement. "Why are you standing so close? There're three new confirmed [Covid-19] cases," an officer said to journalists, referring to the latest coronavirus infections in Hong Kong.
Police had earlier warned on their Facebook page that they were aware many online users had been inciting others to gather and stage protests inside various malls. 
"Such behaviour not only makes our anti-pandemic efforts futile but may also constitute the offences of 'participating in an unauthorised assembly' under the Public Order Ordinance and 'participating in a prohibited group gathering' under the Prevention and Control of Disease (Prohibition on Group Gathering)," they said.
Sign up for the YP Teachers Newsletter
Get updates for teachers sent directly to your inbox
Sign up for YP Weekly
Get updates sent directly to your inbox