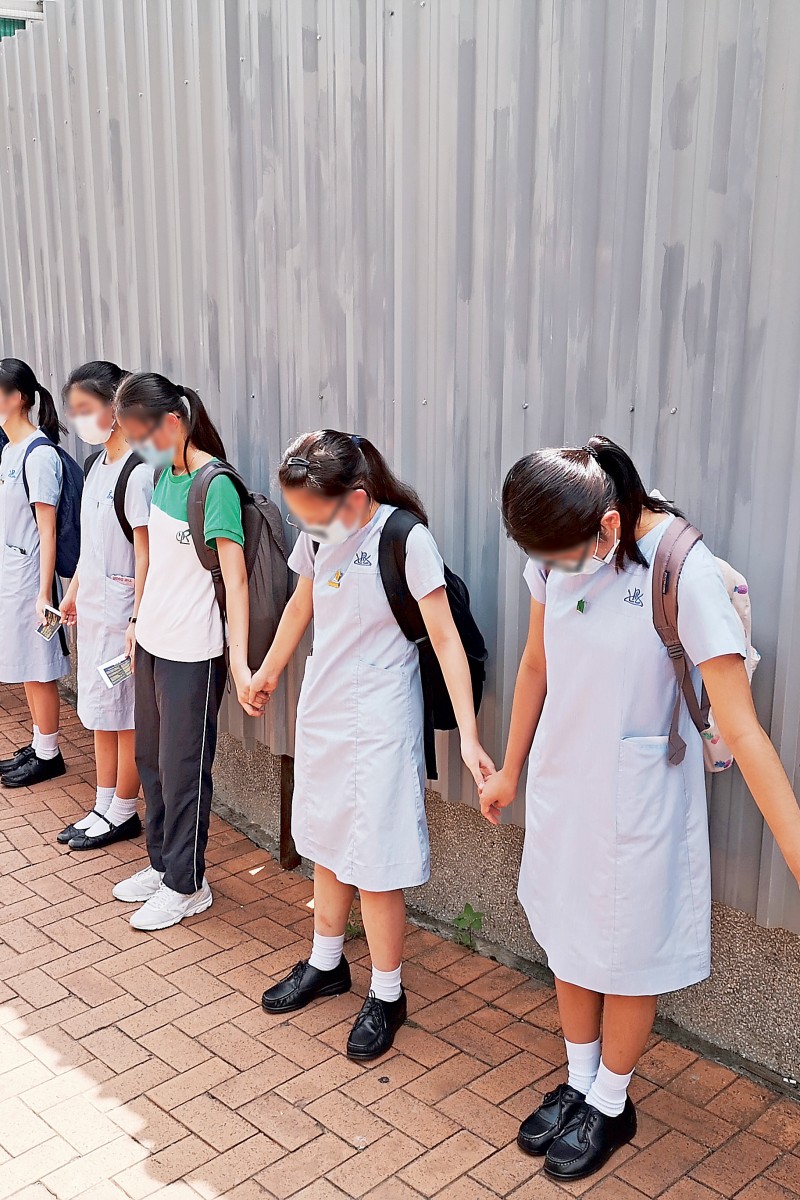 Hong Kong protests: Students at Heung To Middle School hold demonstration to support music teacher allegedly let go for political beliefs
Novem Lee Kwan-pui claims her contract was not renewed because of school's 'patriotic' stance

Students formed human chains and chanted slogans against censorship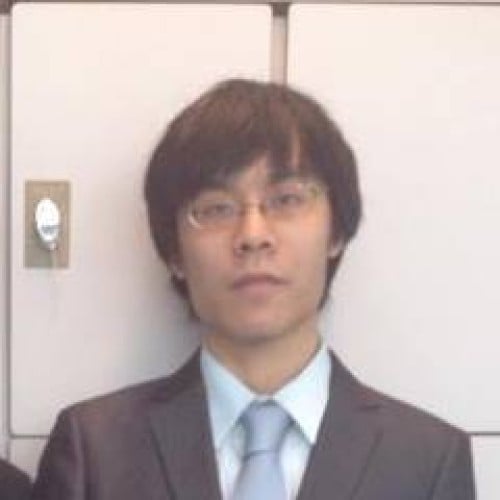 A Young Post reporter since 2014, he covers youth-related news, including education, culture, social issues, politics and economics.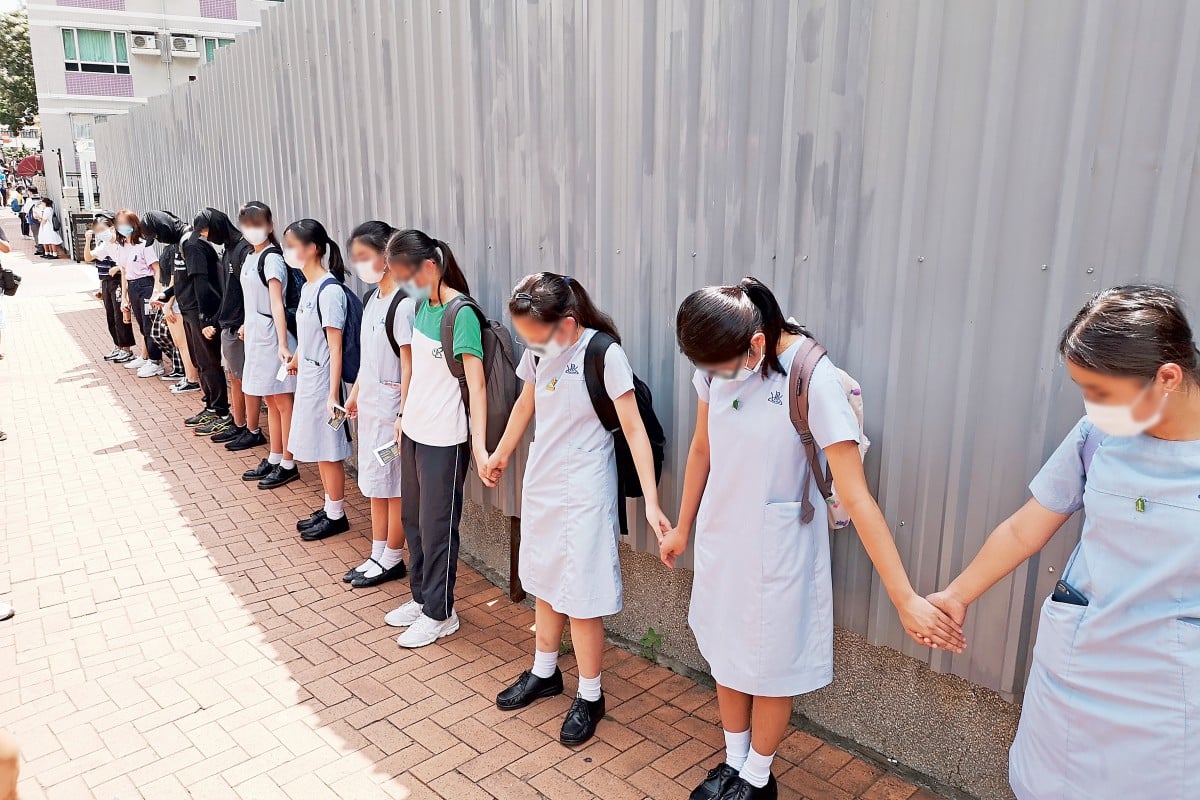 Students at Heung To Middle School formed a human chain in support of their music teacher whose contract was not renewed, allegedly due to her political beliefs. Photo: Wong Tsui-kai/SCMP
Students at Heung To Middle School last Friday staged a protest in support of music teacher Novem Lee  Kwan-pui, who lost her job allegedly due to political differences.
Lee's contract was not renewed without any formal explanation, after lots of students chose to sing the protest song Glory to Hong Kong in their exams. Lee claimed the principal told her her contract was not renewed because she did not share the school's political beliefs.
More than 100 students from Heung To and nearby schools formed a human chain outside the school after lessons at 2pm, chanting slogans against political censorship, demanding an explanation  for the school's action, and supporting freedom of speech.
Teacher fired from 'patriotic' school over 'Glory to Hong Kong'
A Form Five student said he had been taught by Lee, who had been at the school for 12 years. He said the way the incident had been handled was unfair. 
He also said Lee had not allowed her political stance to affect her teaching. "If it was a matter of political stances, this would have happened long ago," he said. "The school has the right to be patriotic, but it shouldn't censor teachers' freedom."
A Form Three student who is a member of the school's music club had also been Lee's student. She said that Lee is a good teacher. "I feel bad for her. I hope the school isn't sacking teachers because of political issues."
Secretary for Education says students should not protest national security law
A Form Five student from the nearby United Christian College who joined the protest said there seemed to be double standards. "I've been keeping an eye on a concern group [on social media], and teachers who speak up for Hong Kong have not been disciplined." 
A Form Two student said the presence of suspected plain clothes police officers nearby had stopped him from taking part in the protest. "But the protest was peaceful, like I expected. I think the school went too far."
All the students wished to remain anonymous.
A squad of uniformed police officers were on standby outside Festival Walk near the protest area. They announced through loud speakers that the protest was violating social distancing laws, but did not make any arrests.
Sign up for the YP Teachers Newsletter
Get updates for teachers sent directly to your inbox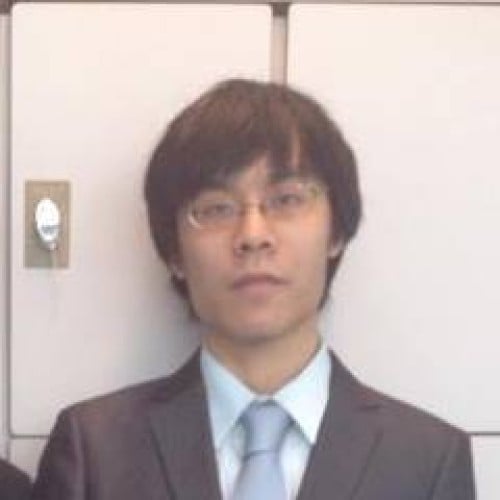 A Young Post reporter since 2014, he covers youth-related news, including education, culture, social issues, politics and economics.
Sign up for YP Weekly
Get updates sent directly to your inbox