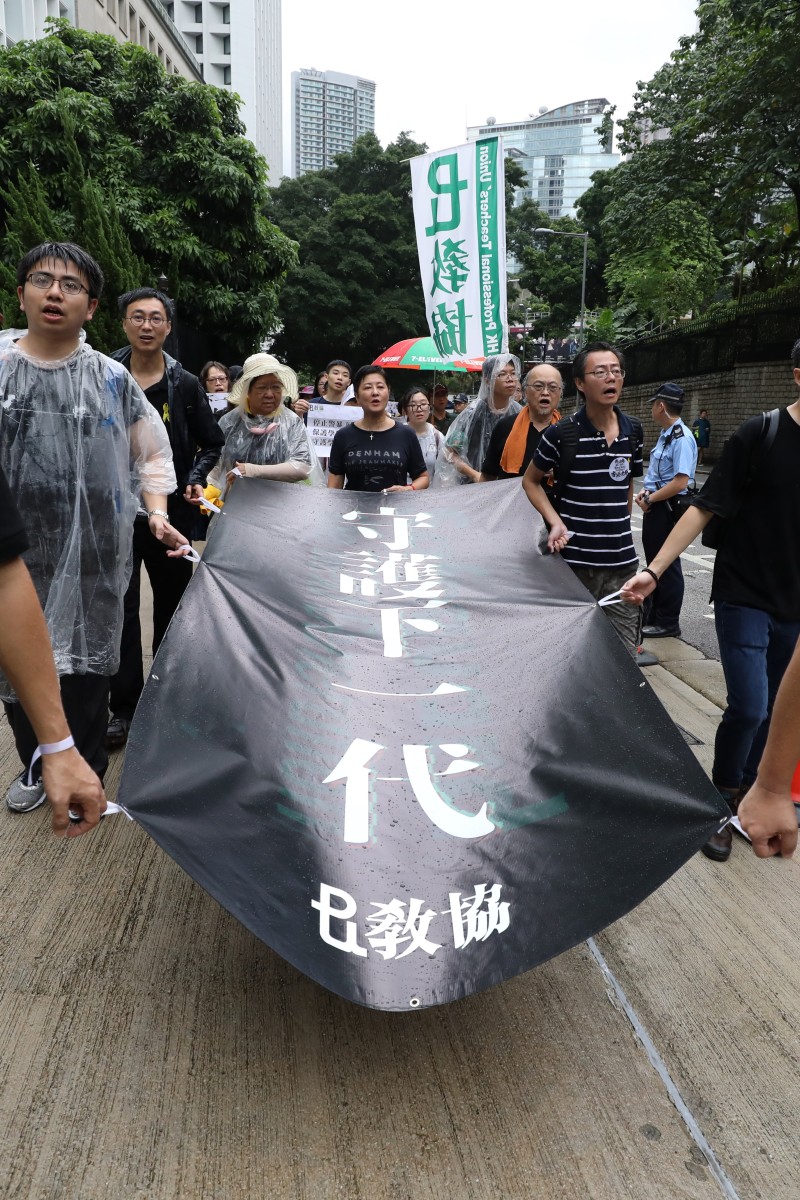 A survey from the Professional Teachers' Union found that 90 per cent of educators worry about the future of teaching and do not trust the Education Bureau

They are also concerned about the political pressures placed on the sector from pro-establishment and mainland groups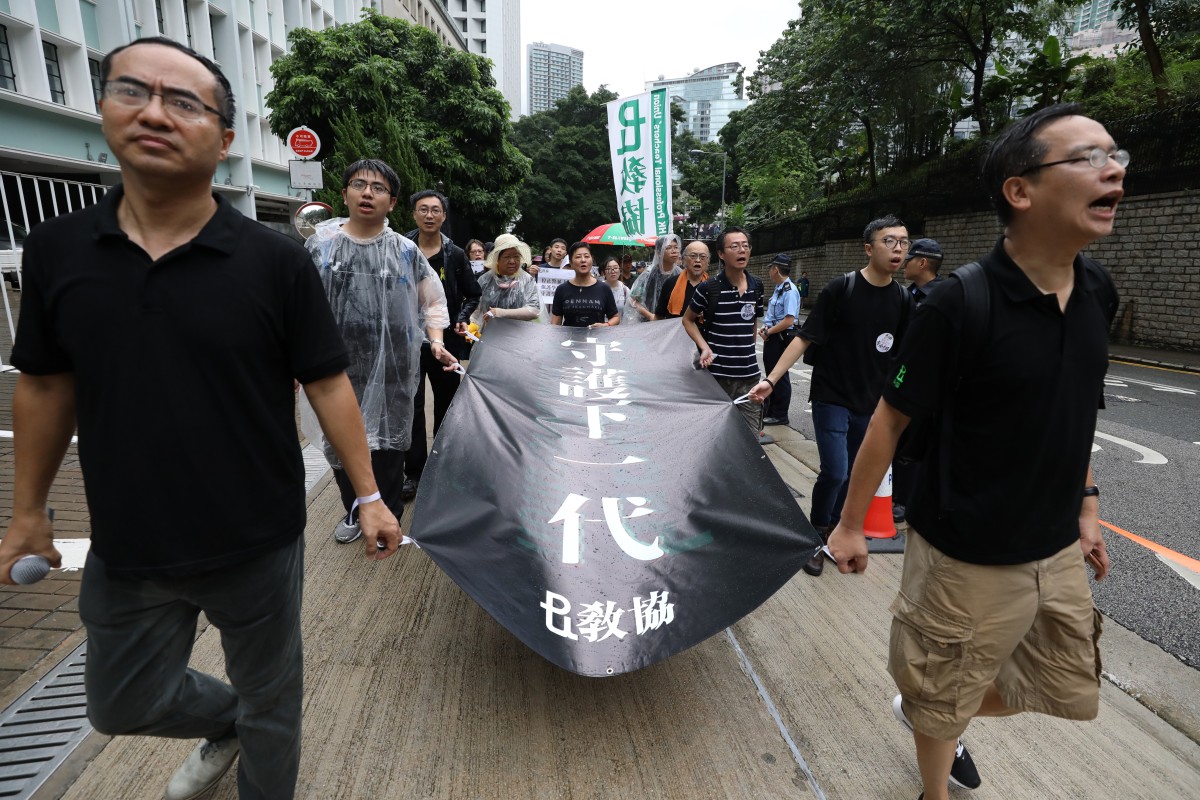 Hong Kong Professional Teachers' Union President Fung Wai-wah and Vice-President Ip Kin-yuen lead the teachers' rally for the withdrawl of the extradition bill in August 2019; Fung has asked the government to avoid interference into education.
More than 90 per cent of teachers said the government's approach to education has made them lose their confidence in the future of the field in Hong Kong, a survey by a local teacher's union found.
Conducted by the Hong Kong Professional Teachers' Union, the survey also found that 80 per cent of the teachers were worried about potential doxxing and complaints from parents and members of the public because of their personal political stance. More than 70 per cent of the respondents said the pressure from the government and public has affected their mental health.
The union interviewed 1,185 teachers, headmasters and senior administrative staff in primary and secondary schools and kindergartens, as well as special schools, between June 2 and 10. The findings were released on Tuesday.
Teacher fired from "patriotic" school over Glory to Hong Kong 
While some 91.1 per cent of the respondents disagreed with the idea that "teachers should not express their political opinions on private social platforms", they felt insecure using such platforms given the current political climate. Some 64.6 per cent of them said they had "reduced or even disabled social media", and nearly 60 per cent said they would avoid attending legal rallies or marches. The report said these findings showed that teachers' personal freedoms and rights had been eroded.
Apart from teachers' concerns related to their personal lives, 80 per cent of the respondents said they would avoid teaching sensitive issues in school, and more than one-third of them said they had been asked by their supervisors to avoid teaching political issues.
The results also showed that more than 90 per cent of teachers believed that "education bureau and government" (92.4 per cent), "pro-establishment groups" (91.3 per cent) and "mainland officials and media" (91.0 per cent) have exerted political pressure on the education sector.
Hong Kong's education sector has stepped into a brewing political storm triggered by a series of protests that began last June. Between last June and March this year, the Education Bureau received 192 complaints of teacher misconduct related to the unrest. About 80 teachers and teaching assistants have been arrested for offences related to the protests.
Hong Kong YouTube channels targeted for their political stance 
Examination authorities struck out a controversial test question in the history paper of this year's HKDSE on whether Japan "did more good than harm to China" in the early 20th century, following a request by the bureau.
In a strongly worded commentary, China's state-run news agency Xinhua called the question "poisonous", saying: "Hong Kong's education system is a place where the worst elements of society are assembled and students are being poisoned."
The report said the government's approach shook teachers' confidence in the future of education in Hong Kong. Some 90 per cent of them said they were losing hope in the "autonomy of the education profession"; and 91.8 per cent said they had a negative attitude about the future of the field. 
While 92.1 per cent said they did not trust the Education Bureau and the Hong Kong government, less than 5 per cent of them believed that the government's approach had a positive impact on teachers' confidence.
Hong Kong student groups rebrand as localists 
In an anonymous written response provided in the Union's report, a teacher said they were afraid that all educators would need to swear allegiance to the country in the future in order to become qualified teachers.
The response also said that teachers who teach general education, history, and liberal studies are particularly stressed.
"In the end, teachers may have to bury their conscience in order to save their jobs, and they will have to take the government's stance when teaching. The emphasis on teaching students critical thinking skills would disappear".
Union president Fung Wai-wah asked education authorities to stop interfering and respect "professional autonomy".
"Schools and teachers are forced to waste time and effort to deal with political nuisance from the outside," Fung said.
Sign up for the YP Teachers Newsletter
Get updates for teachers sent directly to your inbox
Sign up for YP Weekly
Get updates sent directly to your inbox