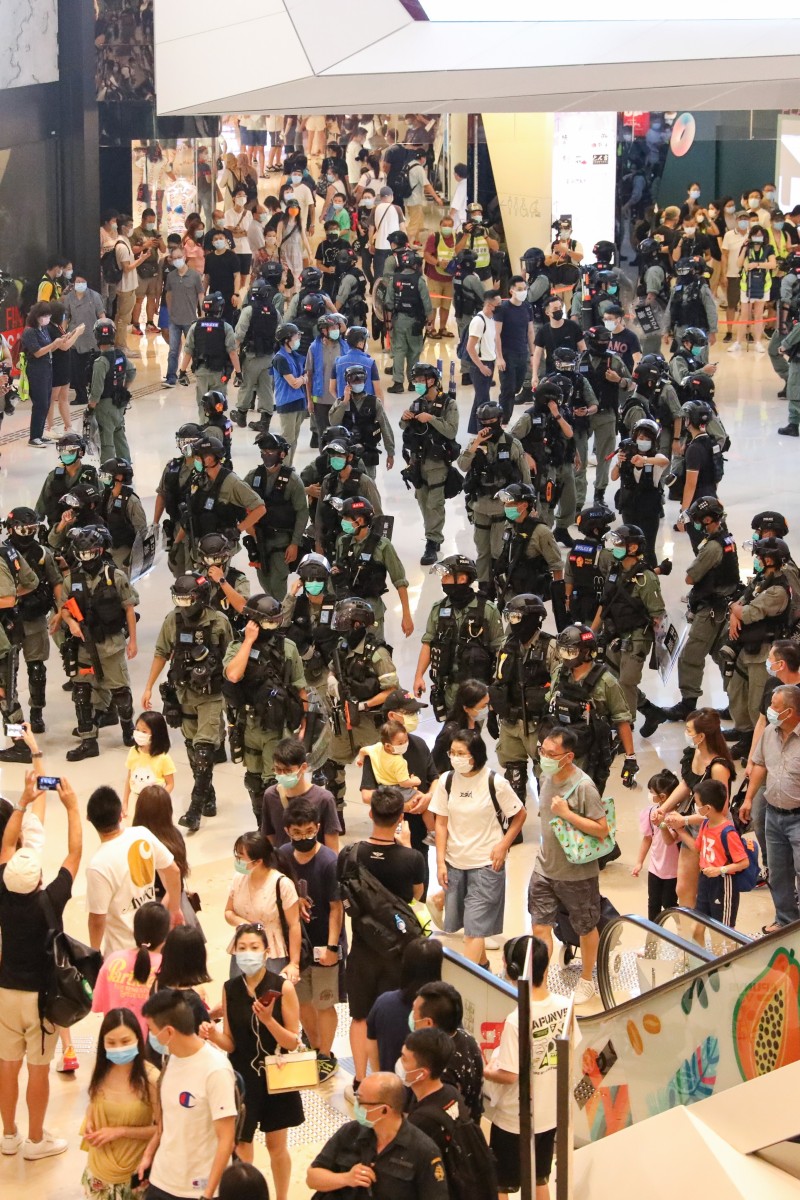 At least 14 people were arrested for illegal assembly at Yoho Mall during a 'shopping protest' against Beijing's impending legislation

Shops were forced to close as the city took time off from work to celebrate the Dragon Boat Festival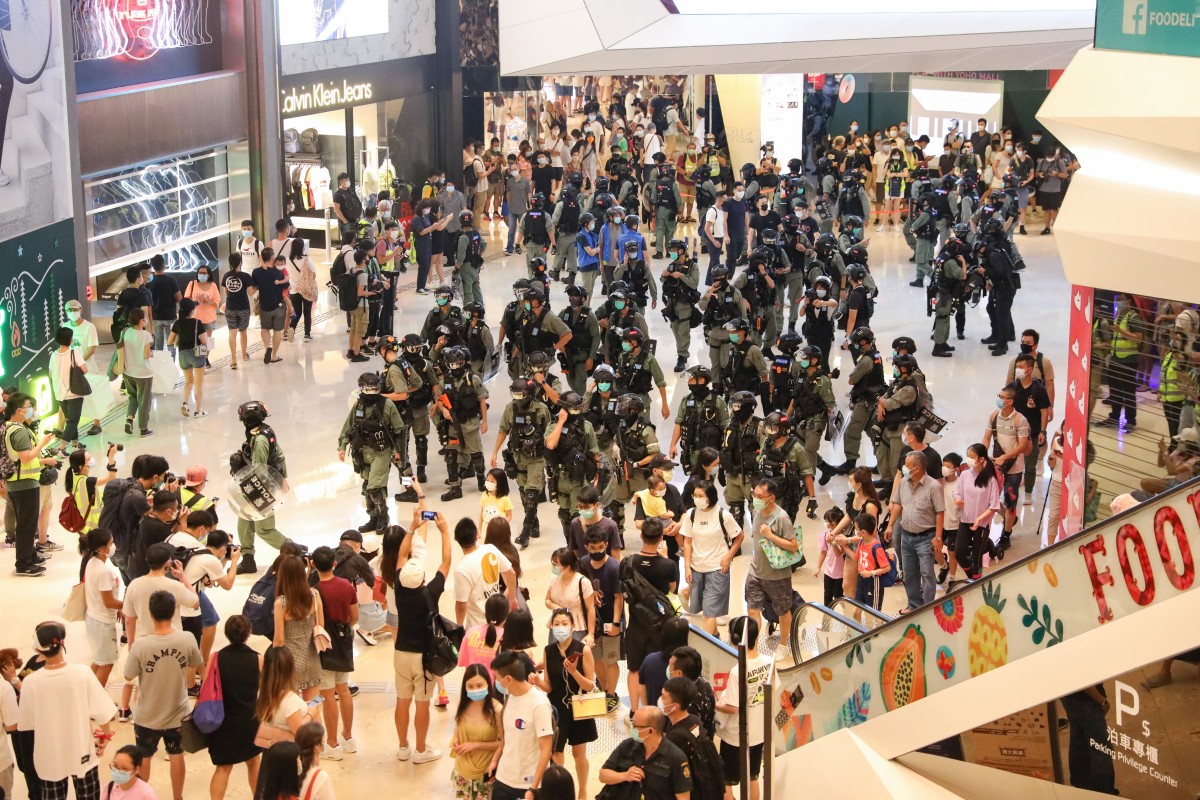 Police stand guard as anti-government protesters gather at Yoho mall in Yuen Long. Photo: SCMP / Dickson Lee
At least 14 people, as young as 14 years old, were arrested on Thursday in Yoho Mall in Yuen Long during a "shopping protest" against Beijing's impending national security law.
The suspects, nine males and five females, aged 14 to 55, were arrested for illegal assembly, police said, after protesters marched around the Yoho Mall shopping centre in Yuen Long chanting slogans, which caused customers to flee and stores to close on what was a public holiday.
Trouble flared again in the evening after two protesters who were waving a colonial flag and chanting slogans in the mall's atrium were taken away by plain-clothes officers, sparking the anger of a small group of demonstrators nearby.
What we might expect from the National Security law
The officers then fired pepper spray to keep the group at bay. Riot police quickly arrived to provide back up and also used pepper spray.
Beijing is drafting legislation for Hong Kong, which will ban secession, subversion, terrorism and collusion with foreign and external influences to threaten national security. The controversial law, of which only a broad outline has been revealed, could be passed as early as June 30.
Among those hit with pepper spray was opposition district councillor Lam Chun. First aiders helped four people sprayed with the chemical.
A screen grab from an online video shows plainclothes police (left) using pepper spray on a protester. Photo: Stand NewsThe Yuen Long councillor said he was just trying to find out why the pair were taken away.
"One was just chanting slogans. There were no more than 50 people [as permitted by coronavirus social-distancing rules]. We don't even know why they were arrested," Lam said.
"We couldn't even ask police why they were arrested, they responded with pepper spray. That's the situation Hongkongers are facing now."
Thursday was a public holiday to celebrate the Dragon Boat Festival.
Education Bureau asks schools to 'encourage students to develop proper behaviour' amid protests
The demonstration started at about 1.30pm, when a man in the mall chanted slogans and displayed a banner that read "Liberate Hong Kong, revolution of our time", a popular mantra at the height of last year's anti-government protests, which were sparked by a now-withdrawn extradition bill.
Others watched from upper floors, and some joined in with shouts of their own. They then marched through the mall chanting slogans.
"Give me back my justice," they yelled. "Hong Kong independence, the only way."
Police in riot gear arrived at the mall at 2pm to break up the crowd and left soon after. But protesters later regrouped and continued with their routine.
Shortly after 3pm, plain-clothes police officers revealed their identities and stopped more than a dozen people. Some were taken away after police reinforcements arrived.
Sign up for the YP Teachers Newsletter
Get updates for teachers sent directly to your inbox
Sign up for YP Weekly
Get updates sent directly to your inbox