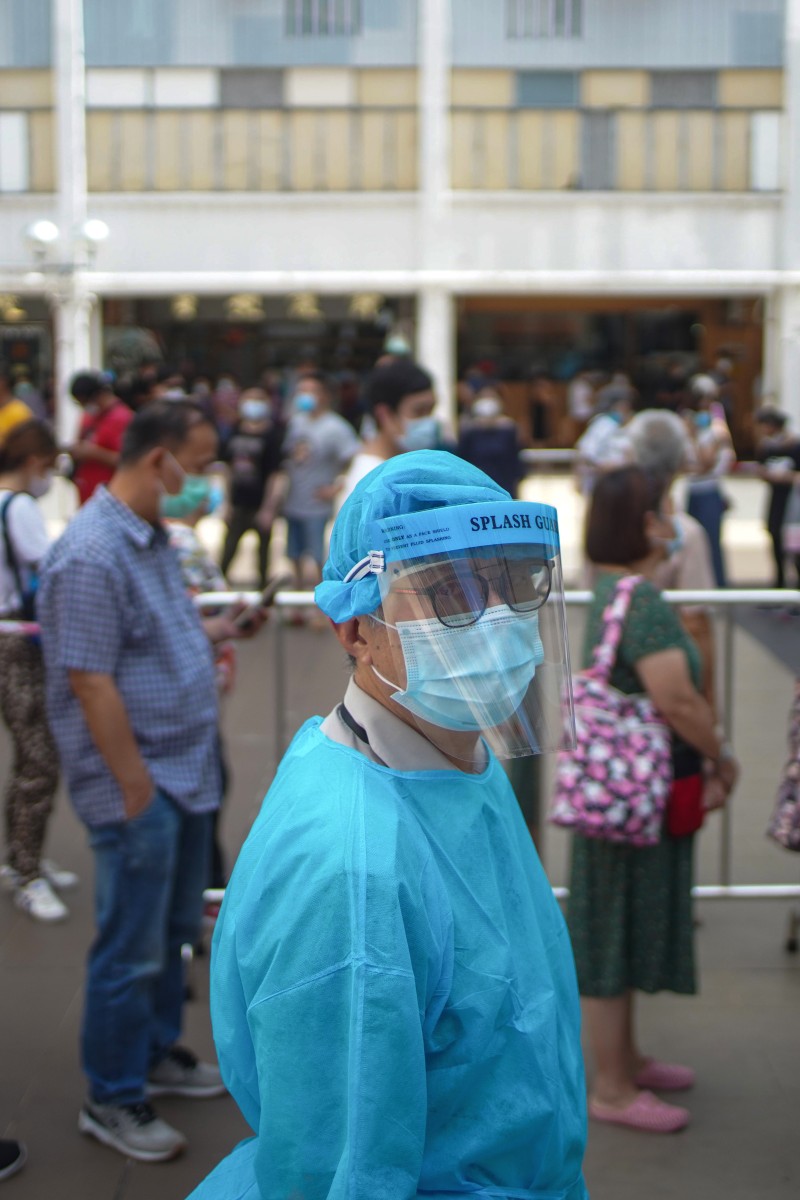 Hong Kong's third wave of coronavirus infections could be most severe yet
Infectious disease experts warn new local outbreaks of Covid-19 are more concerning than previous ones, due to stricter border control and quarantine measures

The new cases could overwhelm the public health system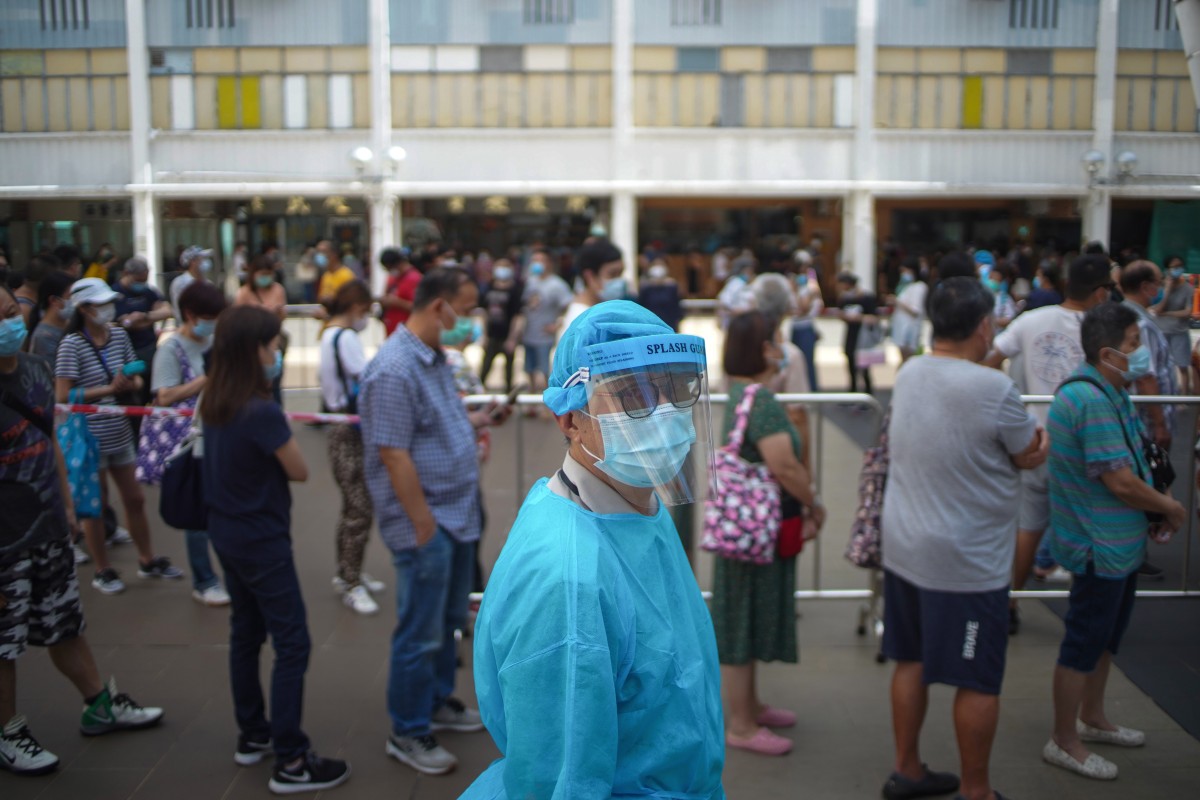 Residents submit their deep-throat saliva sample for testing of the virus at Yuk Shek House, Ping Shek Estate. Photo: SCMP/ Winson Wong
Barely two weeks since people began returning to Hong Kong's gyms and cinemas, and venturing out for dim sum in larger groups as social-distancing regulations were eased after the apparently successful containment of Covid-19, the coronavirus has returned with a vengeance. 
Experts describe this third wave of infections as the most severe yet and have called for immediate suppression measures as well as extensive testing to control the outbreak. 
Hong Kong Book Fair postponed due to Covid-19
How serious is the latest outbreak?
Signs of Hong Kong's third wave of infections first appeared last week. Between July 5 and 11, there were 173 confirmed Covid-19 cases, of which 107 were local, according to Centre for Health Protection data. 
They included residents living in the To Kwa Wan, Tin Shui Wai, Yuen Long and Tsz Wan Shan areas. A week earlier, there had been just 61 cases and all were imported or close contacts of those infected. On Sunday, another 38 confirmed cases were reported.
Professor Gabriel Leung, dean of the University of Hong Kong's (HKU) medical school, called the latest wave the worst Hong Kong had seen so far and was even more worrying than the first one, which took place before border measures and quarantine practices were firmly in place. 
"This is the start of a sustained massive local outbreak that we have never seen," Leung warned. 
He said the latest outbreak had put pressure on the public medical system, and could cause it to collapse if it continued for another week or two.
Top HKU microbiologist Professor Yuen Kwok-yung said the latest wave had occurred partly because the public had lost interest in fighting the virus. 
"The recurrence of the epidemic in Hong Kong is within expectations. As prevention and control measures around the world are loosened, the epidemic will definitely rebound," Yuen said.
Clockenflap cancelled due to coronavirus
Are working from home and avoiding restaurants effective options?
Yes, the experts said. Leung recommended that employers allow staff to work from home for as long as possible. He also urged the public to avoid attending public events with a lot of people.
He also urged people to accept the pain of narrowing their social circles, and to be very careful when visiting "high-risk places" such as restaurants, bars and karaoke lounges. Leung said he hoped the public could regain the spirit of prevention seen in the pandemic's earlier stages.
Yuen urged Hongkongers to avoid eating out, as the virus could easily be transmitted in enclosed spaces where people were not wearing masks. Even if the government immediately tightened social-distancing measures to the strictest degree possible, they would not work unless residents cooperated, he said.
Commuters wear face masks as they travel on the top deck of a tram in Hong Kong as the city experiences new local outbreaks of COVID-19. Photo: AFP
What other measures have experts suggested?
Leung pointed to worrying epidemiological trends in two areas. He recommended giving priority to Covid-19 testing at residential care homes in East Kowloon, even if people had no symptoms, so as to find "invisible" transmission chains after an outbreak at a facility for the elderly in Tsz Wan Shan.
In Sha Tin, meanwhile, although Shui Chuen O Estate had become the focus of attention after an outbreak there, he believed a transmission chain behind a previous cluster at Lek Yuen Estate had never ceased, meaning there were hidden cases that had not been found.
"Near the centre for the aged in Tsz Wan Shan, there are many restaurants including a cha chaan teng frequented by taxi drivers," Leung said.
Why don't some Covid-19 carriers show symptoms?
When is this third wave likely to end?
According to Yuen, the number of cases in Hong Kong would decrease within the next seven to 14 days if everyone took immediate action by wearing masks and practising good hand hygiene.
His colleague Leung hoped a "1+1+X" formula for social-distancing measures would prevent an epidemic. Under the formula, residents had to "endure the pain for a week" and refrain from social gatherings, and then be prepared to do it for another week if the situation had not improved. 
"I hope that through these two weeks, the invisible chain can be broken," Leung said, adding that the situation could continue until next year without a vaccine.
But the Centre for Health Protection noted the coronavirus might not go away and people would have to learn to live with it and adapt to the new normal. It said the public should be prepared for small local outbreaks from time to time and that social-distancing measures might need to be tightened at times.
The WHO warned in May it could take five years to get the pandemic under control around the world.
Sign up for the YP Teachers Newsletter
Get updates for teachers sent directly to your inbox
Sign up for YP Weekly
Get updates sent directly to your inbox