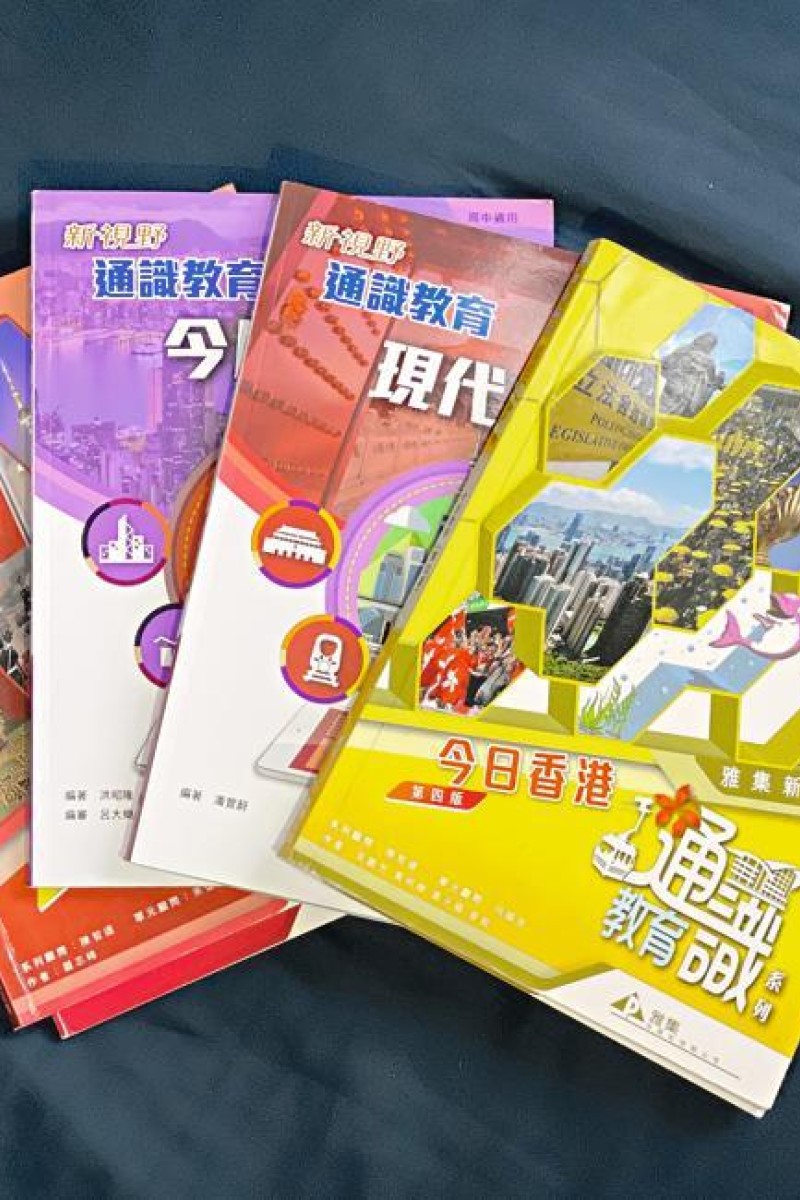 Hong Kong students react to changes to Liberal Studies textbooks
Six publishers that produce the majority of textbooks on the subject agreed to take part in a voluntary screening programme

Changes include the removal of the phrase 'separation of powers' and a new definition of civil disobedience 
Liberal studies textbooks for senior secondary school students on Hong Kong today and modern China. The government has rolled out a voluntary professional consultancy service for senior secondary liberal studies textbooks. Photo: SCMP/Chan Ho-him
Six publishers that produce most of the city's Liberal Studies textbooks agreed to take part in a voluntary screening programme established by education authorities, resulting in the removal of the phrase "separation of powers" and a new definition of civil disobedience, which carries a bigger emphasis on the legal consequences participants can expect to face. 
One St Paul's Convent School student, whose name has been withheld, was disappointed by the changes. 
"Although I'm not sure whether my 'sense of identity' as a Chinese person is strengthened through studying the subject, I do have to admit that the subject has raised my awareness about social and political issues," the 15-year-old said.
Press freedom under threat in Hong Kong
"I used to like Liberal Studies as it requires students to understand the opinions of different stakeholders in society. The removal of anti-government illustrations and criticism of the Chinese government just symbolise the silencing of opposition voices," she added. 
"Instead of training students to think from multiple perspectives as the subject originally intended, I think the new changes are just shaping HK's education into an echo chamber for our future generation." 
"The subject is meant to strengthen students' critical thinking skills, but ironically, criticism of the regime is no longer accepted. This is not only a problem with our education system, but also the future of Hong Kong."
"I definitely disagree with the narrative that studying it [Liberal Studies] encourages young people to become more radical. The changes will not only backfire on the attempt to strengthen students' 'sense of belonging' to mainland China, they highlight young people's strong discontent towards the government, as seen from the months-long anti-government protests which began last year."
Who is Jimmy Lai? 10 things to know about the pro-democracy advocate
Teachers also expressed concern that classroom discussions would be narrowed and called for an explanation of the vetting criteria. 
One educator, however, said altering the language used to describe civil disobedience presented a more balanced view of the topic.
Textbooks for the subject, unlike other core ones such as Chinese and English language, are not required to be approved by the Education Bureau. Schools can choose from the offerings of publishers and use a range of teaching materials. 
Last year, the government rolled out a "voluntary consultancy service" for Liberal Studies textbooks that relied on a team of inspectors, university academics and education professionals to provide advice to publishers for amendments. 
Sign up for the YP Teachers Newsletter
Get updates for teachers sent directly to your inbox
Sign up for YP Weekly
Get updates sent directly to your inbox