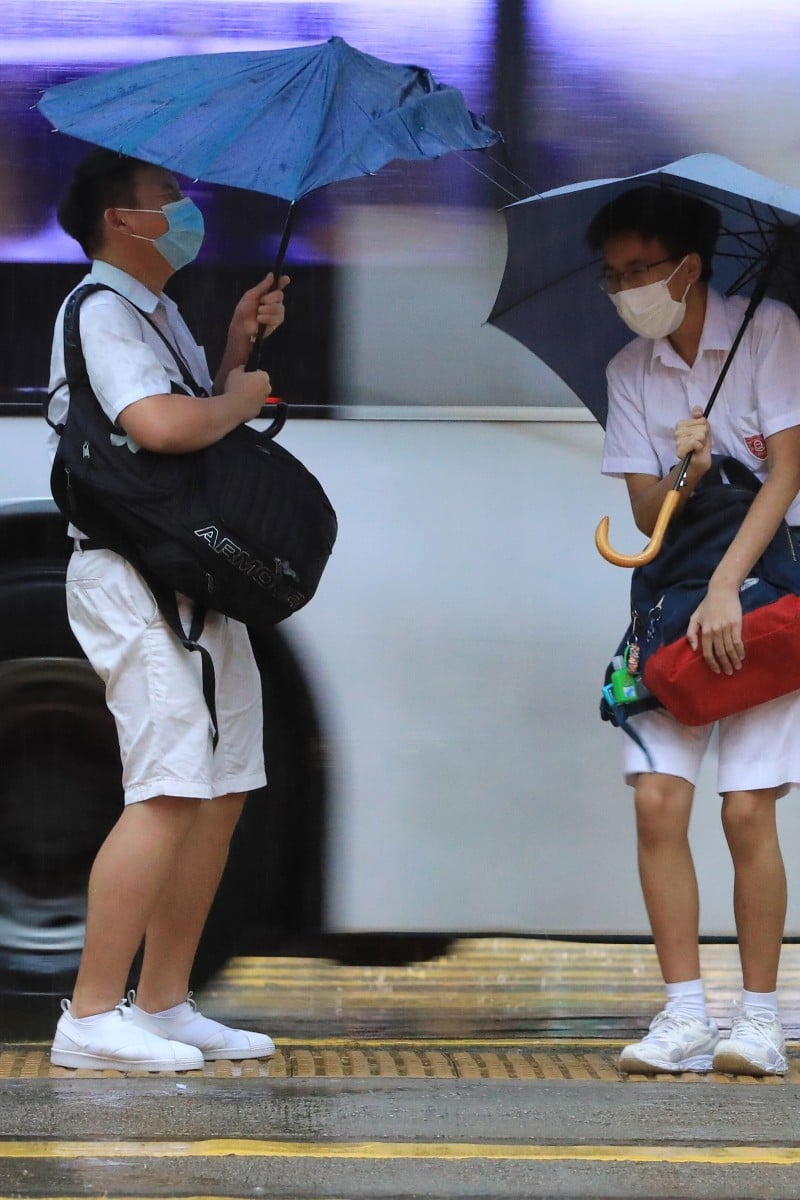 Coronavirus: Students weigh in on whether online classes mean the end of days off when a typhoon hits
Typhoon Higos lashed Hong Kong on Tuesday and Wednesday and the T8 was raised, but most schools that had started the new term went ahead with virtual lessons

The Education Bureau did not say whether new guidelines would be issued now that work from home is the 'new normal' amid the Covid-19 pandemic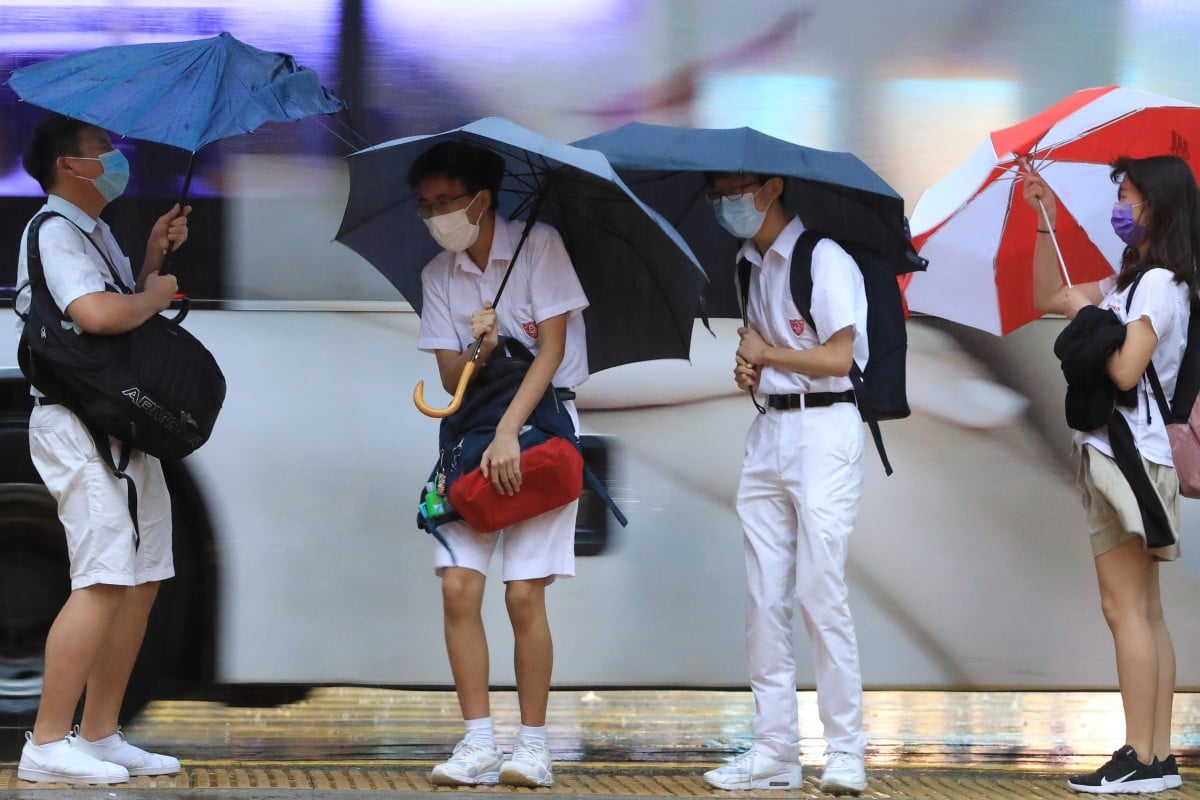 Most students didn't have to grapple with Wednesday's windy, wet weather. Photo: SCMP / May Tse
Could the effects of the coronavirus signal the end to a Hong Kong custom? Despite the T8 being raised on Tuesday night, and the T9 making an appearance, many students who had started the new school year did not get a day off on Wednesday.
It was the first time during a typhoon signal No 8 that students in the city did not get a day off as online classes continued, in what some principals called the "new normal" amid the Covid-19 pandemic. Typhoon days are similar to snow days in colder climes, when people get the day off from school and work because of extreme weather.
But some schools suspended classes for all students as Typhoon Higos lashed the city, raising concerns over "grey areas" when it came to handling classes under severe weather alerts.
As Typhoon Higos approached Hong Kong and wind speeds intensified quickly, the No 8 and No 9 warning signals were issued from 10.40pm on Tuesday to 11.10am on Wednesday – both alerts meaning schools and other public services would be suspended under normal circumstances.
The Education Bureau's guidelines, which were updated last year before Covid-19 happened, state that classes in all schools are to be suspended when the typhoon signal No 8 or above is raised, or when the red or black rainstorm signals are issued in the early morning.
But as any schools that had already started the new term are only holding classes online, some chose to go ahead with lessons.
Students react to changes in the Liberal Studies textbooks
Students were divided on whether remote learning should continue school during bad weather.
Teresa Kwok, 15, from South Island school, thinks classes should continue. "This is a safe way to continue learning. The progress in online learning is slower than normal lessons. If we cancel online classes during bad weather, then students may not catch up with everything they need to learn."
Shloka Vishweshwar, 13, from German Swiss International School, agrees. "Previously, schools did not continue through bad weather unless it persisted and several days of school were cancelled. In these scenarios, teachers would normally send work to be completed before school resumption," Shloka said. 
"However, now that we are all more familiar with schooling online and utilising different platforms, we should be more than capable of continuing school through bad weather. The weather does not affect our education status at the moment since we will all be at home anyway. There is no reason not to continue our education."
Janice Mak, 14, from Sacred Heart Canossian College, pointed out that learning from home solved the problem of cancelling classes for safety reasons.
"However, the poor weather could cause disruption to internet connections. Students with weaker Wi-Fi networks could have trouble during online classes and this could affect their learning," she said. 
"Students could miss large chunks of online lectures and would be left behind," she added, pointing out that schools should help such pupils. 
Nathalie Luna Ho, 10, from The Harbour School, suggested that classes should not be held during stormy weather, which was a distraction to students. 
Citywide Covid testing to begin September 1
"Schools should not hold online classes during bad weather. Instead, they should let students take a day off from the ridiculous amount of schoolwork. Teachers can also take a break from computer screens," said Hannah Ma,16, from Baptist Lui Ming Choi Secondary School.
Schools under the English Schools Foundation (ESF) as well as Hong Kong International School carried on as usual, with staff and students working from home.
But local secondary school Lions College, which had originally planned to welcome back about 700 students for the new term, decided that classes would be postponed for a day amid the storm.
Sign up for the YP Teachers Newsletter
Get updates for teachers sent directly to your inbox
Sign up for YP Weekly
Get updates sent directly to your inbox