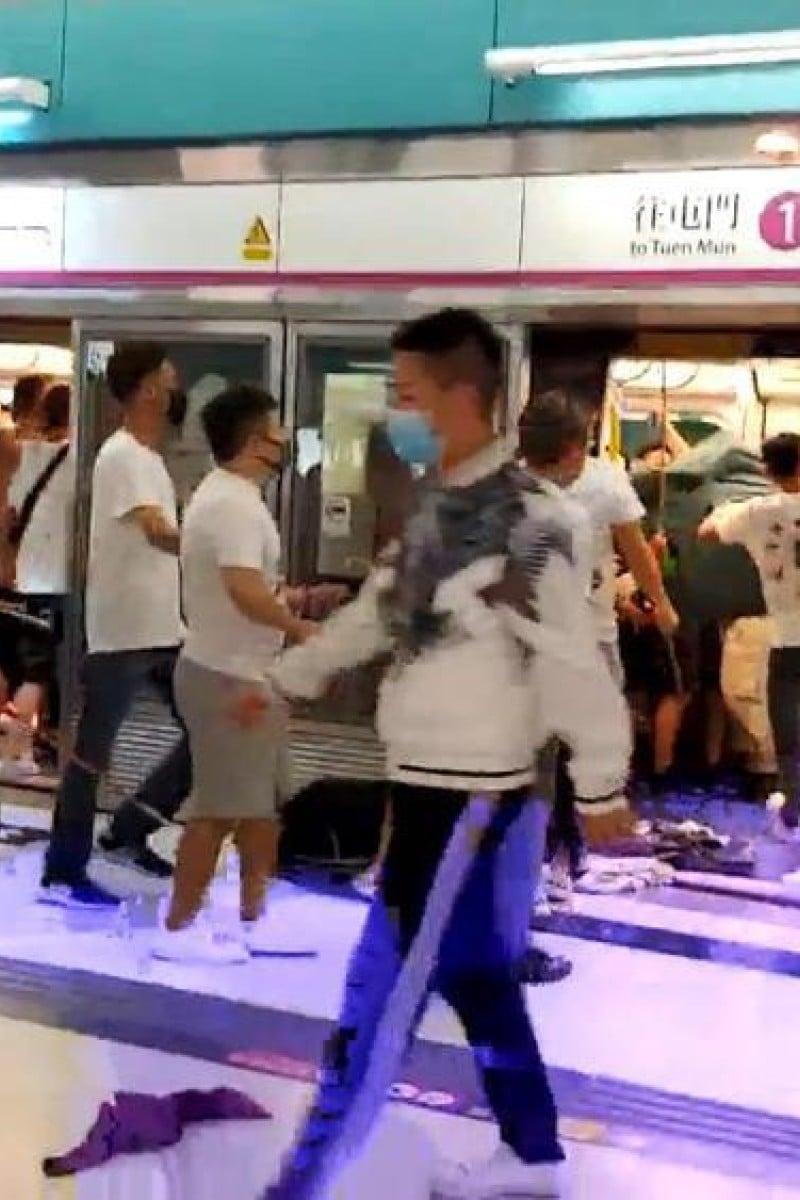 Hong Kong protests: Renewed anger over Yuen Long attacks as police accuse democratic lawmakers of stoking violence
16 people were arrested in connection with the July 21 attacks, including two opposition legislators, as the force accused 'both sides' of contributing to the events

During a press conference, Senior Superintendent Chan Tin-chu said police arrived faster than previously claimed and that the public has a 'misleading' view of the incident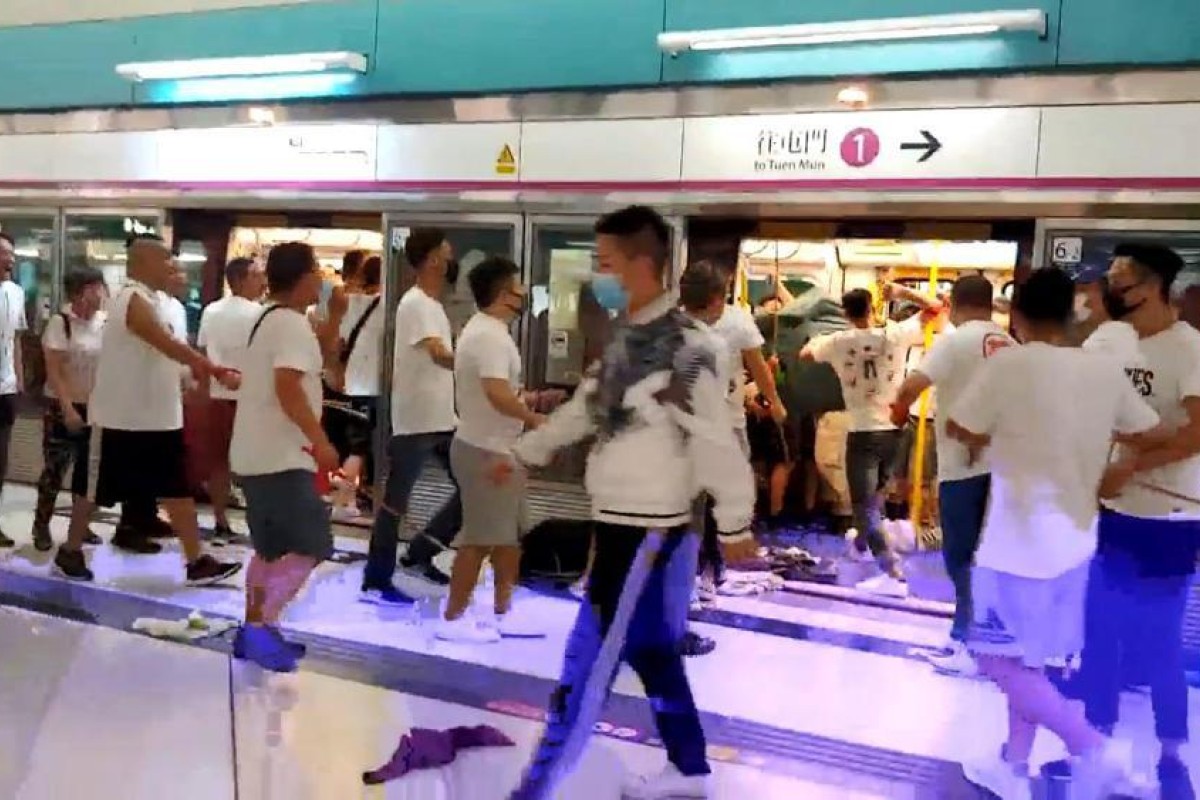 For many people, the Yuen Long attack was the tipping point for the pro-democracy protests that rocked Hong Kong last year. Photo: Handout
Anger over the Yuen Long attacks of July 21 last year was renewed on Wednesday after Hong Kong police arrested 16 people, including opposition lawmakers Lam Cheuk-ting and Ted Hui Chi-fung, and accused them of rioting and stoking the violence.
Police held a press conference to offer another version of the night's drama that proved to be a tipping point for the protest movement as the force became the target of widespread wrath for being slow to act.
Some 13 months after more than 100 men armed with metal rods and rattan canes beat up protesters and passengers at Yuen Long MTR station with police nowhere to be seen, the force on Wednesday sought to apportion responsibility for the violence on the likes of Lam and others at the scene and insisted further investigation showed both sides had contributed to the escalation of violence that evening.
Local students felt 'hopeless' about police inaction in Yuen Long
Senior Superintendent Chan Tin-chu, of the New Territories North regional headquarters, said the public had relied on "lopsided, twisted, misleading and flawed" online footage to form an incorrect view of the incident.
Police's own investigation, he said, concluded that both sides were "on equal footing" in their use of force. Chan questioned, in particular, the description of the violence as "an indiscriminate attack" on bystanders and protesters returning home from clashes in the city, on Hong Kong Island. 
"Calling it an indiscriminate attack is an inappropriate description," he said.
Chan also said while police earlier suggested that officers arrived 39 minutes after they were notified, their investigation found it was 18 minutes.
Senior Superintendent Chan Tin-chu said the public hasn't seen the whole story about the July 21 attacks. Photo: Nora Tam
As other victims accused police of rewriting history, the Democratic Party denounced the arrests as an act of revenge against Lam, who arrived at the scene that evening in Yuen Long after violence broke out and suffered injuries to his mouth that required 18 stitches.
Lam had gone on to vehemently and repeatedly criticise police for being absent and suggested they were in cahoots with the attackers, charges the force has denied.
On Wednesday, officers knocked on Lam's door in Sha Tin shortly after 7am to arrest him, before subsequently detaining party colleague Hui and 14 others.
"Hong Kong has become such a ridiculous place," Lam could be heard telling police, according to a video provided by the Democratic Party which captured the moments of his arrest.
Boy avoids jail over role in protests
Lam and 12 others, aged between 26 and 48, were detained on suspicion of rioting during the July 21 incident. Among them were a deputy director of a bank, social workers and chefs, some having suspected triad links.
Lam and Hui were also being investigated with two others, a man and a woman, over another protest on July 6, in which they were accused of unlawful assembly, criminal damage, perverting the course of justice, and accessing a computer with dishonest intent.
During the press conference, Chan said those thought to be under attack had also provoked the white mob by telling them to fight, while others splashed water or threw objects at the attackers, thereby escalating the tensions.
Chan did not spell out Lam's specific role, despite repeated grilling by journalists, saying only that the lawmaker had committed acts amounting to a rioting offence according to legal advice from the Department of Justice.
Lam Cheuk-ting was among those arrested on Wednesday morning. Photo: Handout
"Whether [Lam] has made a police report, how many press conferences he has held, how many Facebook posts he has disseminated, and how much political mileage he has gained are irrelevant to his behaviour at the scene," he said, shrugging off any political motives. 
The senior superintendent added: "We have never said who is the assailant and who is the defendant."
In response to Chan's statement that video footage had been one-sided, a former Stand News reporter, Gwyneth Ho Kwai-lam, who was among the first on the scene and was attacked during the incident, said her hour-long live video captured the men in white shirts and passengers being assailed but with no officers in sight.
"Even if the police arrest all the victims of the July 21 incident, you can never rewrite the history," Ho said. "That was an indiscriminate attack and I believe anyone who watched my video would come to that conclusion."
Hong Kong's first month under the national security law
Calvin So, a victim of the Yuen Long attack who was beaten by about 20 people outside Yoho Mall, was aghast at the police's change of narrative.
"How can it be regarded as clashes between two rival camps?" asked the chef, who was attacked after finishing his shift that evening. "So, asking people to stop the attack also constitutes rioting?"
In an earlier interview with the SCMP, Lam said he went to Yuen Long after he was shown a video clip of a man being attacked outside a shopping centre there.
An SCMP review of a 34-minute video posted on Facebook by Lam of that night's incident found that Lam told the white mob to stay behind – using an expletive on one occasion – because he said police would come to arrest them. 
He told protesters and passengers that he had called police, and that they should stay away from the mob. Lam also urged the mob to stop resorting to violence.
Sign up for the YP Teachers Newsletter
Get updates for teachers sent directly to your inbox
Sign up for YP Weekly
Get updates sent directly to your inbox