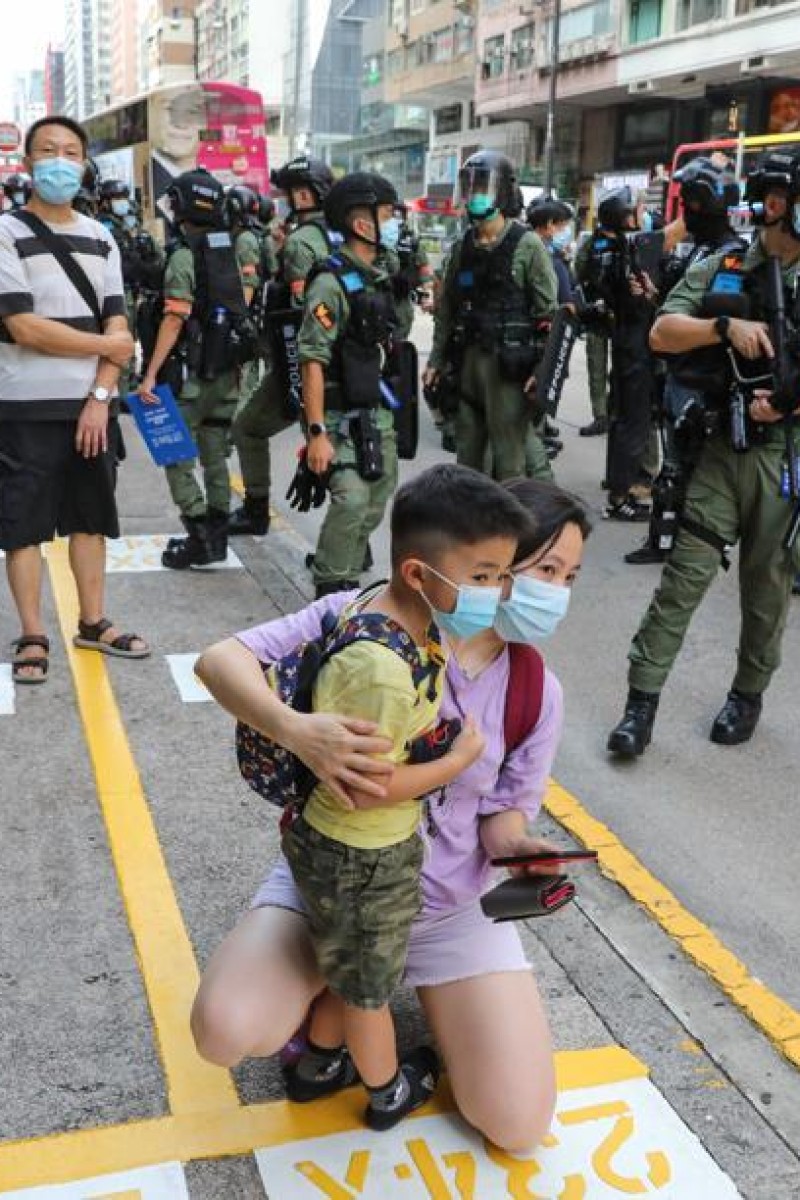 Hong Kong protests: Hundreds arrested during demonstration against postponing elections
One woman was arrested for violating the national security law when she chanted slogans that promoted the SAR's independence

A 12-year-old girl was pinned down by officers in Mong Kok after she 'ran away in a suspicious manner'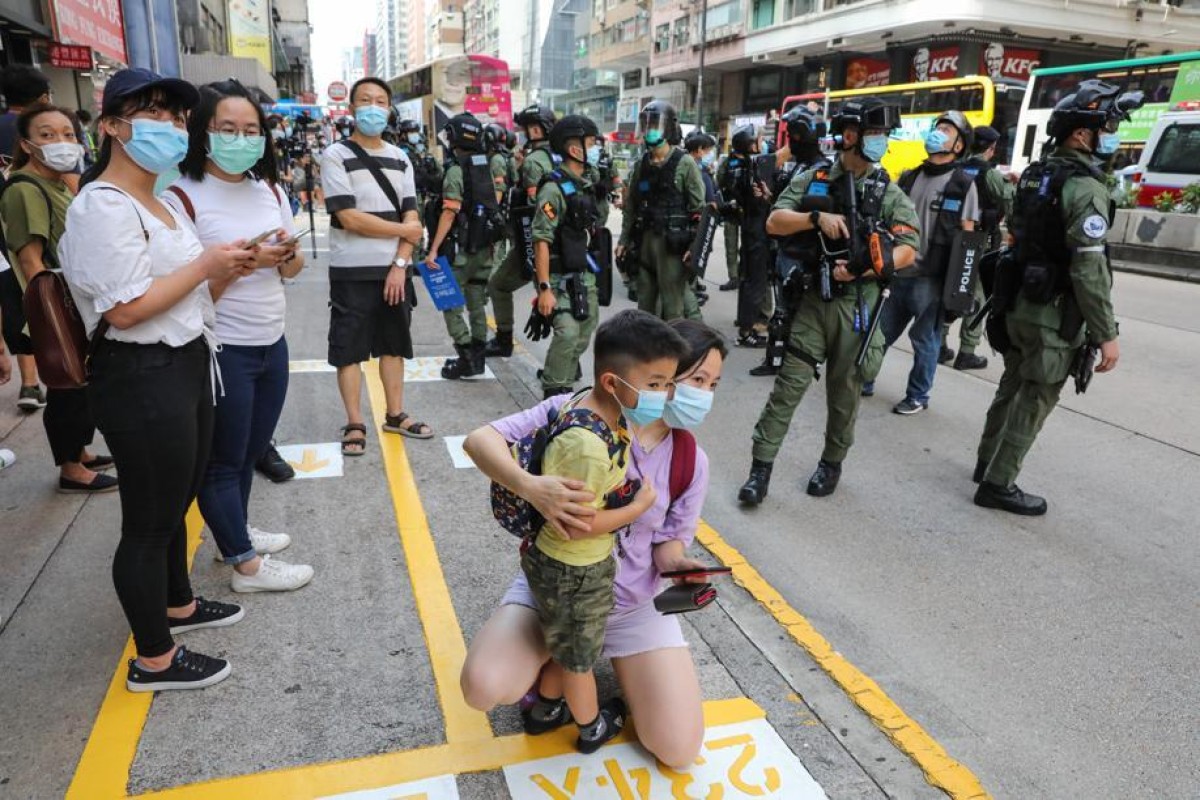 289 people were arrested on Sunday during protests against the government's decision to postpone elections and the sweeping national security law imposed by Beijing. Photo: SCMP/ May Tse
At least 289 people were arrested on Sunday after protesters took to the streets to demonstrate against the government's decision to postpone legislative elections for a year because of Covid-19, with demonstrations beginning in Jordan and later spreading to Mong Kok and Yau Ma Tei. 
There was a heavy police presence in the area late into the evening, hours after officers had used both pepper spray and pepper balls in dispersal operations against anti-government protesters. That came after scattered groups of people had heeded online calls by anonymous activists, who aimed to mobilise 50,000 protesters on what would have been Legislative Council polls day. 
Carrie Lam raises eyebrows after she says the SAR has no separation of powers 
In Mong Kok, police fired pepper balls at protesters at about 5pm. Nearby, officers raised a purple flag warning those chanting the "Liberate Hong Kong; revolution of our times" slogan that they could be arrested for violating the sweeping security law. 
Chaotic scenes erupted when several plain-clothes officers pepper-sprayed and wrestled protesters to the ground. Baton-wielding officers then went for other demonstrators and had water bottles thrown at them.
Among anti-government slogans chanted near Jordan MTR station were calls for the city to be independent from Chinese rule. 
As of 9pm, police said, one woman had been arrested on suspicion of violating the national security law for chanting slogans that promoted Hong Kong independence. 
Some 270 others were detained on suspicion of illegal assembly. Five men were held for disorderly conduct in a public place, another five people for not being able to present their identity cards, and others for assaulting police, obstructing officers in the execution of their duties, loitering or other offences.
A bus driver who reportedly honked his horn at officers blocking a street was also arrested although the force later said he was held on suspicion of dangerous driving as he was going too fast and drove his vehicle very close to officers on Nathan Road, endangering their safety.
Press freedom under threat as journalists face pressure to self-censor
A 12-year-old girl was seen in a viral video being pinned down by riot police on Sai Yeung Choi Street South in Mong Kok at about 4pm. She had tried to run away but was quickly stopped and grabbed by a male officer who then pinned her down to the ground with his knee while trying to subdue her. She and her brother were later fined for violating social-distancing rules.
The siblings sustained minor bruises and were treated at Kwong Wah Hospital in Yau Ma Tei.
Her mother told the media the girl was just going to buy paint with her brother but they were stopped by police. She said she would not pay the fine – a fixed penalty of HK$2,000 (US$256) for each – and planned to file a complaint.
Police said on their Facebook page about 100 people had gathered on the street and were yelling, with some refusing to leave after a warning. Officers intercepted them, including the girl, who "ran away in a suspicious manner". Officers gave chase and applied minimum force to subdue her, the force said. 
Joshua Wong called for the national security law to be withdrawn and the elections to be relaunched. Photo: SCMP/ Dickson Lee
In addition to the arrests, twenty-two people were fined for violating coronavirus-related social-distancing rules that limit public gatherings to two people.
League of Social Democrats activists "Long Hair" Leung Kwok-hung, Raphael Wong Ho-ming and Figo Chan Ho-wun were among those arrested after raising a banner outside the Eaton Hotel in Jordan to criticise the government for postponing the polls. 
"I want my right to vote! Shame [on the government] for postponing the elections!" Leung said. 
Police accused them of taking part in an unauthorised assembly, and then pointed to the 30 or so journalists following them and said they also could be considered as taking part in the illegal event.
5 ways the national security law has affected Hong Kong 
At around 2.15pm, activist Joshua Wong Chi-fung appeared outside the Eaton Hotel. Asked whether he was there to join the protest, Wong said he would "see what happens", because of the number of police officers present.
But he said there were four demands which he wished to express, including withdrawing the national security law and relaunching the elections immediately.
"We hope the world can never forget September 6 should be election day. And now Beijing delayed and even cancelled the elections, which is totally unreasonable," he said.
Sign up for the YP Teachers Newsletter
Get updates for teachers sent directly to your inbox
Sign up for YP Weekly
Get updates sent directly to your inbox