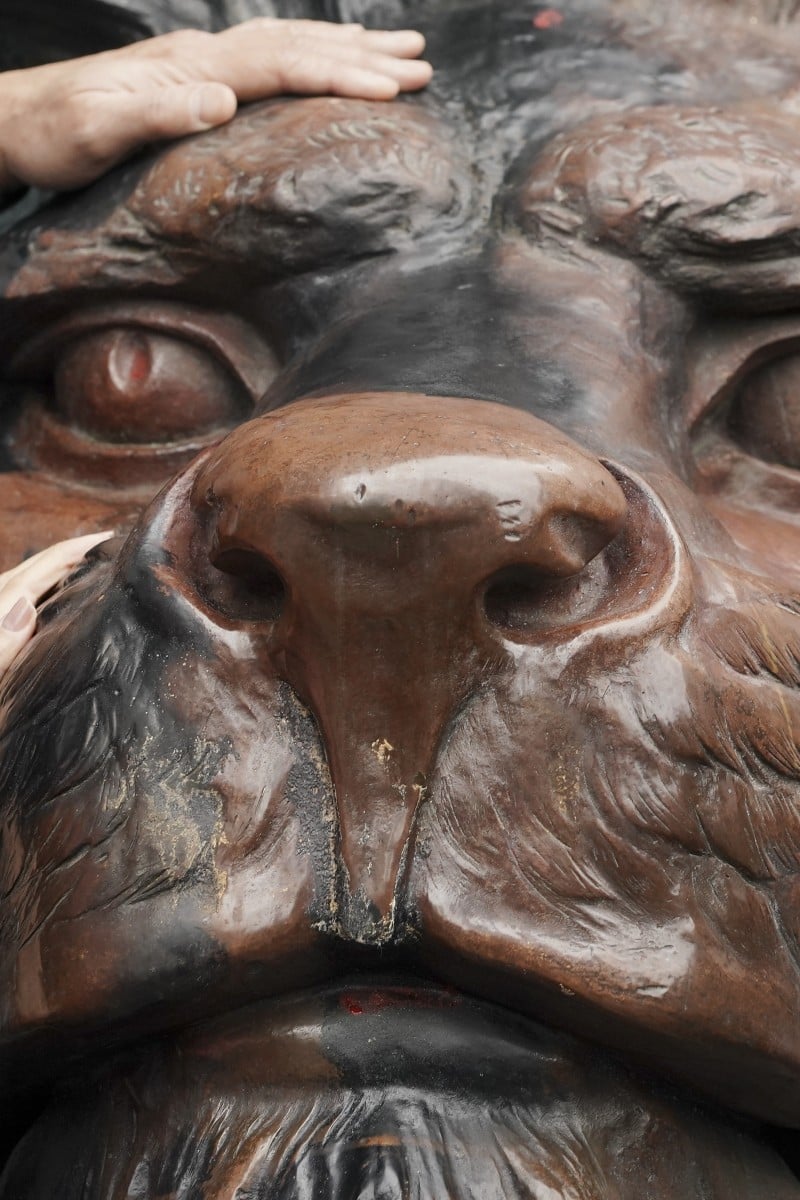 Stephen and Stitt have watched over the bank's headquarters since 1935

A fung shui ceremony was held to welcome back the partially restored sculptures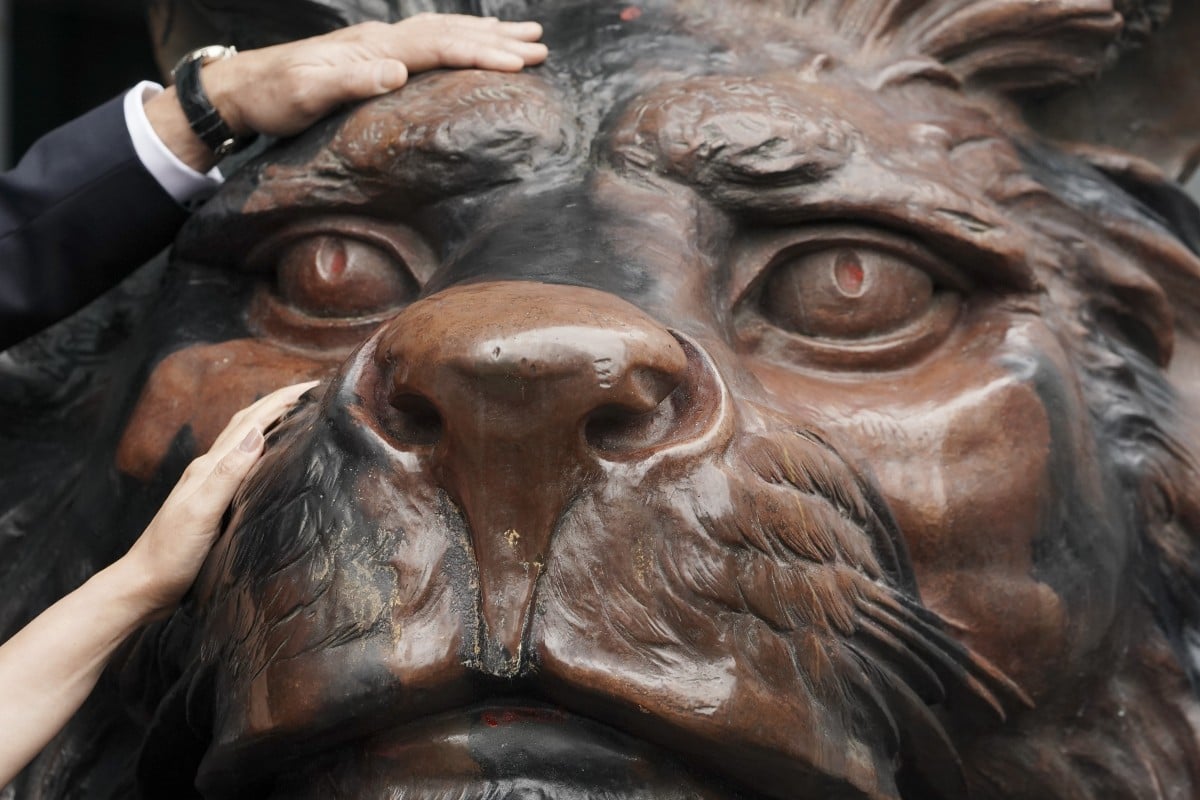 HSBC's iconic lion sculptures are back home. Photo: SCMP / Felix Wong
Two Hong Kong icons today made their first public appearance in more than nine months after they were damaged during last year's protests. HSBC's famous lion sculptures, known as Stephen and Stitt, were unveiled, partially restored in a ceremony this morning.
"Stephen and Stitt have watched over HSBC's main building for 85 years. Through good times and bad, they have been an enduring part of Hong Kong's story," said Peter Wong, deputy chairman and chief executive of HSBC Asia-Pacific.
"Many customers, employees and the general public told us how much they missed the lions, so we decided to put them back on display following the first phase of restoration. When the work is complete, they will look as impressive as ever."
The HSBC lions reappeared in public (and even had an eye-dotting ceremony with fung shui master David Lung King-chuen, pictured). Photo: SCMP / Felix Wong
The ceremony included a blessing by feng shui master, David Lung King-chuen, who wiped he bodies of the two statues with a red cloth and burning incense sticks.
Lung had advised HSBC on feng shui – the ancient Chinese tradition of aligning objects in their environment so as to create harmony – when it rebuilt the headquarters in the 1980s.
The lions, which have guarded the entrance to the HSBC headquarters in Central since 1935, were taken out of public view after protesters smeared them with red paint and set them alight. The move was in retaliation for the banking group closing down an account to feed Spark Alliance, which was accused of funding the legal and medical costs of the protest movement.
The secret behind the appearance of some of Hong Kong's most iconic features
Today's blessing ceremony represents "the first stage towards the lions' full restoration which will be conducted by experts when they will be able to fly," HSBC CEO for Hong Kong, Diana Cesar, said in an email.
The bank had wanted to hire conservation experts from Britain to advise on the restoration but the Covid-19 pandemic prevented them from flying.
5 parallels between the current Thai protests and last year's demonstrations in Hong Kong
HSBC adopted the sculpted lions as its emblems in 1921 when its chief manager Alexander Stephen decided a pair of lions symbolising protection and security would look impressive outside the group's Shanghai branch. The other lion was named after Gordon Stitt, the Shanghai manager at the time.
The pair became an instant hit with the local population who would often stroke the lions on their way past, hoping the gesture might bring them power and prosperity.
Sign up for the YP Teachers Newsletter
Get updates for teachers sent directly to your inbox
Sign up for YP Weekly
Get updates sent directly to your inbox