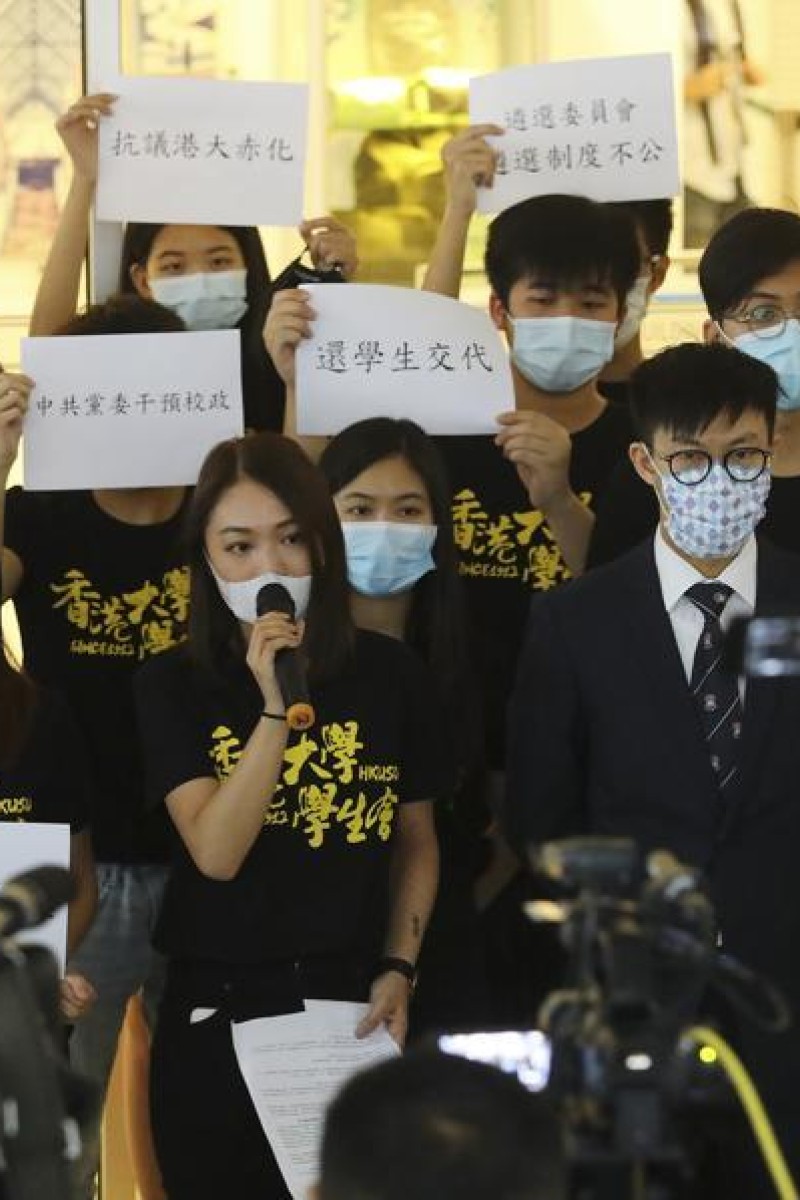 University of Hong Kong approves vice-president appointments despite opposition from students
Thousands of students, staff and alumni signed a petition against the appointment of mainland academics Max Shen Zuojun and Gong Peng

Many were concerned about Shen's reported Communist Party membership
Members of HKU's student union voice their opposition to the appointment of two professors to the university's senior management. Photo: SCMP/ Dickson Lee
In spite of strong opposition from students, staff and alumni, The University of Hong Kong's governing council endorsed the appointment of two Tsinghua professors for senior management roles on Tuesday.
The 23-member council, which has a mostly external membership, voted in favour of mainland Chinese academics Max Shen Zuojun and Gong Peng taking up the respective vice-president posts of research and academic development.
Both of them gained 21 supporting votes, with one veto and one abstention by a student representative for Shen and Gong, respectively. The professors are expected to assume their new roles next January. 
HKU's student union and alumni concern group had raised questions over Shen's political affiliations, after he was listed as a Communist Party member on Tsinghua's website, although that reference was later removed after local media reported it. 
Student activist arrested before seeking asylum
The University of California, Berkeley, which has employed Shen since 2004, said on Tuesday that the professor had told them he was not a member of the Communist Party, adding staff were not asked as a matter of policy about any political affiliations they might have.
Critics also raised concerns over the two scholars holding positions at UC Berkeley, the same institution where HKU president Xiang Zhang served, before taking up his current role in 2018.
A source present at the meeting said Zhang, who voted in support of both the appointments, said the focus should be on candidates' academic excellence. He also denied having connections with either Shen or Gong.
More than 4,200 students, staff and alumni signed a petition organised by HKU's student union against the appointments, demanding the council postpone its deliberations on the issue.
Professor Max Shen Zuojun. Photo: Handout
HKU student union president Edy Jeh Tsz-lam said the student body would not rule out pursuing legal action, including challenging the council's decision through a judicial review.
In a statement issued on Tuesday evening, HKU council chairman Arthur Li Kwok-cheung said the recommendations for the appointments were the result of a thorough global search and an elaborate review and consultation process.
He added that the issues of concern against the two professors had been satisfactorily clarified and that all allegations had been found to be unsubstantiated.
It was understood Shen presented a statement at the council meeting, saying he was a US citizen, and had never been a member of the Communist Party. 
Online learning is here to stay, even after Covid-19
Shen said he was "shocked and stunned" by the allegations in Hong Kong media reports.
He told the council he was given permission by Berkeley to work at Tsinghua, where he took an honorary professorship in 2014, along with a department chair post, a role in which Tsinghua assigns the appointee to a party committee as a standard procedure.
Shen added that he was a believer in academic freedom, and was committed to upholding the truth and respecting different views, according to the source.
Hong Kong universities record lower entry grades
"After I read the reports I immediately contacted Tsinghua and they have rectified all information about me on their websites." he said. "I later found out the error started several years ago when I, as the department chair, was mistakenly assigned to the party committee. I hope this clarification can clear all misunderstandings between us."
In an email sent to all staff and students, the HKU president further clarified that he and the two candidates had no contact at UC Berkely aside from bumping into one another a few times on campus. He added he had taken all necessary steps to avoid any potential conflict of interest. 
Zhang also criticised the leaking of the two professors' information before the appointments were confirmed, saying the move would not only injure the university's reputation but also affect their talent-recruitment process. 
Sign up for the YP Teachers Newsletter
Get updates for teachers sent directly to your inbox
Sign up for YP Weekly
Get updates sent directly to your inbox