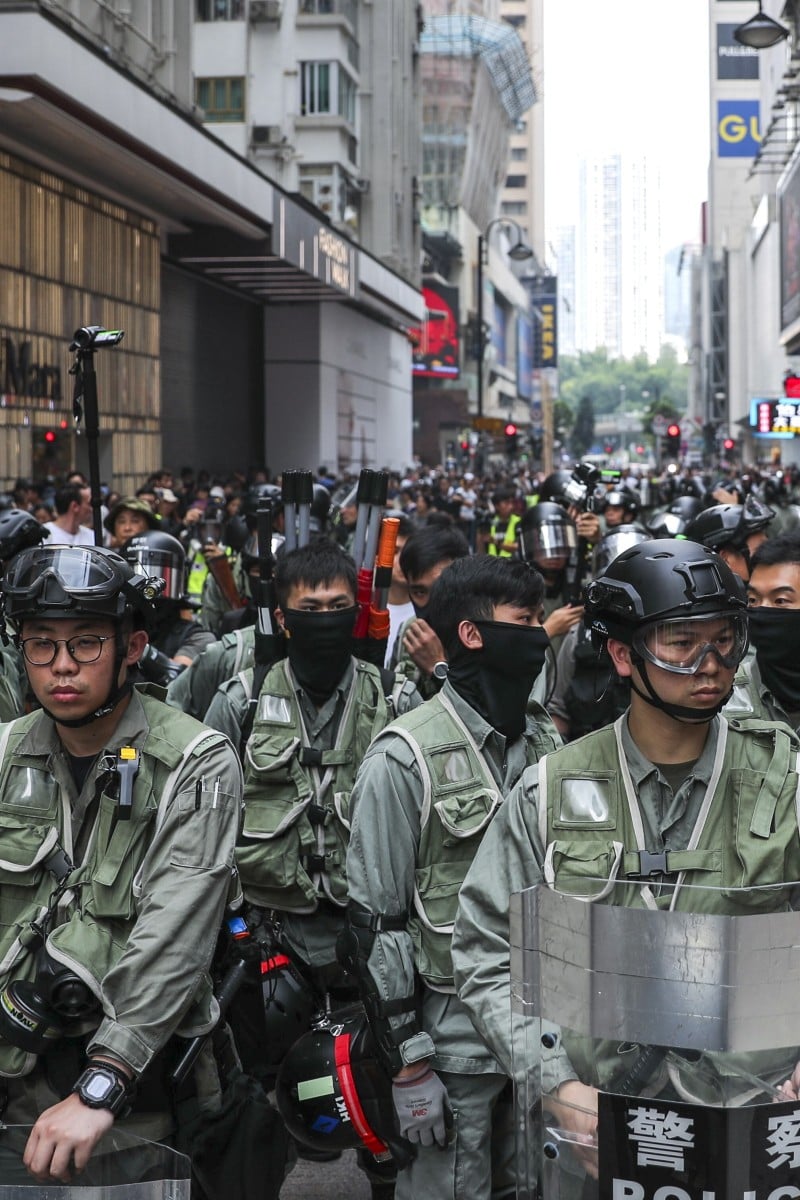 The High Court found that officers who did not display their ID numbers were in breach of the city's Bill of Rights

It sided with the Hong Kong Journalists Association's argument that stemmed from last year's anti-government demonstrations
Many people have complained about the police's actions during the protests. Photo: SCMP / Sam Tsang
The High Court says the police were wrong for not showing their identification numbers during last year's protests. It said that the move, which caused many complaints from the public, was against the city's Bill of Rights. The court also said the system set up to investigate complaints against the police was not good enough.
Human rights group Amnesty International said the ruling was just a small step towards revealing the truth about the human rights violations that happened during the protests.
Explainer: What does 'separation of powers' mean?
The judge, Anderson Chow Ka-ming, agreed with Hong Kong Journalists Association (HKJA) and four other citizens last Thursday, saying that the police should have shown their ID numbers.
Chow found the Bill of Rights says the government has to have a way for residents to be able to complain about the police, that is not run by police or the government.
At the moment, the city has the Complaints Against the Police Office (Capo) which is run by the Independent Police Complaints Council. The judge pointed out that Capo is run by the police, and the Council does not have the power it needs to investigate complaints.
Hong Kong's ranking in global law and order drops massive 77 places
The judge says that even if riots happen, or even if the government declares a state of emergency, the police still have to follow the Bill.
In the past, police have said that the riot police don't have to wear identity badges because they might be bullied by the public. But later they had a new system of identifying officers, which used letters and numbers.
However, the judge said that sometimes officers didn't wear the new identification, and sometimes officers used the same number at the same event.
Your guide to street slang being used in Thailand's pro-democracy protests
Teacher Yeung Tsz-chun, who was hit in the eye by an object coming from the direction of a group of police officers during a protest in June last year, noted he had won only 80 per cent of the case because the judge refused to accept part of his argument.
"But the most important thing [the judgment found] is that police's decision violated the Bill of Rights, and the IPCC mechanism has been unable to investigate complaints against police effectively," he wrote on his Facebook page.
Sign up for the YP Teachers Newsletter
Get updates for teachers sent directly to your inbox
Sign up for YP Weekly
Get updates sent directly to your inbox