An official said the 'Leave Home Safe' risk exposure app could have more user-friendly features added in response to privacy concerns

The app requires users to scan a QR code when entering a venue so exposure to the coronavirus infections can be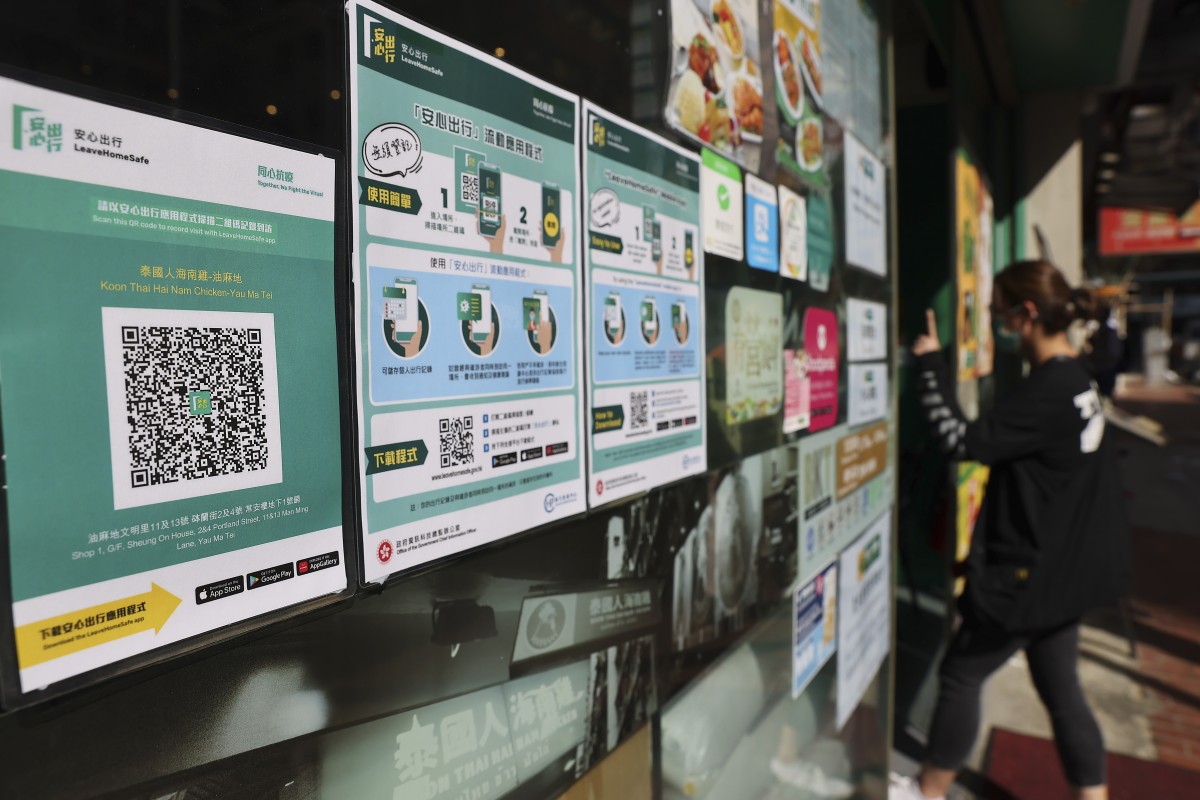 Currently users have to scan the QR code before entering a venue, and press 'leave' when they go. SCMP/ Nora Tam
Hong Kong's Covid-19 risk exposure app could get more user-friendly features from next week, a senior information technology official has said.
Government Chief Information Officer Victor Lam Wai-kiu said the "Leave Home Safe" app – with more than 300,000 downloads and spanning over 45,000 public and private venues across the city – had been renewed this week to allay privacy concerns. Its access rights to photo albums and USB storage on smartphones and to users' Wi-fi connections have been blocked.
Is the LeaveHomeSafe app a good way to combat the pandemic? A debate
Currently, when users enter a venue, they have to scan the specific QR code displayed there and press "leave" on the app when they exit.
But some people felt this was inconvenient, as users might not remember to click "leave" when they left a place. It would also be annoying if you are in a mall, and have to log in and press "leave" every time you left an individual shop.
To improve the experience, Lam said, officers were planning to make it simpler for users to mark the exit time when visiting a venue, while also allowing people to review their previous journey records.
Hong Kong-Singapore travel bubble postponed until 2021
He hoped to roll out some of the new functions next week.
"As many people suggested setting up a function to automatically mark when users had left a place, we are working on this. That means when they haven't pressed 'leave' after a few hours," the app would automatically do it, he said.
Lam added that authorities were also considering a function to automatically mark "leave" for users when they left one venue and entered another with a new scan.
How often should you throw out fabric face masks?
The official said his team was considering connecting the app with data on users' Octopus cards so people would not have to scan the QR code after tapping their cards there, but that function would need smartphone holders' consent due to privacy concerns.
Another feature in the works was to create a hotspot analysis on a map to identify high-risk places, Lam said.
He added that Hongkongers might be able to use the analysis function early next year.
All teenagers, including those with anti-vax parents, must be free to consent to Covid jab
Francis Fong Po-kiu, honorary president of the Hong Kong Information Technology Federation, welcomed the plan to make it easier to record users' exit time, noting the current app was quite troublesome at times.
But he said some residents would have privacy concerns over the proposal to link the app with their Octopus cards, and urged officials to think about its implementation carefully and not to make it mandatory.
Fong also said creating a map to identify high-risk places for residents could spark a labelling effect.
"It's like labelling Amoy Gardens. During Sars, no one dared to go there," he said, referring to the housing estate where many residents were struck by the severe acute respiratory syndrome in 2003.
Sign up for the YP Teachers Newsletter
Get updates for teachers sent directly to your inbox
Sign up for YP Weekly
Get updates sent directly to your inbox