Hong Kong students report housing and online learning as biggest concerns
The Children's Rights Association survey found the Covid-19 pandemic has had a huge impact on kids

Online learning during the coronavirus poses an extra challenge, as disadvantaged students may not have computers or reliable internet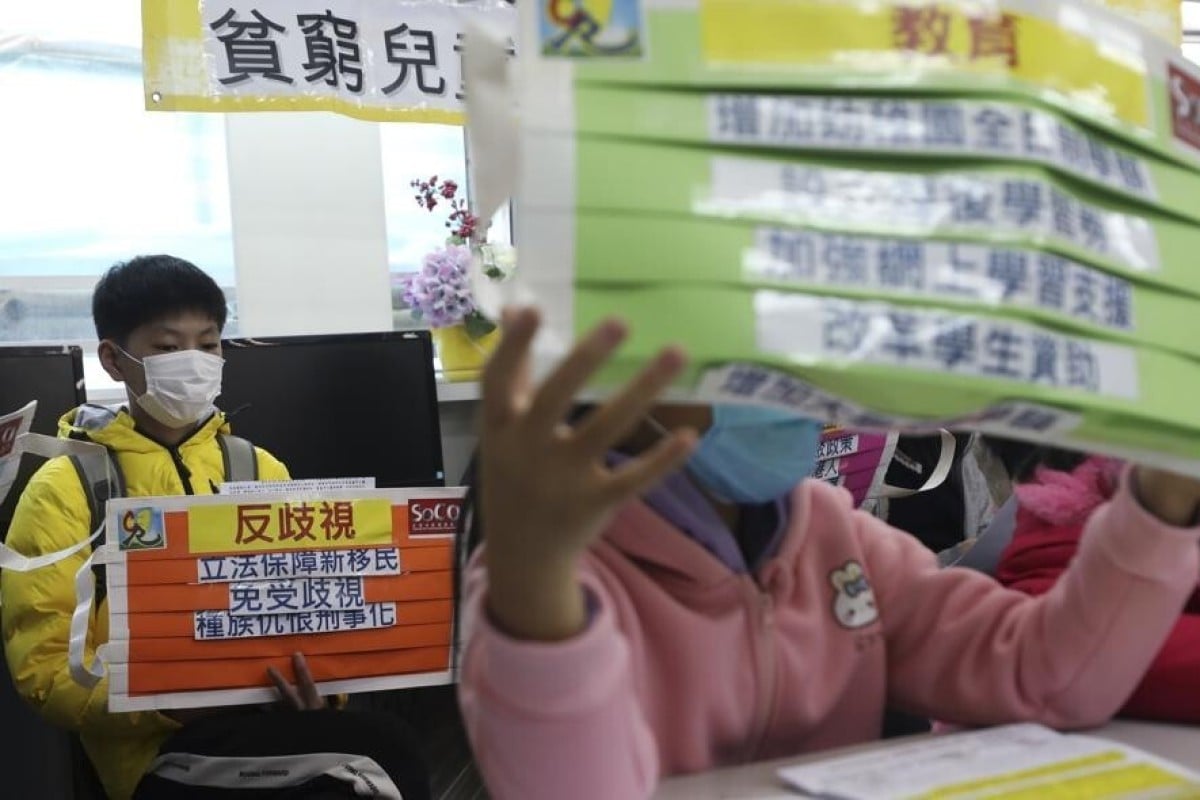 Children's Rights Association ambassadors meet the press on Friday. Photo: SCMP/ Xiaomei Chen
Educational issues and housing are the most pressing concerns faced by underprivileged children in Hong Kong, and the ongoing coronavirus pandemic only creates more challenges, according to a new survey.
The Children's Rights Association's 16th annual report – released at a New Year's Day press conference – polled some 3,000 children aged between six and 17, all from economically disadvantaged families.
The young participants were asked to rank a group of issues on a scale of one to 10, with housing for the 10th year in a row topping a list that also prominently featured worries ranging from access to health care to the government's welfare policies.
Protests and coronavirus: Hong Kong in 2020
Meanwhile, 20 child "ambassadors" from the group, which is run by the Society for Community Organisation (SoCO), concurrently handed out their annual grades for the handling of a variety of policy matters by the city's leader.
Chief Executive Carrie Lam Cheng Yuet-ngor this year ranked significantly lower on the issue of child poverty, earning a score of eight out of a possible 100, compared to 21 in their last report.
That performance, particularly amid the Covid-19 pandemic, was arguably reflected to a degree in the overall rankings.
Drink Without Waste with HK's new green initative
"Many of the government's anti-epidemic subsidies were unable to benefit children from low-income families, especially during the online learning period that lasted for most of last year," said Wong Chak-ming, 16, one of the group's representatives.
The group also looked at how the suspension of face-to-face lessons at Hong Kong schools for more than six months of 2020 due to the coronavirus affected children in the city.
Hong Kong Chief Executive Carrie Lam faired poorly in an assessment by the young representatives of the Children's Rights Association. Photo: SCMP/ Sam Tsang
The group cited an August survey conducted by SoCO which found more than 40 per cent of 700 underprivileged children polled did not have computers suitable for online classes, while over 33 per cent lacked internet access.
Wong said while the government had handed out some e-learning subsidies over the past few months, including a HK$20 million one-off grant in November for better internet access to needy students, it was "too little, too late".
Hong Kong teachers are more stressed from Covid-19 than the protests
On housing issues, the group said government policies remained dissatisfactory, as official data showed 120,000 households were living in poor conditions – many of them with children – while the average queuing time for a public housing flat had increased to about 5.6 years.
They said the living quality of most low-income children remained poor as a result, something that could affect their health, personal growth, social life and learning progress.
"Living in a cramped area, underprivileged children's physical and mental development have been affected by the pandemic. For instance, flats are poorly ventilated. And spending more time at home might also mean more conflicts with family members," Wong noted.
Sign up for the YP Teachers Newsletter
Get updates for teachers sent directly to your inbox
Sign up for YP Weekly
Get updates sent directly to your inbox