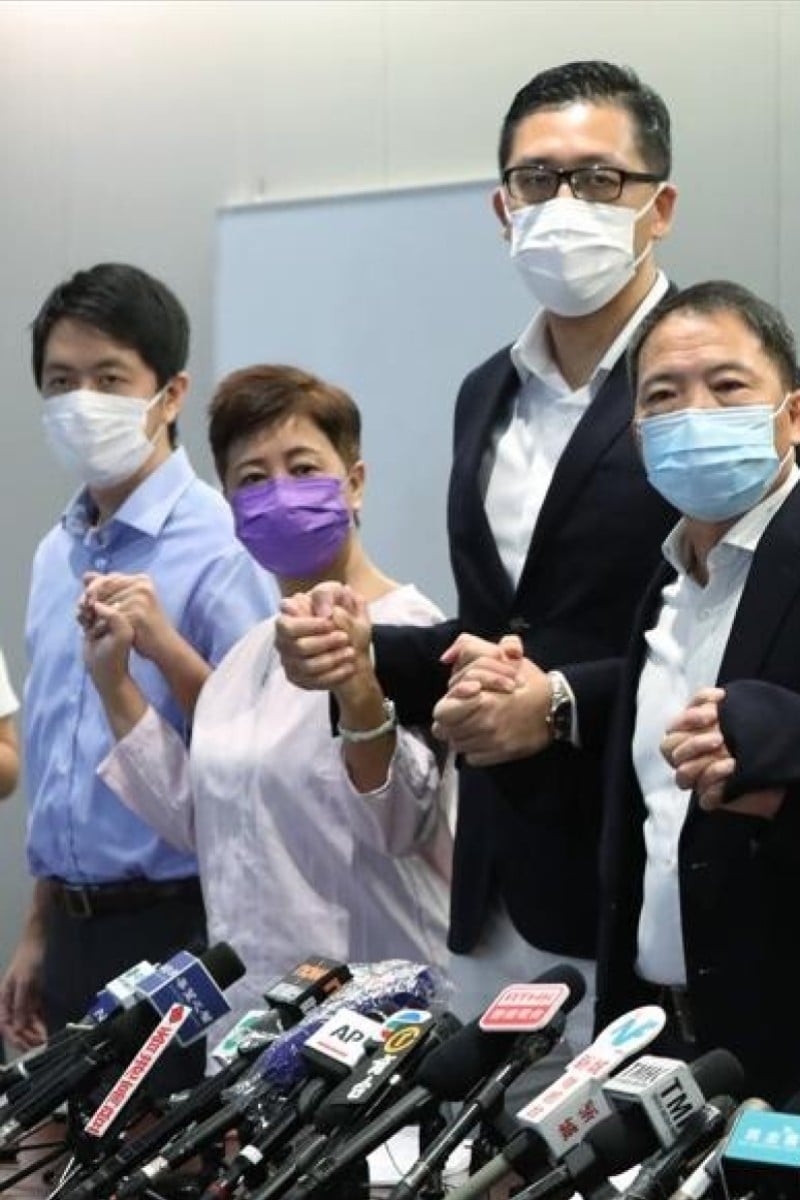 Mass arrests of Hong Kong activists and former lawmakers under national security law
More than 50 people were detained on Wednesday morning, including Occupy Central co-founder Benny Tai and former legislators James To, Lam Cheuk-ting, Andrew Wan, Alvin Yeung and Wu Chi-wai

Stand News, which helped organise a forum for the pan-democratic primary contests, has been told to hand in relevant documents, as well as Apple Daily and In-Media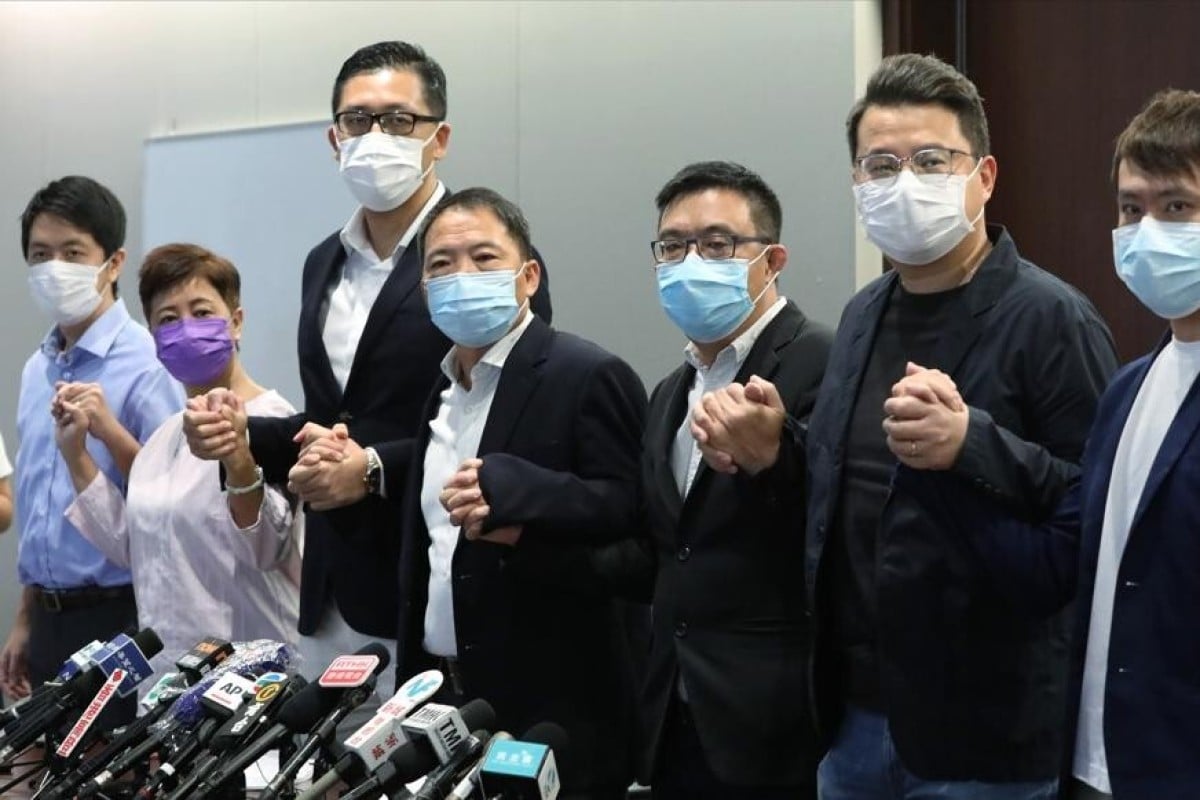 Democratic Party members (from left) Ted Hui Chi-fung, Helena Wong Pik-wan, Lam Cheuk-ting, Wu Chi-wai, James To Kun-sun, Andrew Wan Siu-kin and Kwong Chun-yu in August 2020. Photo: SCMP/ May Tse
Around 50 activists and former opposition lawmakers were arrested on Wednesday morning on subversion charges under the national security law, the biggest crackdown since it took effect on June 30 last year.
Most of those detained had either organised or taken part in primary contests held by the pan-democratic camp last July as part of a "35-plus" strategy to maximise its chances of taking control of the 70-member legislature.
Police on Wednesday also served court orders at the offices of the Apple Daily tabloid and online news portals Stand News and In-Media, seeking "documents in connection with national security cases" within seven days, the three outlets said.
Apple Daily and Stand News co-organised election forums for the candidates, while In-media ran advertisements related to the campaign.
What happened in Hong Kong in 2020?
Among the detained were former Democratic Party and Civic Party lawmakers James To Kun-sun, Lam Cheuk-ting, Andrew Wan Siu-kin, Alvin Yeung Ngok-kiu and Wu Chi-wai, according to their public Facebook pages.
One of the poll's architects, Occupy Central co-founder Benny Tai Yiu-ting, who drafted the opposition's "35-plus" strategy, was also arrested.
Arrested localist activists include Owen Chow Ka-sing, Lester Shum and Gwyneth Ho Kwai-lam, who outcompeted veteran politicians in the primaries.
Carrie Lam addresses National Security Law in longest policy address
Ng Kin-wai, a Yuen Long district councillor who secured a place in the unofficial election, live-streamed the police operation on Facebook at 7am. The video showed an officer arresting him at his residence for alleged subversion under the national security law due to his participation in the race.
"Your goal was to veto all budgets and bills, hence forcing the chief executive to resign," Ng was told.
"Your act aimed at realising Benny Tai Yiu-ting's plan was advocated in an article titled 'Ten steps of real collateral damage' in Apple Daily and other media, which has an objective of obstructing Hong Kong authorities in the discharging of their duties in accordance with the law."
An opposition primary election held last July is believed to be at the heart of the arrests. Photo: SCMP/ Dickson Lee
The primary contests last July in five constituencies saw more than 610,000 city residents defy government warnings and a fresh coronavirus outbreak to vote to determine who would run in the Legislative Council election in September, which was later postponed.
The "35-plus" strategy, if successful, would have enabled the camp to form a powerful bloc in Legco, allowing them to block budgets, stall bills and effectively paralyse the government.
Ahead of the primaries, the secretary for constitutional and mainland affairs, Erick Tsang Kwok-wai, had warned that the "candidates" of the primary poll – conducted in July last year – could be in breach of the new national security law as well as the city's election laws.
What is the National Security Law? An explainer
The city's leader, Carrie Lam Cheng Yuet-ngor, had also warned that any planned action to paralyse policymaking was potentially subversive.
Police on Wednesday morning also searched the residence of activist Joshua Wong Chi-fung, now in prison, alleging he had also violated the national security law, according to his Facebook page.
Under the national security law, a principal offender convicted of subversion faces imprisonment of 10 years to life, while an "active participant" can be sentenced to between three and 10 years' jail.
A minor can face a fixed term of not more than three years' imprisonment or short-term detention or restriction.
Sign up for the YP Teachers Newsletter
Get updates for teachers sent directly to your inbox
Sign up for YP Weekly
Get updates sent directly to your inbox