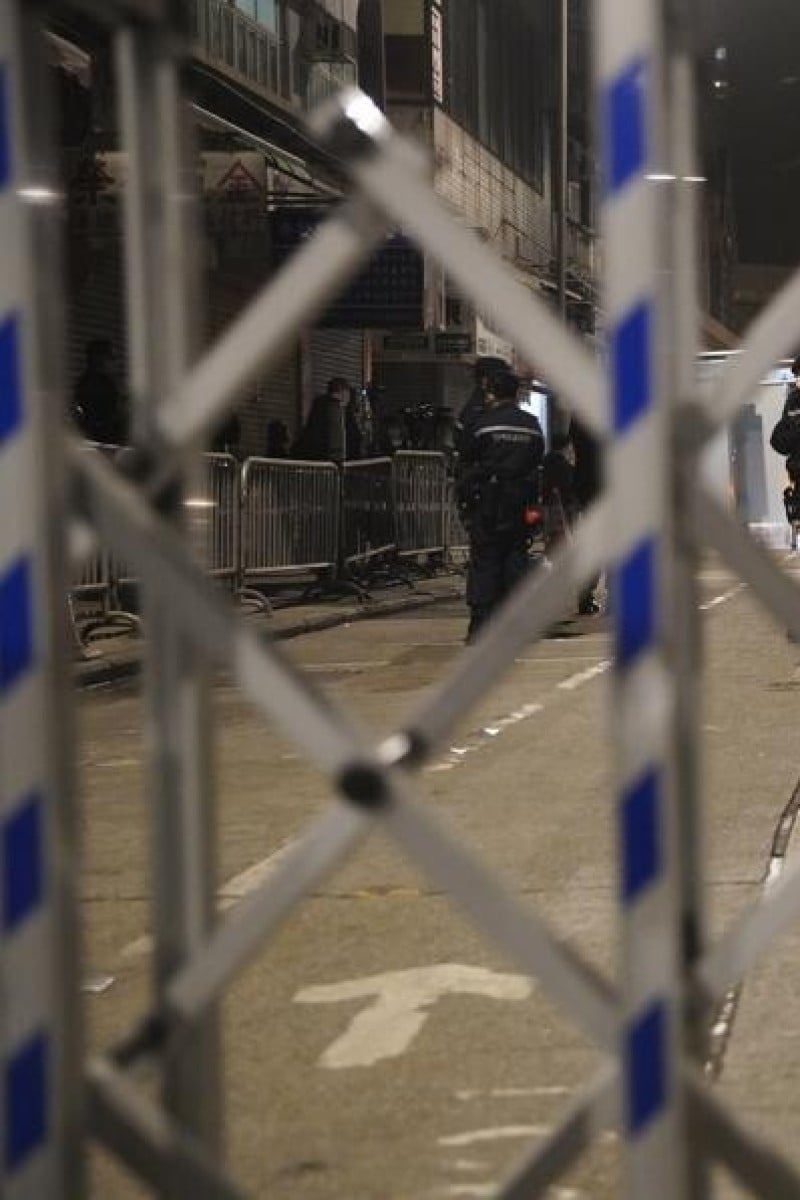 Coronavirus: 'Ambush-style' lockdowns could target Hong Kong's Jordan, Mong Kok, Hung Hom and Sham Shui Po neighbourhoods
Public health experts say these areas have old, poorly-maintained buildings and have seen many cases of Covid-19

The government has previously conducted lockdowns in Yau Ma Tei and Jordan as an anti-pandemic measure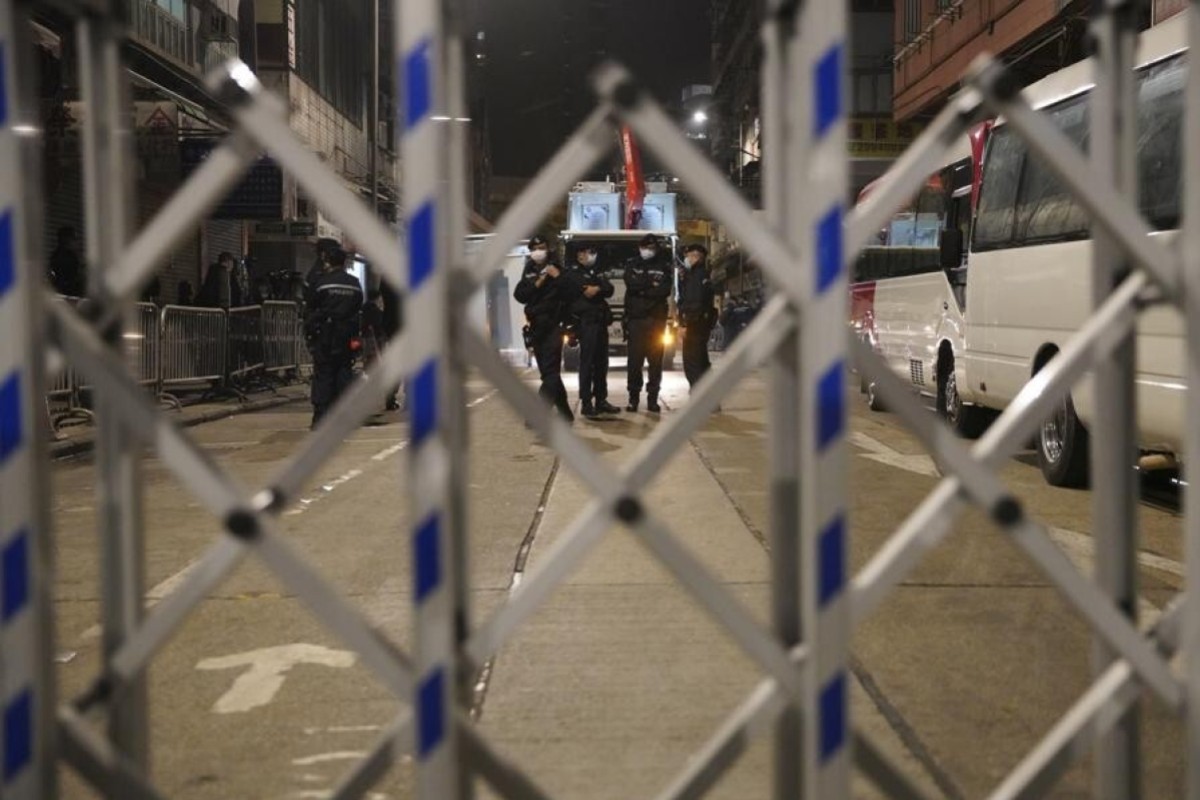 Police officers stand guard during an overnight lockdown in a Covid-19-hit section of Yau Ma Tei this week. Photo: SCMP/Winson Wong
Hong Kong's next "ambush-style" Covid-19 lockdowns could target a handful of old buildings in four coronavirus-hit districts – Jordan, Mong Kok, Hung Hom and Sham Shui Po – where authorities have imposed mandatory testing.
Public health experts said they believed those areas also met the four criteria recently used by officials to justify the two previous lockdowns in Jordan and Yau Ma Tei, making them very likely to be the next areas put under the city's harshest anti-pandemic measure yet.
What happened in the two previous lockdowns?
Last Saturday at 4am, the government invoked for the first time its newly acquired power to lock down an area, closing off a patch of Jordan – bordered by Woosung Street, Nanking Street, Battery Street and Kansu Street – in order to enforce compulsory screening of residents.
A map of the area that was locked down.
The operation, which was leaked to the media beforehand, ended 44 hours later at midnight on Monday, and uncovered 13 coronavirus cases among the more than 7,000 people tested – a positive rate of 0.17 per cent. The city's leader hailed the operation as a success and said the government would implement "smaller-scale, ambush-style restriction testing operations" in the future.
Why you should wear your mask, even after getting the vaccine
At 7pm on Tuesday, officials did just that, this time locking down just 11 buildings in Yau Ma Tei, lifting the order at 6am the next day after detecting just one infection among some 330 residents screened.
Though the government has not spelled out objective standards for imposing such lockdowns amid a tightening of information control, four common threads ran through its messaging in the lead-up to the two operations, which could shed light on where the next one is likely to take place.
Health officials conduct mandatory coronavirus testing during the Yau Ma Tei lockdown. Photo: SCMP/ Sam Tsang
What are the four early signs that a lockdown is coming?
First, in both lockdowns, the government cited "severe outbreaks" in the areas, and referenced the case totals in recent weeks there. In Jordan, officials quoted a total of 162 positive cases involving 56 buildings in the first 20 days of January, while in the second, smaller lockdown, they pointed to the more than 40 cases in three buildings in the area to justify their decision.
Chinese University respiratory medicine expert Professor David Hui Shu-cheong, who advises the government on anti-pandemic strategy, said future smaller-scale lockdowns could be triggered if around 40 infections were logged in an area of a similar size.
Tips for solving common mask problems
Second, the government mentioned in both instances "sustained positive sewage samples" from the city's pilot Covid-19 monitoring scheme developed by the University of Hong Kong to monitor specimens from pipes. In the case of Jordan, the government noted samples from the lockdown area had a "higher positive ratio for Covid-19" than other parts of the neighbourhood.
Hui said that currently, consecutive positive results over three days would trigger a mandatory testing order, but he was not aware of any such "hard" threshold for a lockdown.
The environmental problems caused by single-use masks
Third, the government said many buildings in the two lockdown zones were "relatively old "and lacked proper maintenance.
"Subdivided units are common and the infection risk in the community is quite high," the government also said, in relation to the tenement buildings in the Jordan zone.
Lastly, both of the lockdown areas were previously placed under mandatory testing orders requiring residents and recent visitors who had been at the site for more than two hours in the last 14 days to undergo a test. In both cases, officials said infection levels remained "severe" after the testing drive.
Medical workers wearing full protective gear stand at the entrance to one of the buildings put under lockdown in Yau Ma Tei. Photo: SCMP/Winson Wong
Which areas appear to fit the bill for a lockdown?
Under a recently toughened regulation, any building anywhere in the city that has reported two or more Covid-19 cases within a two-week period will be placed under a mandatory testing order.
In addition, officials have placed four areas that experienced multiple outbreaks – in Mong Kok, Hung Hom, Jordan and Sham Shui Po – in a more stringent tier of screening regime, in which just one coronavirus infection would trigger a mandatory testing order. The areas are also full of old buildings and their sewage was being tested.
Both Hui and another infectious disease expert, Dr Leung Chi-chiu, agreed those four areas had the highest chance of becoming the next to be placed under lockdown.
"They have a mix of all the high-risk factors creating a perfect storm for virus spread; chief among them is the presence of old, poorly maintained buildings in a densely populated neighbourhood," Leung said.
Can you use a plastic shield instead of a face mask?
What about other coronavirus-hit areas?
Laguna City, one of Hong Kong's largest middle-class estates in Lam Tin, also made headlines in recent days after its block 5 reported 10 infections among residents and two among their security guards. But Hui said he believed a lockdown was unlikely there.
He said the risks at Laguna City were more contained, as a vertical spread involving the "chimney effect" was identified as the main reason behind the outbreak. As a result, the evacuation of all residents in every "E" flat of the block had been considered a more appropriate response.
"More infections could result if residents are kept at their homes under lockdown if a vertical spread in a high-rise building is taking place," Hui said.
As such, he added, lockdown orders would not be a good approach for other middle-class neighbourhoods with many tower blocks – such as City One in Sha Tin, or Taikoo Shing in Quarry Bay – should they be hit by coronavirus outbreaks in the future.
Sign up for the YP Teachers Newsletter
Get updates for teachers sent directly to your inbox
Sign up for YP Weekly
Get updates sent directly to your inbox