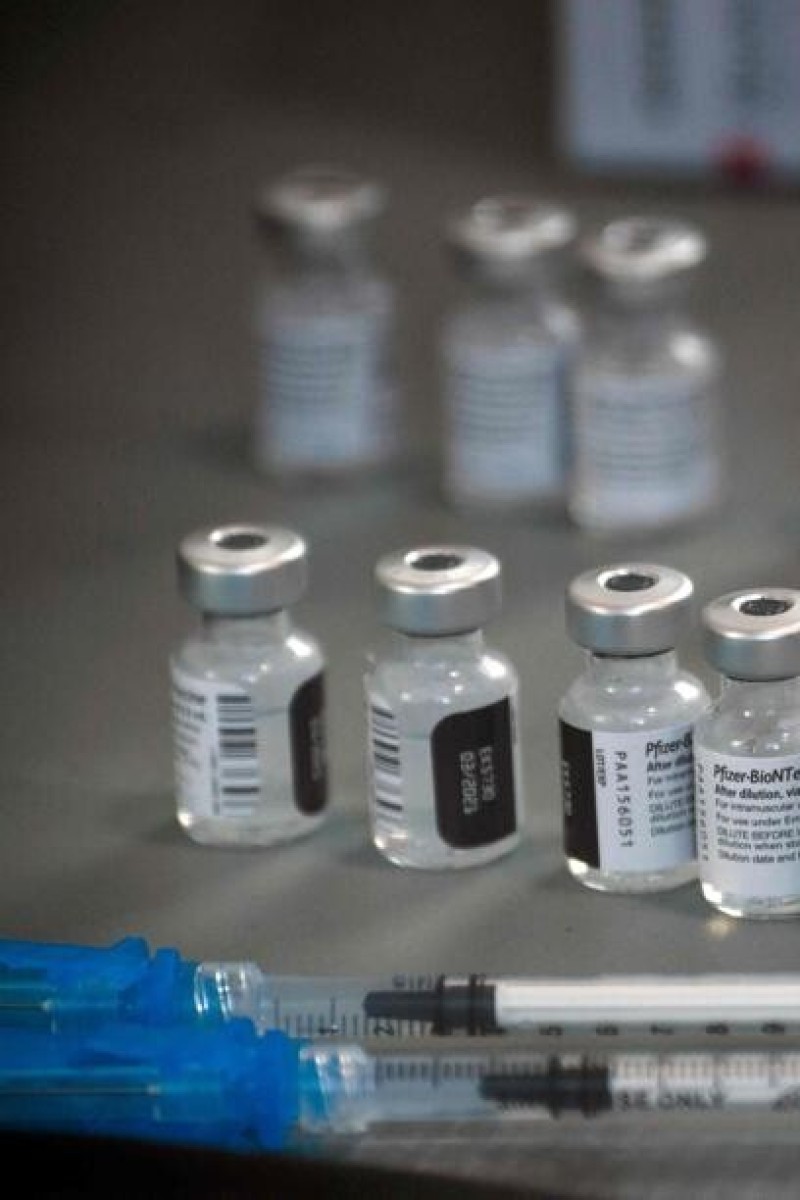 Coronavirus: More than half of Hong Kong residents won't take Covid-19 vaccine
Many are concerned over the low efficacy rate of the jab supplied by mainland China's Sinovac Biotech

The government and World Health Organisation need to provide scientific evidence to ease concerns, researchers say
Among the three brands of vaccines already procured by the Hong Kong, the jabs by Pfizer-BioNTech enjoyed the highest level of acceptability at 55.9 per cent among respondents. Photo: AFP
A survey has found that more than half of Hongkongers don't intend to take the Covid-19 vaccine, a rise of 17 percentage points over the last two months.
The citywide poll by the University of Hong Kong (HKU) also revealed that fewer than three in 10 residents were prepared to take the vaccine supplied by mainland Chinese company Sinovac Biotech amid concerns over its low efficacy.
The findings came as Hong Kong reported 39 new coronavirus infections on Thursday, extending a downward trend in daily caseloads for a fifth day. All but one of the cases were imported, with 20 of them untraceable.
The city's tally stands at 10,321, with 176 related deaths after two chronically ill men, aged 47 and 66, succumbed to the disease. Three arrivals were found to be carrying a mutated, fast-spreading strain of the virus, taking the total of such cases to 20.
Professor Gabriel Leung, dean of HKU's faculty of medicine who was involved in the research, said the government, scientific community and the World Health Organisation (WHO) needed to provide "solid scientific evidence" to ease residents' concerns.
"Build trust by being honest, open and transparent and trust science," Leung said on Thursday. "We all need to do more in explaining to the public."
Old buildings in Kowloon could be targeted for ambush lockdowns
The survey comprised two independent arms of research. Based on a series of polls, the first part – involving more than 1,000 respondents polled between January 6 and 17 – showed a drop in the number of residents intending to receive a vaccination, from 63.2 per cent in November to 45.9 in January.
The second part – a weekly phone survey of 500 to 1,000 adults – found the percentage of residents intending to get vaccinated had fallen from 67.4 per cent to 50.2 over the same period.
Wear a mask, even after getting the vaccine
"Interestingly, the results of the two surveys match highly, even though they employed different sampling methods and pools of respondents, which indicate the findings are very accurate and representative of science," Leung said.
Among the three brands of vaccines already procured by the Hong Kong government, the jabs by Pfizer-BioNTech had the highest level of acceptability, at 55.9 per cent, while AstraZeneca's shots had the lowest, at 35.3 per cent.
Sign up for the YP Teachers Newsletter
Get updates for teachers sent directly to your inbox
Sign up for YP Weekly
Get updates sent directly to your inbox