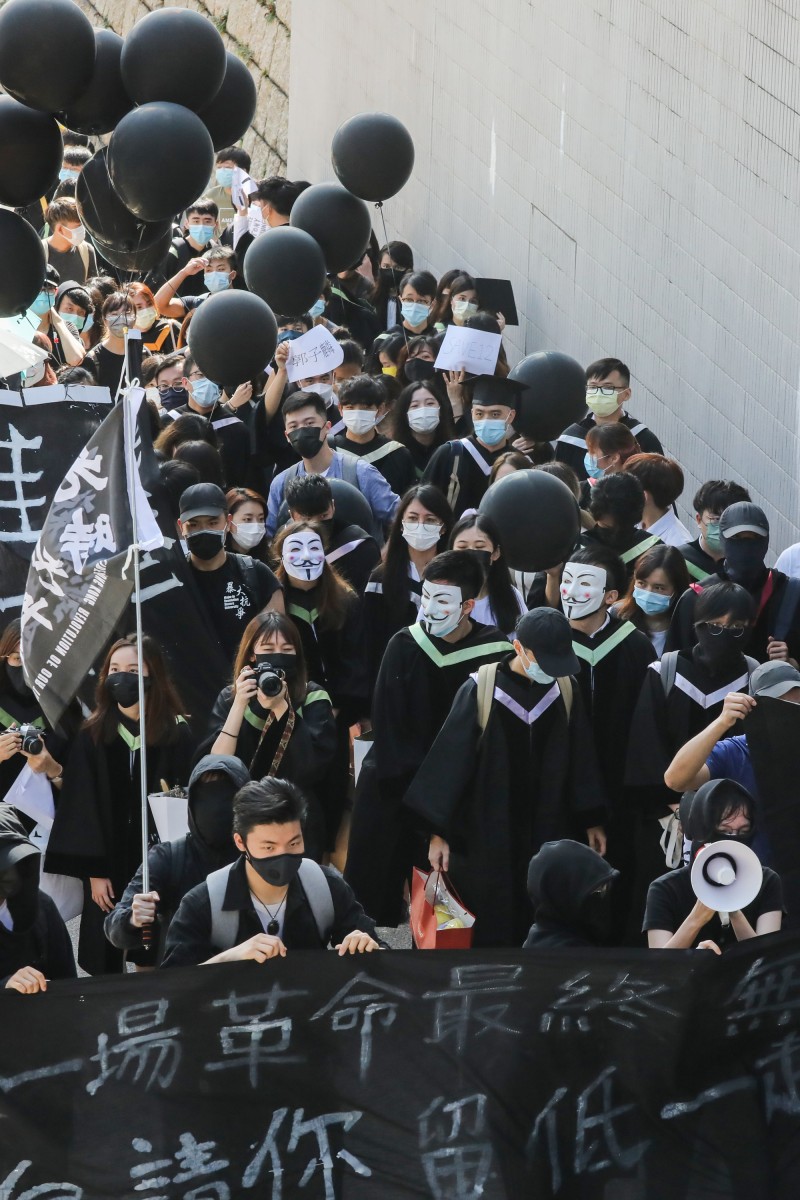 The 19-year-old was accused of taking part in an unauthorised assembly and calling for the city's independence

Around 90 people took part in the November demonstration at the university, which was condemned by Beijing's liaison office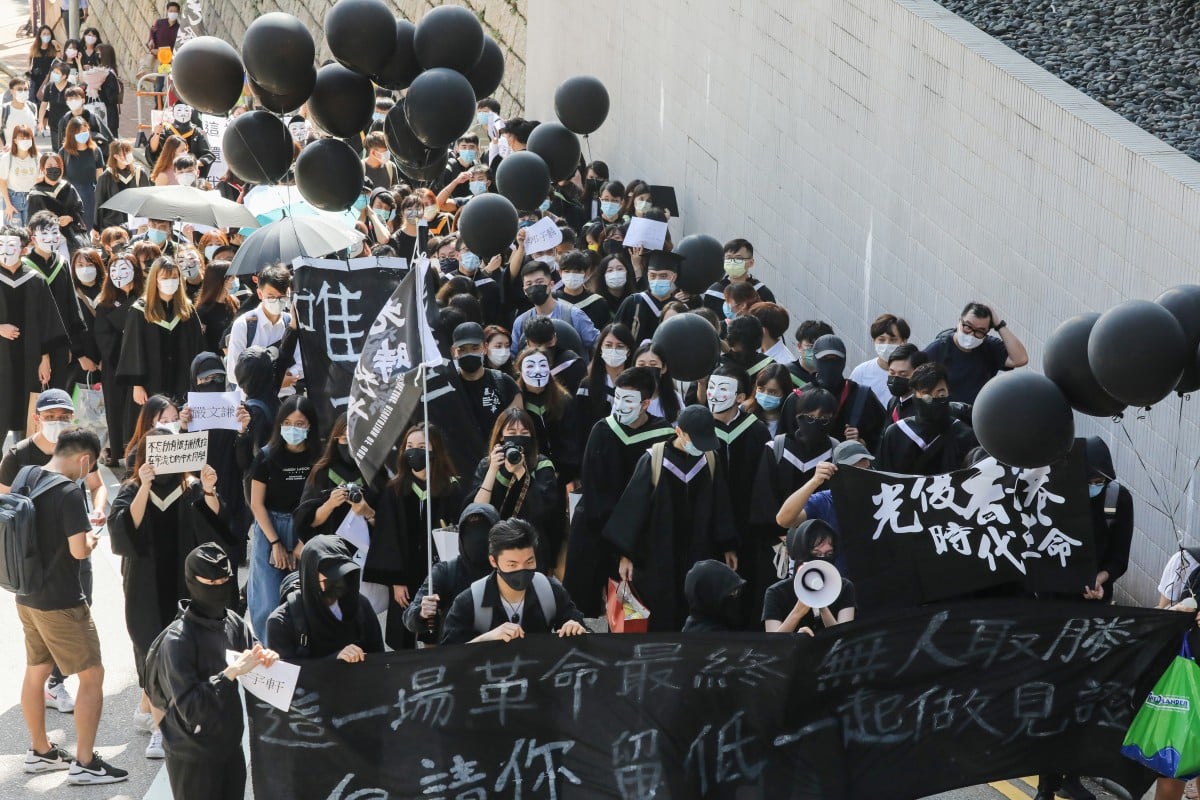 Many students protested during the graduation, although the ceremony was meant to be held online. Photo: SCMP/K. Y. Cheng
A Chinese University (CUHK) student was arrested under the national security law on Thursday and accused of calling for Hong Kong independence during a graduation ceremony protest that drew strong criticism from Beijing.
At least nine people have so far been arrested on suspicion of threatening national security in relation to the on-campus demonstration last November.
The 19-year-old student, who studies philosophy at the university, was stopped and searched on the street by Police Tactical Unit officers, according to a source.
British universities see an increase in HK applicants
Officers arrested him for an alleged national security offence after a check of his identification revealed he was a wanted person. He was then taken to Sha Tin Police Station for questioning by the National Security Department.
"The Police Tactical Unit on Thursday arrested a 19-year-old local male in the New Territories during an anti-crime patrol for taking part in an unauthorised assembly and incitement to secession in the Chinese University of Hong Kong on November 19," a police spokesman said.
"The National Security Department has taken over the investigation and the arrestee is being detained for further inquiries."
Students at CUHK commonly use graduation as a way to speak out on political and social issues. In 2018, Social Science graduate students protested against the government's suppression of political prisoners. Photo: SCMP / Felix Wong
The insider said the student was accused of chanting or displaying banners calling for revolution and the city's independence.
About 90 people took part in the November 19 demonstration at the university's Sha Tin campus, staged to coincide with an online graduation ceremony.
Dressed in black gowns and many wearing Guy Fawkes masks, the protesters chanted slogans and held banners calling for the city's independence.
Among the messages being displayed was "Liberate Hong Kong: revolution of our times", an act deemed illegal under the national security law.
Government releases national security guidelines for primary and secondary schools
Protesters at the graduation were upset at university management's earlier decision to move the ceremony online to avoid a large gathering during the Covid-19 pandemic.
A team from the National Security Department descended on the campus the next day to gather evidence.
In December, the department arrested eight people, also for inciting secession and taking part in an unauthorised assembly.
Hong Kong graduates in Canada eligible for new work visa
The eight – of which two were Form Four pupils both aged 16 and another was a postsecondary student – were all released on bail pending further investigation.
The rally drew strong condemnation from Beijing's liaison office, which warned it might have been in breach of the national security law, and said participants had promoted separatism and Hong Kong independence.
Since the law was enacted on June 30 last year, police have arrested 82 men and 17 women, aged 16 to 79, on suspicion of committing acts and engaging in activities that harm national security.
Sign up for the YP Teachers Newsletter
Get updates for teachers sent directly to your inbox
Sign up for YP Weekly
Get updates sent directly to your inbox