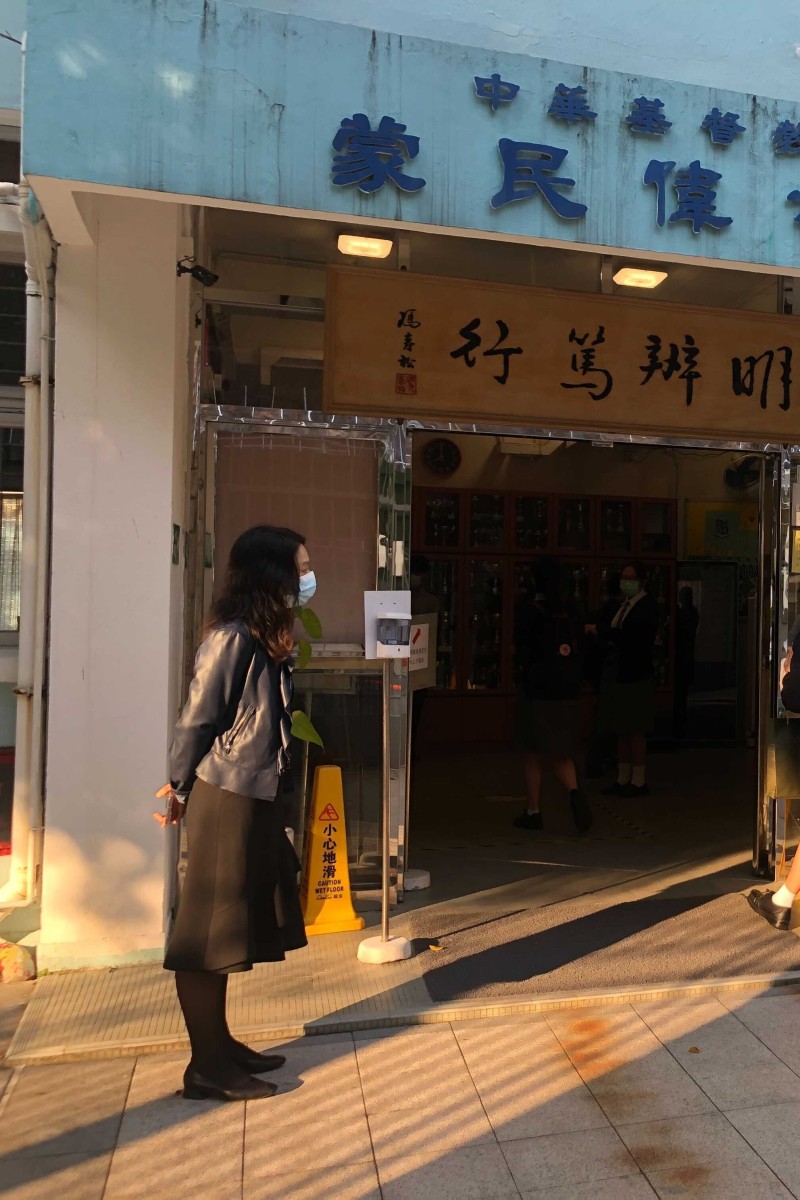 Coronavirus: Hong Kong students return to the classroom after months of online learning
Relaxed Covid-19 measures mean schools are allowed to have up to one-third of their students back on campus

While they are excited to see their teachers and classmates, teens also expressed worry about their exam results and struggled with e-learning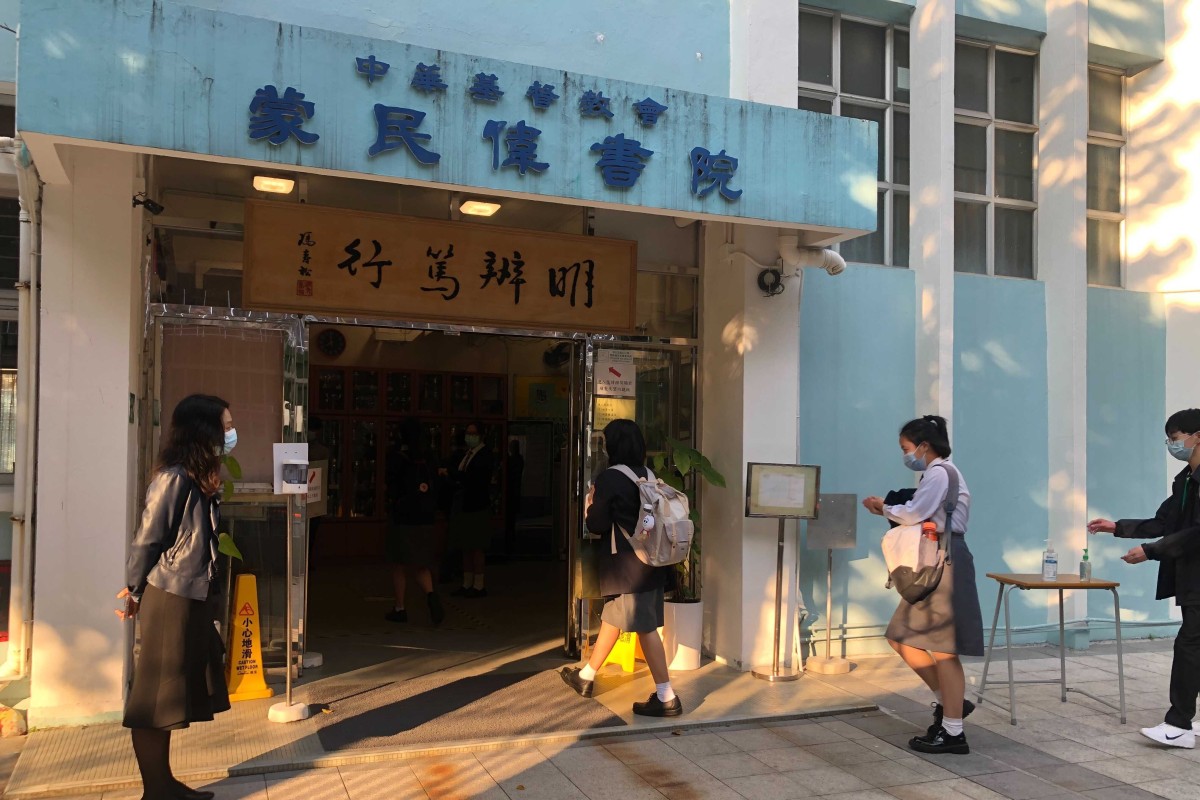 Students from CCC Mong Man Wai College have their temperature recorded and their hands sanitised before entering school. Photo: SCMP/Kelly Fung
Thousands of Hong Kong students returned to the classroom for the first time in months as authorities allowed schools to bring back one-third of their students for in-person lessons.
About four per cent of the city's 1,000 kindergartens and 1,100 primary and secondary schools reopened today, under the condition that all staff will undergo regular Covid-19 tests.
Students said they are enthusiastic about being back in the classroom after learning online for so long.
How to have meaningful, socially-distant interactions
Form Three student Alex Leung, from Church of Christ in China Mong Man Wai College, said he is excited to see his classmates and teachers, and also to have in-person Physical Education lessons.
"PE classes have been held online, so we were only able to watch videos and learn theories," said Alex.
In spite of his happiness at being back at school, he said he would not be surprised if the city experienced another wave of the coronavirus.
"The vaccines are not the cure; an outbreak is inevitable even with social distancing measures," he added.
One third of students from King's College were allowed to be back on campus today. Photo: SCMP/Amalissa Hall
Adrian Hui, from King's College, is also excited to be in a new environment and have a change after months of e-learning.
"I think I'm mostly looking forward to engaging in conversation with my classmates again," he said. "I haven't seen them in a long time."
For students who struggled with online learning during the closures, heading back to the classroom is a relief but also stressful, as they will receive their exam results.
What we know about Hong Kong's Covid-19 vaccines
This is especially worrying for Namira Rubaiyath, a Form One student from Ying Wa Girls' School.
"I'm not feeling too good today. I don't have the highest expectations. I've had a few anxiety attacks because of exams, and I'm also a non-Chinese speaking student, so I have to work harder than other students just to achieve what they have," said Namira.
Hailey Leung, a Form Five student from Church of Christ in China Mong Man Wai College, also fears her exam results may have suffered as a result of online learning, saying she found it difficult to concentrate.
"I need to catch up now that I'm back in school," said Hailey.
A student from CCC Mong Man Wai College, wearing his PE uniform, returns to school. Photo: SCMP/Kelly Fung
Sunny Cheung, a Form Six student from King's College, said he feels safe being back on campus and that only two forms are attending school in person today. Mostly, is excited to be back in the classroom for his last week of school before he goes on study leave.
"I think being back at school is a sign for us to work harder and see if we can achieve our goals," he said.
Wear a mask, even after getting the Covid-19 vaccine
In-person lessons have been suspended since early December 2020, when the fourth wave of Covid-19 took hold of the city. Secretary for Education Kevin Yeung Yung-hung announced earlier this month that schools could open on a half-day basis, with one-third of its student capacity, if all school staff agreed to get tested before classes resumed and every two weeks after.
Yeung said that as of now, there are no plans for schools to return to normal, and the government will continue to monitor the pandemic situation.
Sign up for the YP Teachers Newsletter
Get updates for teachers sent directly to your inbox
Sign up for YP Weekly
Get updates sent directly to your inbox