Sai Kung Stray Friends Foundation has been forced to cancel fundraising events and adoption drives because of coronavirus social-distancing regulations

The non-profit run by Narelle Pamuk can only survive two more months unless it receives donations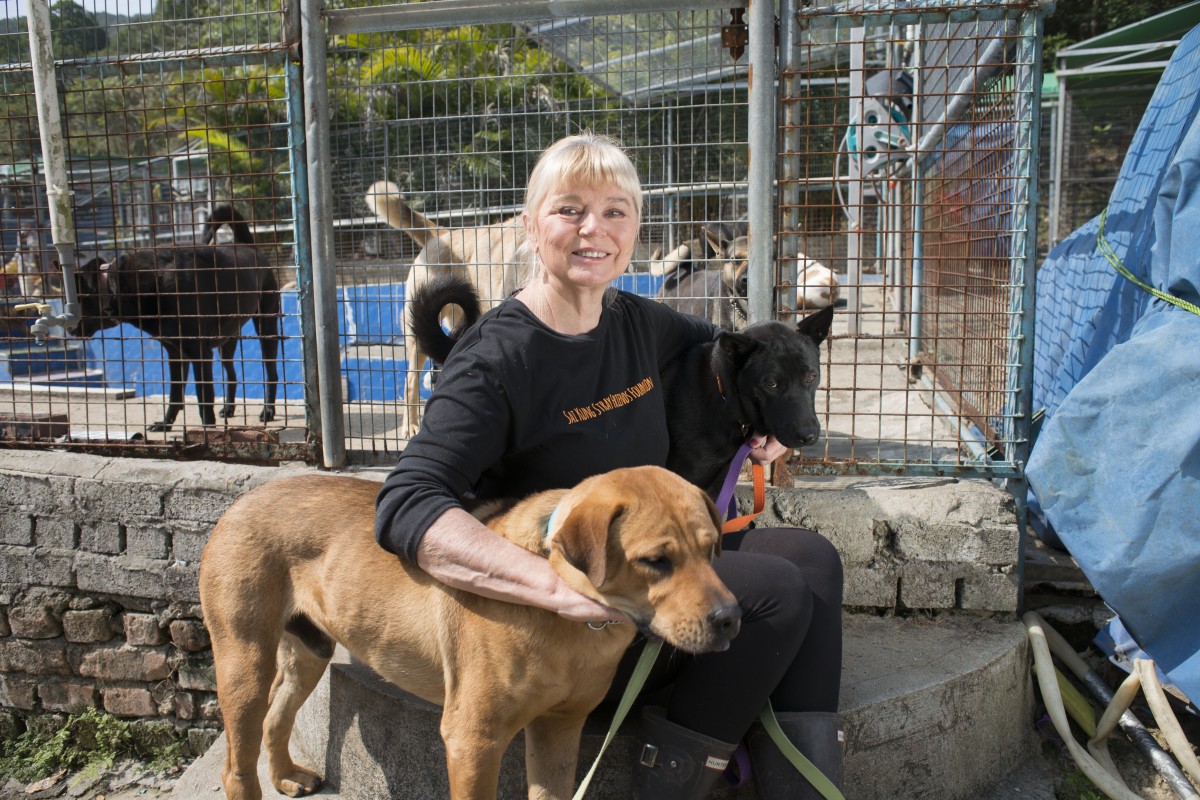 Naralle Pamuk with her dogs at Sai Kung Stray Friends in Hon Chung Valley, Sai Kung. Photo: Antony Dickson
The Sai Kung Stray Friends Foundation (SKSFF), in Tai Lam Wu village, can only survive for another two months unless it receives urgent funds.
SKSFF founder Narelle Pamuk says social-distancing regulations have forced the cancellation of fundraising events, its main source of income to cover operating costs. Events such as school visits, street stalls and pet-adoption drives are on hold.
The pandemic has also resulted in a rise in the number of dogs needing shelter. "A lot of people have lost their jobs and many have left Hong Kong, while others are reluctant to commit to a pet for financial reasons amid fears of a looming recession," Pamuk says.
Tips for being a great foster home for animals
Last week Pamuk put out an urgent call for help on the charity's social media platforms to alert supporters and make the public aware the shelter was close to financial ruin.
"We are struggling," says Pamuk, who founded the non-profit 12 years ago. "Priority expenses are rent that is now in arrears, salaries of our dedicated kennel manager Kathy and two part-time staff, as well as dog food. Medical bills vary from HK$50,000 to HK$100,000 a month."
As well as stray and abandoned dogs, the shelter cares for sick and injured ones, providing medical care and rehabilitation. Every dog that enters the facility undergoes a health check and is desexed, vaccinated and treated for flea, tick and heartworm prevention.
Stray dog Peach was rescued by the Sai Kung Stray Friends Foundation from a cemetery in Sai Kung. Her wound had a maggot infestation, with the vet's bill coming to HK$25,000. Photo: Sai Kung Stray Friends Foundation
SKSFF also operates a meals-on-wheels programme, delivering food and clean water to street dogs in the area 365 days a year. These dogs are also desexed, microchipped and vaccinated. But Pamuk says in recent weeks, the shelter has dealt with many dogs needing urgent – and expensive – medical treatment. "We cannot turn our back on injured dogs and we only address the medical bills after we've helped … lately these bills have been astronomical," she says.
SKSFF responded to a report of a dog at a landfill site in Tseung Kwan O with a severe leg injury. After gaining permission to enter the restricted area, it took three days to capture the young injured female.
A vet answers common questions about pets
Sadly, the dog's right leg had to be amputated, with the medical bill totalling more than HK$42,000, Pamuk says.
Another stray named Peach was rescued from a cemetery in Sai Kung. Her wound had a maggot infestation, with the vet's bill coming to HK$25,000. Another dog needed emergency treatment for a twisted spleen. That operation cost more than HK$70,000. "We cheekily called her Cashla because of the large amount of money we spent on her," Pamuk says, laughing.
Why exotic animals like spiders and lizards make awesome pets
While she can still maintain a sense of humour, Pamuk says the situation is dire. She tries not to think about the fate of the shelter's 130 dogs – as well as the 25 street dogs it feeds daily – if it closes.
"We get phone calls almost daily asking for help to rescue dogs or attend to injured dogs as we are one of the few facilities to do this. But it's the aftercare that adds up," she says, adding that medical bills in recent weeks have come to more than HK$300,000.
Cancer-sniffing dogs can help detect disease
"Our options are limited. What we need are generous donors and committed monthly sponsors to keep us going," she says.
"It's heart-wrenching to see an animal suffer or with serious health issues. They need our help, but we don't have any reserve funds."
Sign up for the YP Teachers Newsletter
Get updates for teachers sent directly to your inbox
Sign up for YP Weekly
Get updates sent directly to your inbox