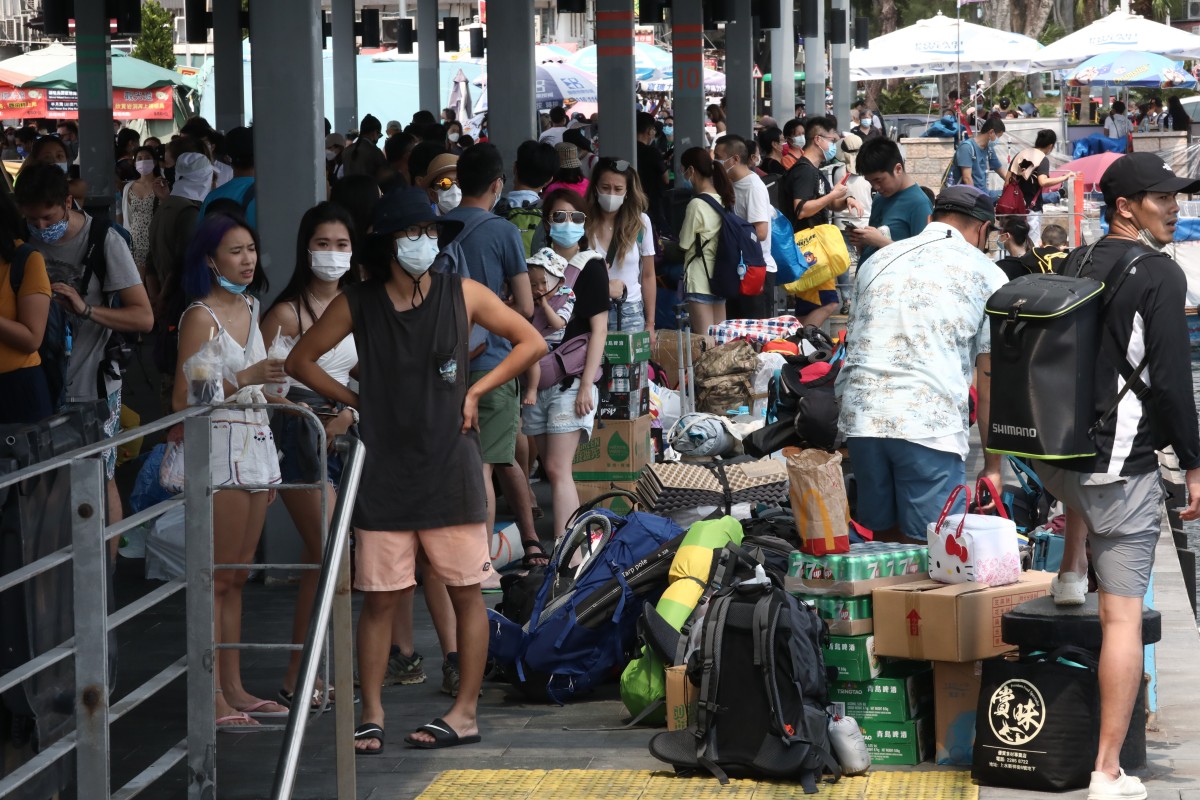 March felt unusually summery this year. Photo: SCMP / Jonathan Wong
If you thought last month felt particularly summery, you were right. Hong Kong experienced the hottest March on record this year – as well as one of the driest – according to figures released by the Observatory on Wednesday.
The data showed that the mean maximum temperature last month was 24.8 degrees Celsius, the highest figure for March since record-keeping began in 1885. The previous record of 24.4 degrees was set in 1960.
The figure was also 2.9 degrees above normal, defined as the average of the mean maximum temperature for the month over a 30-year period from 1991 to 2020.
Both the mean overall temperature and the mean minimum for March were also extraordinarily high – at 22 degrees and 20.2 degrees, respectively – breaking the previous records of 21.5 degrees and 20 degrees set in 2002. The figures were 2.5 degrees and 2.6 degrees above normal, respectively.
On March 20, the temperature recorded at the Observatory's headquarters in Tsim Sha Tsui soared to a maximum of 29.7 degrees in the afternoon, the highest of the month, and the hottest Vernal Equinox on record.
18 weather words you might not know to add to your writing
Ten days later, the daily mean temperature was 26.6 degrees, which was the highest on record for March. The daily minimum temperature on March 30 and 31 was 25.3 degrees, both the highest on record too.
The Observatory said the unusually warm days in March were associated with a relatively low number of cold air outbreaks from the north over the course of the month.
March was also much drier than usual, with a total rainfall of just 3.5mm, a mere 5 per cent of the norm of 75.3mm, making it the fourth-driest on record. The only years in which March was drier were 1971, with 1.1mm of rain; 1972, with 1.8mm; and 1967, with 2.5mm.
11 things you didn't know about rain
The accumulated rainfall recorded in the first three months of the year was just 65.6mm, about 55 per cent below the normal level of 147.4mm.
Unusual weather conditions were also seen in February this year.
The Observatory previously said February's mean maximum temperature of 23.5 degrees, its overall mean temperature of 19.8 degrees and its mean minimum temperature of 17.5 degrees were 4.1 degrees, 2.7 degrees and 2.2 degrees above their respective norms. The figures were the second-, third- and fourth-highest on record, respectively.
The total amount of sunshine received that month was 205.1 hours – more than twice the norm of 101.7 hours – making it the fourth-sunniest February on record.
Sign up for the YP Teachers Newsletter
Get updates for teachers sent directly to your inbox
Sign up for YP Weekly
Get updates sent directly to your inbox