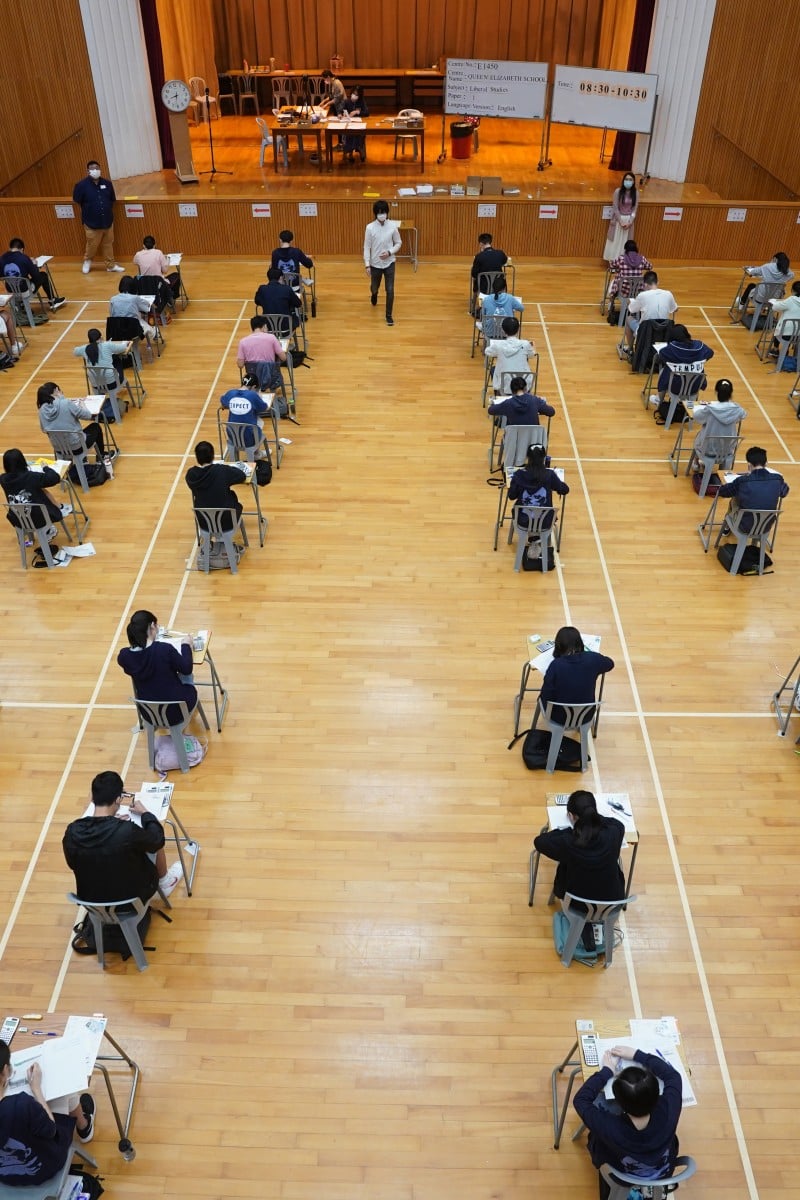 Students said there were no unexpected questions on the exam, but they were surprised it didn't feature topics like anti-globalisation and the pandemic

The assessment covered topics like waste, e-sports, e-payment and renewable energy in China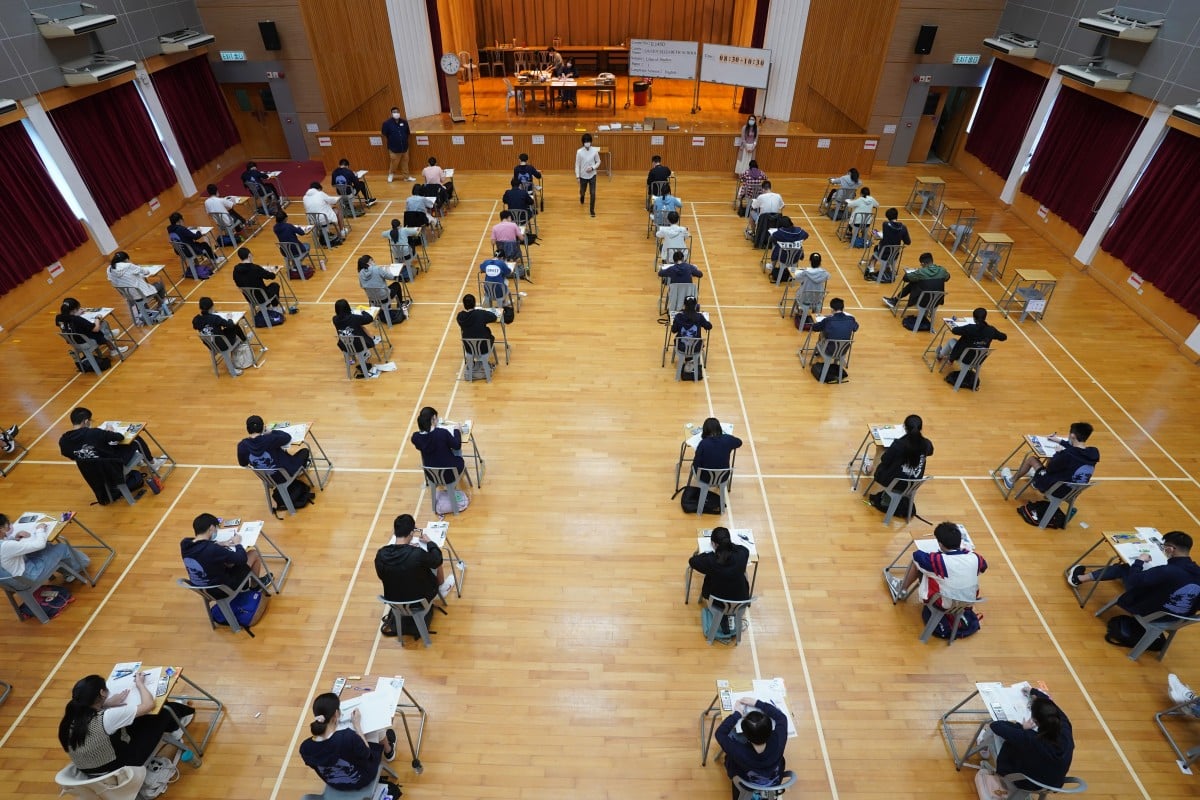 Students sit for the liberal studies exam at Queen Elizabeth School. Photo: SCMP
While 2020's controversial liberal studies exam stirred up a storm , this year's paper steered away from political issues. Young Post spoke to teachers and tutors after the exam, who said they expect the results to be smooth-sailing for students who have done their due diligence revising and practising past papers.
This was reflected in the confidence Bowie Tang, an 18-year-old DSE candidate from Ying Wa College, showed when Young Post spoke to him after the exam. Tang said the paper wasn't as difficult as he anticipated. However, he thought that the topics covered were not very relevant to the current global situation and trends.
5 things to know before entering a DSE exam room
"The topics and questions I revised were there, and there weren't any tricky questions, nor unexpected new question types. But I was disappointed there weren't any questions related to the current trend of anti-globalisation and the pandemic."
Tang added that he had ample time to complete both papers, and his time management strategy – spending 2.5 minutes for every mark allocated – worked.
Keep your exam timetable handy
Meanwhile, Achudha Bala Selva Sathish, 16, from St. Margaret's Co-Educational English Secondary and Primary School, had mixed sentiments. "I felt quite unprepared for Paper 1, but Paper 2 was surprisingly easy. I chose to do the question on e-payments, which I found relevant to young people, and it was easy to think of ideas."
Sathish said that while most questions were familiar, she had trouble with time management in Paper 1. "A question regarding the use of renewable energy in China caught me off-guard and I ended up writing some irrelevant points, as I was pressed for time," she said. However, she was relieved that the data source was much simpler this year.
Liberal Studies was the first core subjects exam to take place. Photo: SCMP
According to J Yeung from Beacon, this year's questions and topics were relatively easy compared to the 2020 exam. The key to acing Paper 1 is mastering concepts, because the questions are similar to previous papers.
Liu Tin-yan, from King's Glory Education, agreed. "This year's paper was easy and not surprising compared to last year's. The topics, such as waste, e-sports and reusable power in China are general, have come up frequently in the news cycle and sparked public discussion," she said.
"And you can tell they took out any sensitive issues," she added.
Moris Lee, Liberal Studies panel head at Tak Sun Secondary School, told Young Post that the topics covered this year were unexpected, as there was only one question related to mainland China. He also said it's very rare to have only one question linked to the Hong Kong government, compared to recent years' papers.
The best study tips for the Chinese Reading paper
Yeung said that none of the question types or topics were shocking or out of the ordinary. He pointed to Q1(c) as an example, a typical suggestion/comparison question type which was asked in 2014.
"There was also one similar to Q2, which was about renewable energy, in 2014. As with past papers, students were asked how the sources provided can support a particular view in Q2(c). Those who attempted past years' papers should not have had any difficulty with this question."
A slight twist though, is Q3(a), which required students to describe a development in e-sports. That, according to Yeung, is a generalisation question type. "Those who scored well on this question were able to successfully read the source and summarise the data provided into one sentence."
Tips to help you ace the English exam
Liu, on the other hand, said that while the topics in Paper 1 were not unexpected, the questions were more difficult than last year. Using Q1(c) again as an example, she explained that it required candidates to find information from two source texts and make a comparison.
"I am quite sure that the question caught some students off-guard and could be difficult for some," she said. "As for Q3(a), although we have seen the phrase 'potential benefits' in the past, it can be tricky, as it requires candidates discuss present and future benefits."
Liu said the source data used in this year's exam was reasonable, despite some finicky parts, such as Q1(b), which incorporated a mix of text and photos. "Some students might only talk about the information in the source text and forget about the photos. This could lead to marks being deducted."
This year's liberal studies exam wasn't too out of the ordinary, students and tutors say. Photo: SCMP/ Chan Ho-him
"In terms of the sources, I would say Paper 1 was fair because we usually have to deal with up to four sources, but there were only three this year. There were three 8-point questions, which might be a bit tricky for students to answer within the time limit, but overall I would say it was fair."
As with Paper 1, this year's Paper 2 was pretty straightforward. Yeung from Beacon College said that while most students would not fumble with any one question in particular, there were some hidden "twists".
One of these is Q1(b), which required a comparison between different stakeholders in the public health sector. This common question was asked in 2018 and 2020 but this year, students were only given one stakeholder, which was medical professionals.
"For students to score well, they have to list other stakeholders based on their own knowledge and compare their roles. So in a way, this sort of question has appeared for the third time, but in a different manner."
As for Paper 2 Q2, additional points will be awarded to those who are able to compare the pros and cons of technological innovation with a focus on young people in Hong Kong.
And for Q3, which Yeung said was probably the easiest and most popular one among candidates, those who could relate their answers to various public health concepts, such as chronic disease or public health information, can expect to score well on this question.
Sign up for the YP Teachers Newsletter
Get updates for teachers sent directly to your inbox
Sign up for YP Weekly
Get updates sent directly to your inbox