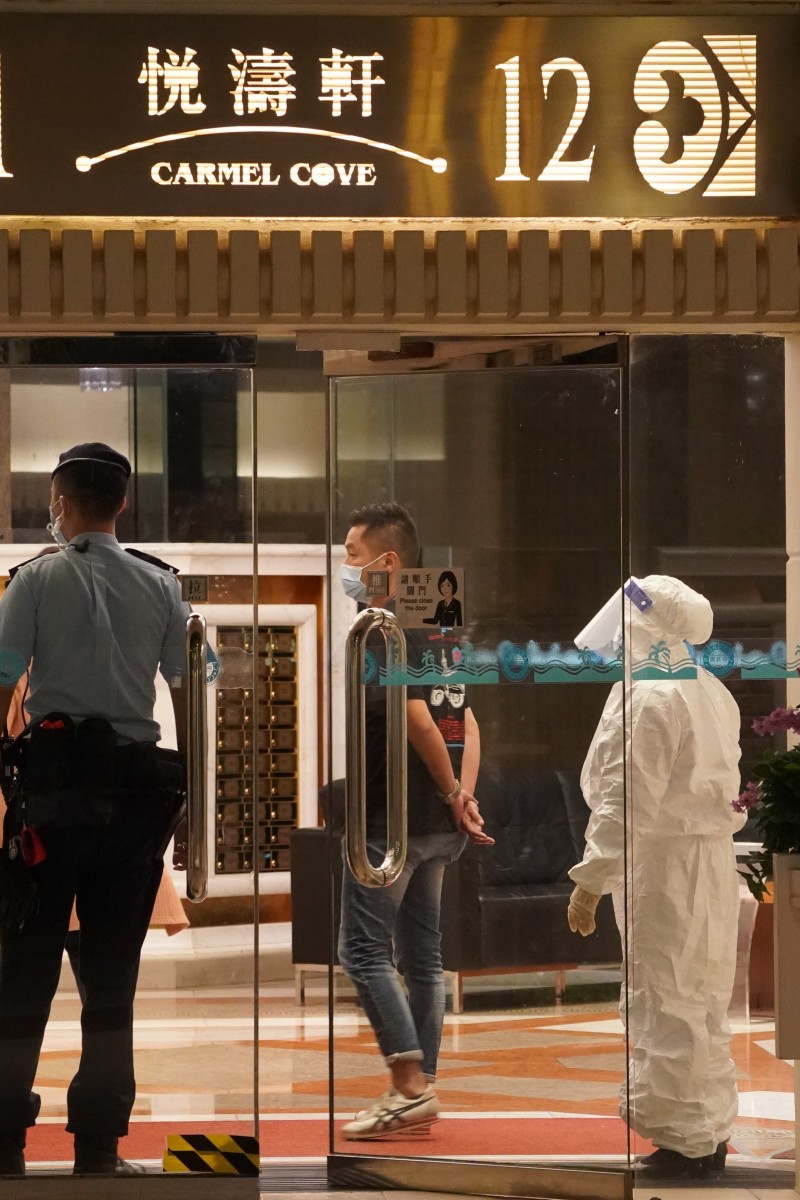 Hundreds of residents from Tung Chung's Caribbean Coast estate will undergo three weeks of quarantine

The patient's infection carried the N501Y and E484K mutations, both found in strains first identified in South Africa and Brazil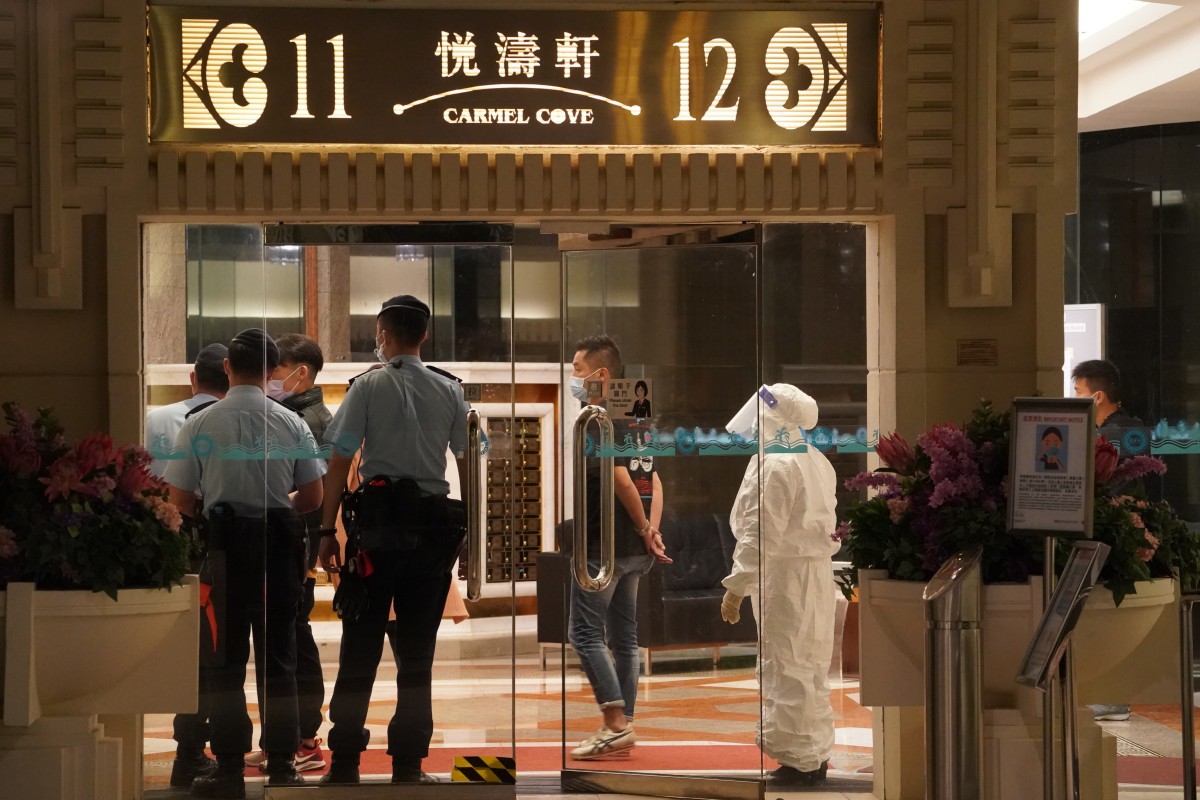 Block 11 of Caribbean Coast was locked down for testing ahead of residents being sent to quarantine. Photo: SCMP/Felix Wong
Hong Kong has recorded its first untraceable local cases of a mutated Covid-19 strain. Hundreds of occupants of a 52-storey residential block in Tung Chung have been ordered into quarantine after a woman was confirmed to be carrying two more infectious strains.
Authorities cordoned off Tower 11 of Carmel Cove at the Caribbean Coast estate at 7pm on Thursday for a lockdown exercise expected to end at around 7am on Friday after testing of all residents was completed. Occupants will have to spend three weeks in quarantine in government centres.
Health officials said the patient was a 39-year-old domestic helper from the Philippines, and her infection carried the N501Y and E484K mutations.
Both types were found in more infectious strains first identified in South Africa and Brazil, and further sequencing would be needed to determine the variant.
The woman had not travelled outside the city since arriving in 2019, Dr Ronald Lam Man-kin, controller of the Centre for Health Protection, said, raising fears of the strain already spreading in the community.
Her employer's 10-month-old daughter had also tested positive and genetic analysis was being carried out to see which strain she had.
Explainer: What do we know about the mutant coronavirus strains in Hong Kong?
"For this case, we have not been able to trace the source. … As it is the first locally contracted case involving a variant and one of the family members was also infected, we think the situation is very grim," Lam said.
"Including the latest case, there have been four cases involving a coronavirus variant detected in the community. She developed symptoms on April 23. During the 14-day incubation period, she had been in Hong Kong.
"There is reason to believe this is the first local infection with no traceable source. So we take it very serious [sic] and will handle it very carefully."
How to fix relationships damaged by Covid-10
The woman had visited five places during the incubation period, including St Thomas the Apostle Church in Tsing Yi on April 11 and 18, Fu Tung Plaza in Tung Chung between April 9 and 29, and the nearby Citygate Outlets on April 25. She was in Man Tung Road Park near her home on April 11, 18 and 25, and at a Fusion supermarket in Caribbean Coast on April 12 and 16.
Lam said those who visited the same places on the same dates would be subject to mandatory testing. More than 10 fellow choir members of her church had already been tracked down, he said.
The first batch of residents from the block's 400-plus flats were sent to quarantine centres shortly before midnight on Thursday. The government has 2,951 units available for immediate use for asymptomatic close contacts of confirmed patients.
Sign up for the YP Teachers Newsletter
Get updates for teachers sent directly to your inbox
Sign up for YP Weekly
Get updates sent directly to your inbox