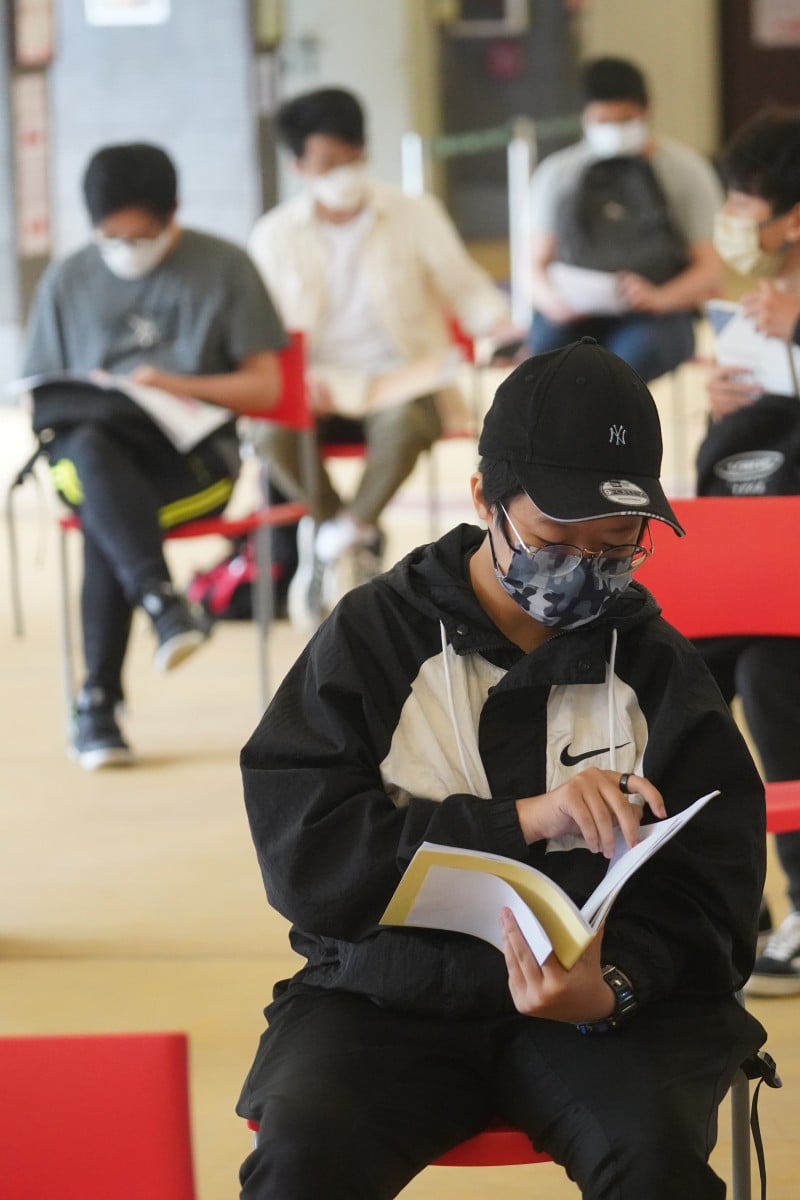 This year's Business, Accounting, and Financial Studies paper covered topics such as personal finance and business ownership

Paper 1's multiple choice questions were comparable to the ones on 2020's notoriously difficult exam and contained 'unconventional' questions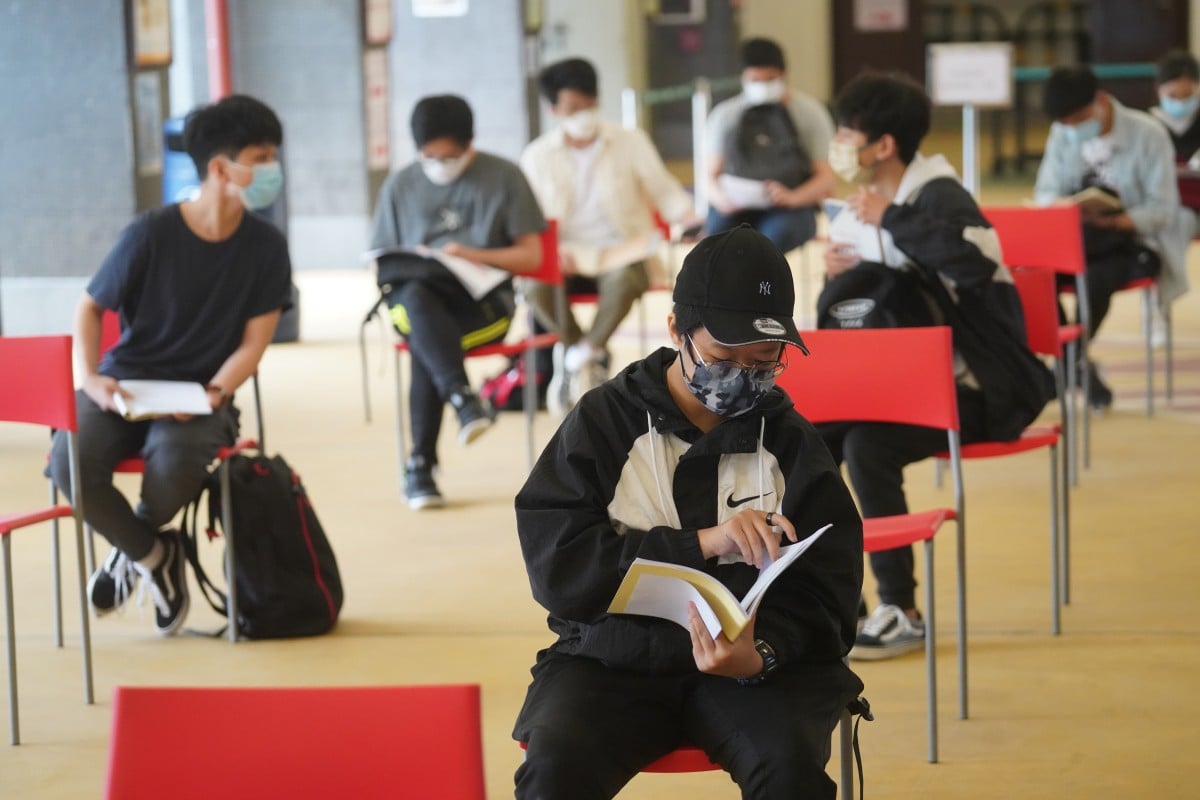 This year's BAFS exam required students to have studied exams from pre-DSE formats. Photo: SCMP
This year's Business, Accounting, and Financial Studies paper was manageable even though some questions took them by surprise, said two students, while a tutor thinks how they fared in the exams depended on their revision strategy.
A total of 9,618 candidates took part in the exam today. This year the paper took on a slightly different format. Instead of answering all the questions tested, candidates who took Paper 2A only had to answer two out of three questions, while those who attempted Paper 2B answered one out of two questions.
Andy Yeung, a tutor at Beacon College, who was also an invigilator at one of the schools for today's exam said Paper 1's multiple-choice questions were comparable to last year's – which was still by far the most difficult.
2020 BAFS had the most difficult MCQs in the exam's history
He singled out Q7 which asked about legal factors affecting a restaurant's operation during Covid-19, and said that answer option two which attributed it to people participating in group gatherings did not specifically indicate whether the restriction was due to the spread of Covid-19 or if it was a policy implemented by the government.
Yeung added that there were three chapters in Paper 1, and business environment and management made up most of the questions. The remaining two topics related to accounting and personal finance were fairly straightforward.
Paper 1: Some questions from pre-DSE exams
Yeung said that Q1 which tested students on reforms of business ownership was not too difficult, as a similar question on whether a company is a multinational corporation was examined three years ago.
"This is a typical question asking you about a private limited company that is going to convert into a public limited company. Students should be able to identify the advantages and disadvantages," he said.
Q2 was a common personal finance question which asked about the Hang Seng Index and the share price for a real estate development company. Yeung said it appeared in 2016, and students were expected to know factors affecting share price. The question was worth three marks and required students to explain the correlation between the Hang Seng Index and the share price for the real estate development company.
Tips from top DSE scorers, no matter what subjects you're taking
According to Yeung, Q3 was a very simple core accounting question, that students shouldn't have had any issues with. For Q4 and Q5, students had to choose one of two accounting topics.
"Q4 is on calculating ratio, and the advantages and disadvantages of effective management. These never fail to appear every year. For Q5, half of the question is about income statements, but Part B required students to draw an organisational chart for the first time," he explained.
He strongly suggested for students who will sitting for next year's exam to widen the scope of their revision. While these questions are new to DSE, they have been tested on pre-DSE exam formats from the past.
"Some questions are extracted from those past papers. So, yes, if you want to ace this paper, it is advised to study beyond DSE because there are new questions every year," he said.
Paper 2: A few traps and twists
Yeung, who specialises in Paper 2A, said he was impressed by HKEAA's efforts to breathe new life into old questions and reframe them in new ways. This year saw the first question about income and expense accounts under the accrual and prepayment topic. He said this topic was last tested in HKCEE 2010 and 2011. While students may have been bewildered that it appeared in the DSE, this drives home Yeung's point that students have to practise other exam papers.
In a quick analysis of the questions, Yeung said Q2 was a fairly straightforward bank statement question, possibly the easiest in recent years. The only trap he said, was that some students may have misinterpreted the unadjusted bank account as the normal bank balance.
He added that some students may have struggled with completing Q3 in time as the cost-volume-profit analysis required detailed answers even though the question was straightforward.
2021 Biology exam causes buzz with a question about bees
This year's Paper 2A Section B was unlike previous years in that students only needed to answer two out of three questions.
"DSE is exceptionally lenient and are answering the calls of students who struggle with the most challenging topics. For this year, there are only two financial accounting questions and one cost accounting question. My guess is most students chose the first two financial accounting questions," Yeung noted.
He said that Q7, which carries 20 marks, was a very normal question about unlimited company accounting, though there was a slight twist to Q8, as many teachers were not expecting partnership to be tested this year, according to Yeung, .
"There are three sections to this topic: BAFS appropriation/current account, valuation of assets, and dissolution of partnership. As last year tested dissolution of partnership, most would be surprised that all three components were combined in one question this year," he said, referring to Q8.
As for Paper 2B, Yeung said some of his peers commented that this year's paper contained nothing out of the ordinary, as many of the questions had appeared in previous papers.
BAFS from students' points of view
Andrik Fernandes, a 17-year-old student from St Margaret's Co-Educational English Secondary And Primary School, said this year's exam saw "unconventional question types" towards the end of Paper 1.
He was surprised by Q3 which asked candidates to write an extract of a financial position, and tested them about nominal accounts. "I didn't expect they would test that much in a single question," he added.
Harnoop Kaur, another 17-year-old student from the same school, agreed, "Writing out a complete statement of financial position is easier than writing an extract of it as the question asked."
She added that she was unsure of how to tackle the question as she was more used to writing the entire statement of financial position.
Find out what made this year's Maths exam so tough
"I found Paper 1 to be harder than Paper 2B," Harnoop continued. "There were quite a few MCQs I had to spend a lot of time thinking over before answering."
Q8 and Q19 were among the MCQs that took more time. These two questions tested candidates on the principle of effective management and code of ethics, which Harnoop found comparatively tricky.
However, Andrik and Harnoop both agreed with Yeung in that Paper 2B was very much what they had expected. There were no new question types or anything particularly unusual.
"The time limit was also good as we got to choose one out of two questions for both Sections B and C," Andrik said.
Sign up for the YP Teachers Newsletter
Get updates for teachers sent directly to your inbox
Sign up for YP Weekly
Get updates sent directly to your inbox