A sluggish Covid-19 vaccination campaign means about two million doses are sitting in storage, with the BioNTech ones set to expire in August

Officials have suggested donating the extra doses or reselling them to countries like India or Pakistan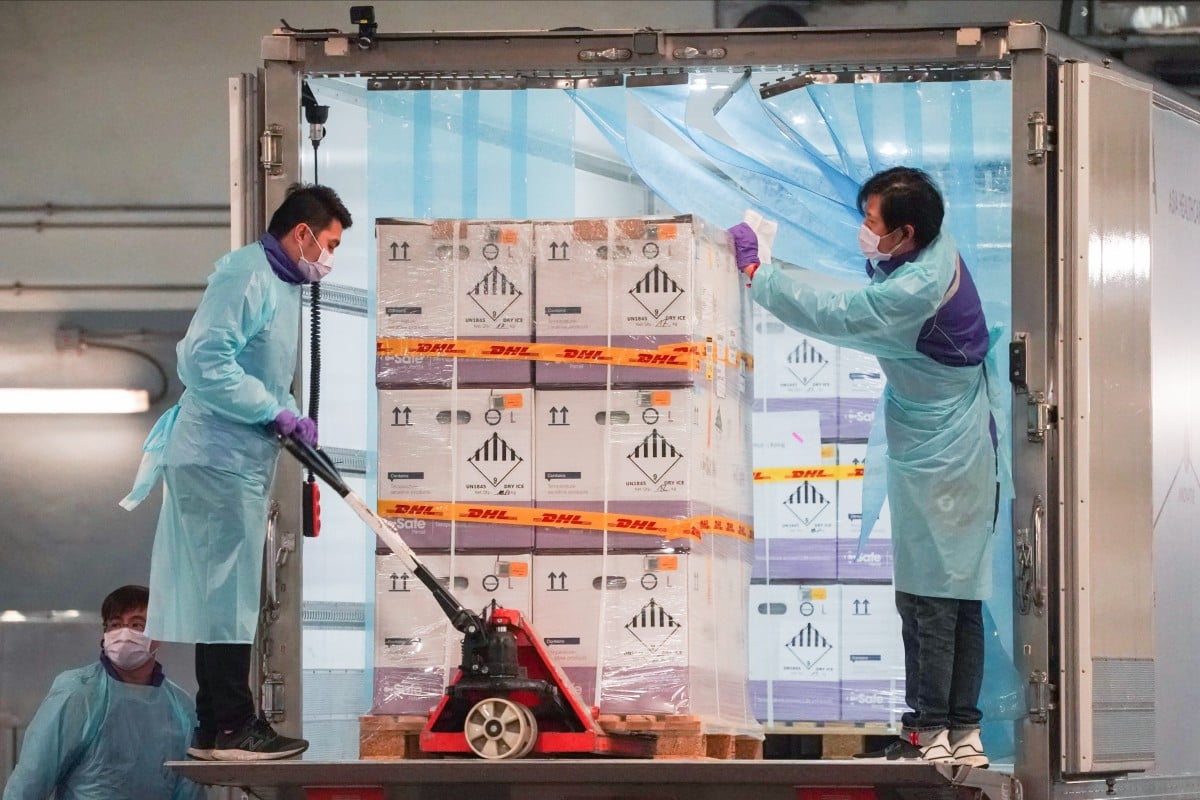 Health authorities are wondering what to do with millions of unused vaccines before they expire. Photo: SCMP/ Felix Wong
Hong Kong health experts have suggested selling the city's millions of unused Covid-19 vaccines or pausing the phased supply from manufacturers to minimise waste, as the government explores donating the shots while racing against upcoming expiry dates.
Nearly 4 million jabs from Chinese producer Sinovac and Germany's BioNTech have arrived in the city since February, but about 2 million of them are still in storage amid a sluggish inoculation campaign.
Three months into the vaccination drive, only about 1.28 million people, or 17 per cent of residents, have taken their first dose. Around 921,500 have received their second shot.
William Chui Chun-ming, president of the Society for Hospital Pharmacists, believed the city faced three choices – to either dispose of the leftover doses by incineration, or donate or resell them to other countries.
Chui's personal preference was to sell them to coronavirus-stricken countries in the region, such as India, Pakistan, Nepal or the Philippines.
WHO warns pandemic could be 'far more deadly' this year
"Those countries are short of jabs, but not money. We can get some cash back to purchase second-generation vaccines when they become available in the future," he said.
But infectious disease expert Dr Leung Chi-chiu believed Hong Kong could simply ask for a pause in the delivery of vaccines to avoid facing the dilemma of dumping or selling shots.
The city has purchased 7.5 million shots of Covid-19 vaccine each from BioNTech and Sinovac, enough to cover the entire population of 7.5 million people. The vaccines are being delivered in phases.
A vaccine expert answers all your questions about the jab
Health authorities have administered about 1.25 million of nearly 2 million BioNTech doses and 953,300 shots of over 2 million Sinovac ones.
The BioNTech vaccine must be stored at minus 70 degrees Celsius, and each shot must be used within six months. Sinovac doses can last more than a year.
The government announced on Tuesday an extension of the vaccination programme to cover visitors from mainland China holding two-way permits and asylum seekers who were already in the city.
Chui said the looming expiration dates had prompted authorities to ramp up the inoculation drive in recent days.
Disposing of the shots would be a headache, according to Chui, as they could not be sent to landfill but must be incinerated to avoid contaminating the environment with the viral ribonucleic acid they contained.
Sign up for the YP Teachers Newsletter
Get updates for teachers sent directly to your inbox
Sign up for YP Weekly
Get updates sent directly to your inbox