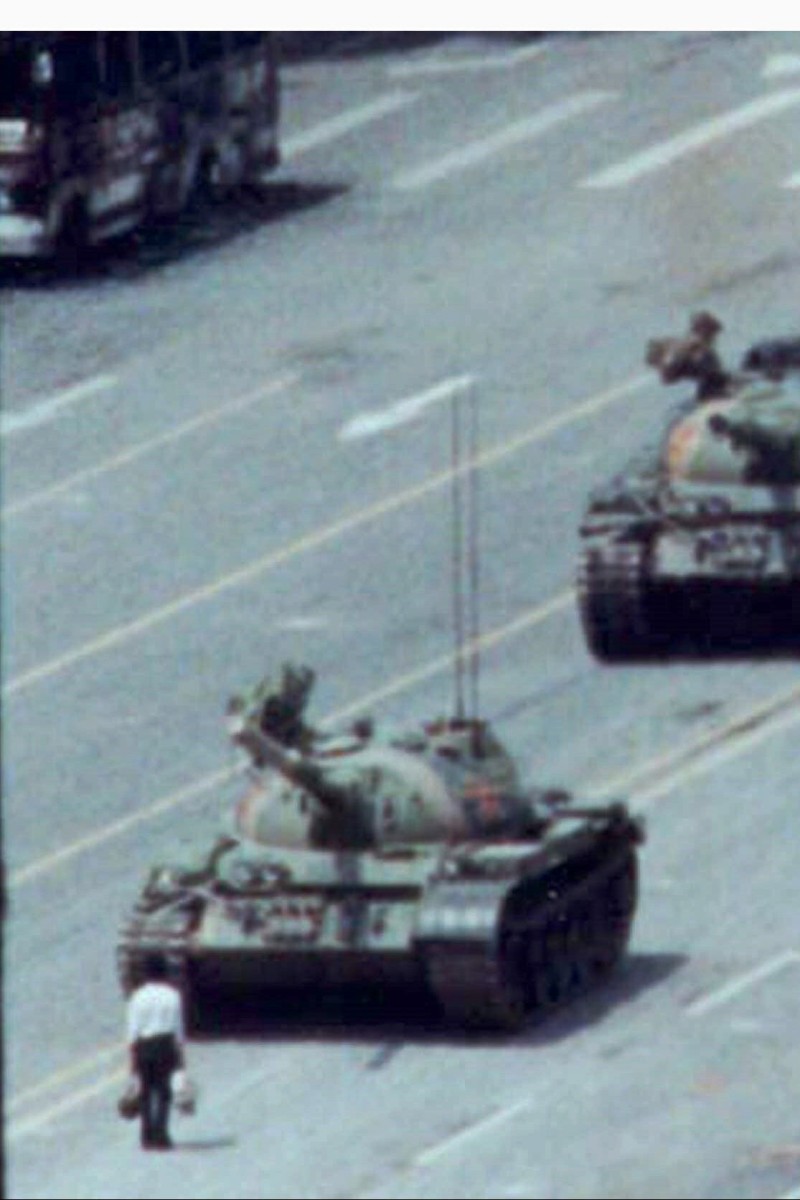 One teacher, who was in Beijing on June 4, 1989 when the crackdown occurred, fears the current social atmosphere makes the move too risky

The Education Bureau said educators should be 'impartial' and 'not instil negative values'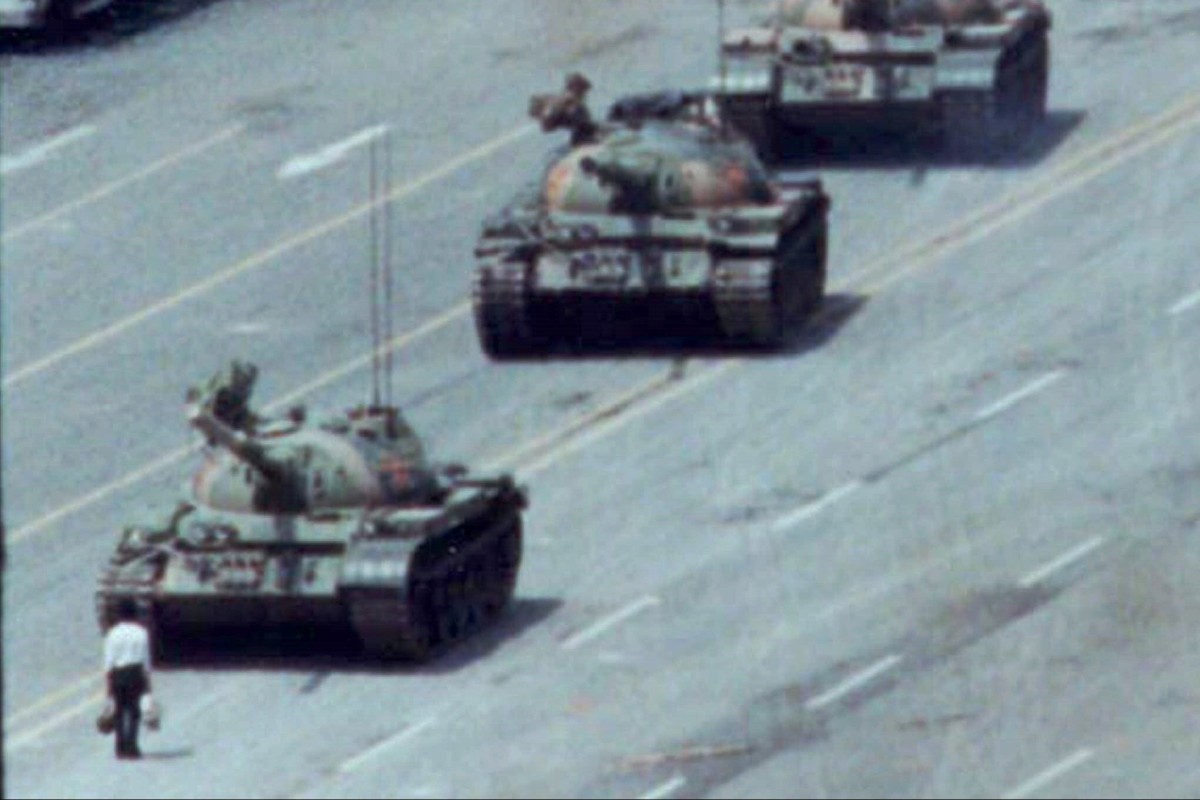 A person stands in front of tanks on the Avenue of Eternal Peace in this June 5, 1989, file photo taken during the Tiananmen Square crackdown. Photo: Reuters
Peter Lee used to gather his students together every June 4 to tell them what happened that day in Beijing in 1989, showing them photographs, news clippings and video footage. The teacher has been giving the lesson for 30 years.
Last year, he had to skip his annual sharing about China's bloody crackdown on student protesters at Tiananmen Square in Beijing because schools were closed for the Covid-19 pandemic.
This year, he will not go ahead for a different reason – he is worried there might be complaints that his lesson crosses "red lines" under the national security law imposed on Hong Kong by Beijing last June.
Remembering Tiananmen Square, 30 years on
"Given the current social atmosphere, I think it's too risky to repeat what I have been doing," he said.
"I think the school management will say no if I tell them that I intend on conducting that kind of special lesson."
He is one of two Hong Kong teachers who have said they will not mark this year's anniversary of the Tiananmen Square crackdown by telling their students about it, because of concerns over the national security legislation.
In this May 18, 1989 file photo, pro-democracy demonstrators carry portraits of former Chinese rulers Mao Tse-Tung and Chou En-Lai as they march to join student strikers at Tiananmen Square. Over seven weeks in 1989, the student-led protests became China's greatest political upheaval since the end of the Cultural Revolution more than a decade earlier. Photo: AP Photo/Sadayuki Mikami
Article 9 of the law says authorities will take "necessary measures to strengthen public communication, guidance, supervision and regulation over matters concerning national security, including those relating to schools, universities, social organisations, the media and the internet".
The law also warns against provoking "hatred among Hong Kong residents" towards the local or central governments.
Furthermore, in guidelines issued on May 21, the Education Bureau urged schools to look into every complaint involving teacher misconduct, including anonymous ones.
Hong Kong's June 4 Museum honours the lives lost
For Lee, 54, who has taught maths at a secondary school in Wan Chai since September 1989, those are signals to avoid trouble.
"I feel sad that I have to abandon my annual practice of imparting my first-hand knowledge about that chapter of history to my students," Lee said. "I am sorry and feel helpless about it."
On June 4, 1989, the Chinese authorities sent tanks into Tiananmen Square to bring a bloody end to weeks of student-led protests against corruption and demanding greater democracy.
Demonstrators in Tiananmen Square. Photo by David Turnley/Corbis/VCG via Getty Images
Lee was in the capital that day. He was in university at the time and had joined a group of Hong Kong students who went to the capital for two weeks to support the protesters.
He recalled that at around 8pm on June 3, he heard the sound of gunshots from Changan Avenue, near Tiananmen Square.
"Sometime after 10pm, I saw a man whose hand had been shot," he said.
Facts about the Chinese premier who backed the Tiananmen crackdown
In the early hours of June 4, he saw People's Liberation Army soldiers storming the square. Hundreds of protesters died, perhaps more than 1,000, according to some estimates.
Lee returned to Hong Kong the next day, and became a teacher later that year.
Explaining why he began his annual ritual of marking June 4 with a history lesson for his teenage students, he said: "I felt duty-bound to let my students know about the tragedy and help keep the memory alive."
His school management was aware and allowed him to proceed, although it asked to be unnamed in reports about Lee.
Although last year's vigil in Causeway Bay was called off due to the coronavirus pandemic, some still marked the occasion, like these people holding candles at the Kwun Tong Waterfront. Photo: SCMP/ K. Y. Cheng
A primary school teacher surnamed Wong shared Lee's anxiety. Wong became a teacher seven years ago and used to tell his students every June about the crackdown during general studies, one of the subjects he teaches.
"If the national security law was not in place, I would continue doing so this year, but I won't, because I don't know where the red lines lie," he said.
"The Education Bureau may say it should be left to teachers' professional judgment, but it's very difficult for teachers to make such a judgment."
Here's what happened with last year's vigil
In response to the SCMP's inquiries on whether teachers were allowed to give lessons about the crackdown, a bureau spokesman said it was the responsibility of schools to implement national security education under the national security law.
Teachers should develop and select appropriate resource materials that are unbiased and impartial, the spokesman said.
He added: "As professional educators, teachers should always be objective and impartial, and should not allow political standpoints of any individuals or specific bodies to affect their teaching, or even mislead students and instil in them negative values."
Sign up for the YP Teachers Newsletter
Get updates for teachers sent directly to your inbox
Sign up for YP Weekly
Get updates sent directly to your inbox